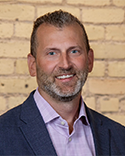 The 160-acre Mississippi Crossings site in Champlin, Minnesota, was a thriving commercial district in the early part of the 20th century. From the 1980s until the early 2000s, however, the area had been in decline for many years and was mostly known for its dilapidated commercial buildings, according to the City of Champlin.
After a few redevelopment efforts started and stalled, the city entered into a development agreement in 2019 with Greco to be master developer of 12 acres within the Mississippi Crossings site. Greco is a Minneapolis-based commercial developer, investor and property management firm.
Bowline in Champlin is a multifamily component of the plan. It is a two-phase, planned unit development (PUD) featuring market-rate apartments, community amenity space, street level walk-up units and parking within a landscaped, park-like setting overlooking the Mississippi River. Bowline, which opened in March 2022, contains 215 units. The Bowline site includes a 600-person, open-air amphitheater overlooking the Mississippi River that can host concerts, outdoor presentations and other community events.
A boat landing called Dock 21 is now open to the public, and a restaurant is expected to open later this year. Managing Partner and Senior Design Leader Mike Krych from Bowline's architect, BKV Group, recently shared some backstory with Midwest Multifamily & Affordable Housing Business about this years-in-the-making development.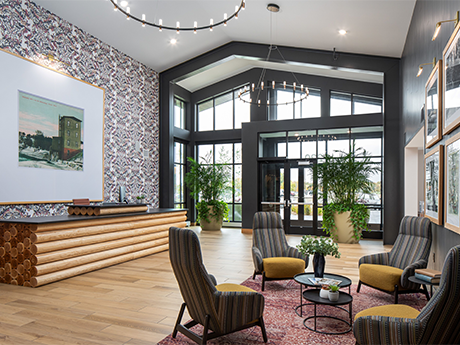 Midwest Multifamily & Affordable Housing Business: Have you worked with Greco before?
Krych: BKV Group and Greco have worked together on projects since 1998, and Greco has historically been and continues to be one of the region's visionary multifamily developers.
MMAHB: Did BKV also design other uses in addition to multifamily for Bowline?
Krych: Yes, BKV designed the pavilion, amphitheater, playground and parking that were part of the last phase of the city's Mississippi Crossings waterfront improvement project. The pavilion itself is kitty-corner from the multifamily structure, about 100 paces or so, and is owned and operated by the city.
The city of Champlin has been working on the Mississippi Crossings improvement project, along the river where the bridge goes from Champlin to Anoca, for more than a decade. Development of the pavilion and multifamily property was the last part of the improvement project — a sort of exclamation mark on development of the overall grounds.
MMAHB: What are PUDs?
Krych: Architects and urban planners use PUDs to create a mixed-use environment to effectively blend commerce, housing, industry and recreation in one area. They emphasize integrated activities, efficiency and convenience. While each PUD is unique, major PUD design principles include different housing types (single-family, two-family, multifamily), residential streets supporting low traffic flow, connection to larger thoroughfares and sidewalks/walkways that promote walkability.
MMAHB: How are PUDs in public-private partnerships used to develop varying uses on the site?
Krych: PUDs can increase the value of a property and can convert blighted neighborhoods into burgeoning ones. Specific to public amenities, that portion of the project is part of a larger set of value-adds that PUDs can bring to a city in attracting new residents and raising capital. In addition to amenities, the variety of housing types and open green space and parks allow a PUD to cut through rigid zoning regulations and enhance the influence of local planning professionals. With developers and municipalities working together, it can strengthen a city's site plan review and influence over land uses.
MMAHB: Why was Champlin the right place for this project? Describe how renter demand in the area supported the development.
Krych: Overall, there has been a shortage of market-rate housing in Champlin, and not a lot of new developments have gone up in recent years, so this project filled a big need. Paired with the location, which is at a great junction point along the river with the public grounds and city amenities nearby, it not only filled a housing void but also situates residents near recreation activities that are a big part of the local community.
As for renter demand, there was a strong desire to have a modern, highly amenitized residence that embraced the water and natural surroundings, with access to local recreation essentially at their doorstep. In addition, with little new development in the area, there was demand for a new construction property with modern finishes, plentiful common areas for socialization, fitness classes and coworking, as well as a focus on indoor-outdoor spaces.
MMAHB: Were there any unique cost-saving materials or protocols of note in this project?
Krych: Every project has cost restraints, and it's beneficial to stay within a budget for all parties involved, so that was one of our main priorities. This was an all-wood-framed structure, so there were some savings there. But, perhaps most importantly, we've worked in collaboration with the developer and contractor on projects for 20-plus years, so there's a well-established relationship, trust and a collective knowledge on how to get the most out of the budget. There were also some city allocations that went into the project.
MMAHB: Please describe in detail the architectural elements of this project that make it next-level and/or the elements that are most uniquely geared toward how renters need and want to live in this market today.
Krych: Bowline draws design inspiration from the lumber mill that once stood on its site at the edge of the Mississippi River in Champlin with its wood and logging aesthetic. The emphasis on linear elements echoes the images of logs coming down the river. All of this is showcased in a new and modern way. For example, half-cut logs make up the front desk, bringing in a cool and contemporary look that also harkens back to the past. Exposed steel frames incorporate some of the original lumber mill features, whereas the pitched roof also mimics original characteristics of the mill. The overall design is grounded in a historic context, with a fresh and current look and feel.
The property itself embraces the outdoors through its openness, with the large courtyard and river as focal points. Designed with notions of fishing docks and boat terraces, the courtyard spaces are elevated above the water features below. Green areas include pickleball courts and bocce ball, and the interior amenity spaces off the lobby, like the club room, fitness center and coworking areas, all interact with views to the courtyard. It is meant to be a very social building with the main center of activity in the middle courtyard, which also features gathering spaces around fire pits. The building has two main arms to embrace those common areas around it. There is also a rooftop club room showcasing views of the Mississippi River.
MMAHB: What's unique about the unit designs?
Krych: Because this project was designed at the tail end of the pandemic, we paid acute attention to each dwelling, due to the amount of time residents were spending in individual apartment units. As such, we incorporate extra niches and flexibility to close off a space or add a desk, for instance. In addition, we utilized similar elements of flexibility within common areas, especially in the coworking offices and other amenities geared to accommodate a large number of people. We even created private coworking offices to rent out on a monthly basis. We responded to resident desire for indoor and outdoor spaces, like patios and balconies, as it became clear this would be an important factor in how people wanted to live and work.
— Compiled by Lynn Peisner