We know Denver's housing story as it relates to the pandemic: The metro's high quality of life, access to outdoor amenities and lower prices than other Western mainstays (California) drove demand sky-high for the past three years. With that came an increase in prices — as it always does.
The average rent for an apartment in metro Denver was $1,838 in the fourth quarter of 2022, according to research firm Apartment Insights. This is actually a slight decrease from the thirdquarter average of $1,870 per month. Andrew Hamrick, general counsel and senior vice president of government affairs for the Apartment Association of Metro Denver and the Colorado Apartment Association, notes the cause for this decrease is an increase in housing supply.
More than 4,000 apartment units were added to the metro's rental housing market in 2022. This surge in new supply drove up the vacancy rate from 4.7 percent in the fourth quarter of 2021 to 5.6 percent in the fourth quarter of 2022.
Inclusionary Zoning Ordinance Backfires
Although the rent decrease is good news for renters, it is only the third time this has happened in Denver over the past 40 years. The metro is still short nearly 70,000 units, making Denver the 16th most underdeveloped housing market in the U.S., according to Up For Growth, a data- and policy-driven organization that focuses on the housing shortage and affordable housing.
The threat of strong renter demand causing rents to go higher and higher has inspired some municipalities to take action, though not always for the better, says Hamrick. This includes Denver's Expanding Housing Affordability ordinance, which took effect on July 1, 2022.
"This ordinance has been a disaster for new development," says Hamrick.
The new law requires developers to dedicate 10 percent of new rental units in high-cost markets like downtown and the surrounding area to affordable housing, or residents earning 60 percent of the area median income (AMI). All other areas of Denver must set aside 8 percent of new units for affordable housing.
"There has been an 88.3 percent drop in applications for new multifamily permits in the quarter after the ordinance took effect," Hamrick continues. "The attempt to micromanage what kind of housing is being built is resulting in very little housing being built at all."
This resulted in a loss of 11,337 future apartment homes for the metro in the third quarter of 2022. The effects will not only be felt by those 11,337 families who won't have new homes, but by the entire area that will need to absorb these families into its housing stock.
While some development is currently underway, Hamrick notes that many of the projects opening or slated for delivery soon were started before the ordinance took effect. Metro Denver received 10,570 new apartment units in 2022, according to RentCafe. A new 18-story luxury apartment building planned by Trailbreak Partners between the Golden Triangle and Capitol Hill also got started pre-ordinance. The 330-unit project will feature 5,000 square feet of ground floor retail, with construction scheduled to start late this year.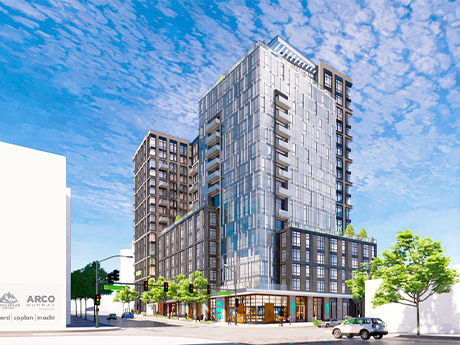 Douglas A. Elenowitz, co-founder and principal at locally based Trailbreak Partners, was drawn to the neighborhood from day one.
"We absolutely love the location for new housing," he says. "This location was historically vibrant, but more recently considered underdeveloped. Today presents the opportunity to build activity and address housing demand for the city. The area's zoning reflects this and is permissive, allowing for thoughtfully designed density."
Elenowitz admits, however, that it can be a challenging environment for developers today — whether they're in Denver or not. That all comes down to economics.
"We are seeing a lot of projects get pulled as the numbers don't work, or get delayed until there is predictability in the debt markets," he says. "The industry has been battling material availability, cost escalation and labor availability for several years. Our belief is the rate of increase will slow. However, even as material prices come down, we have concern that wage pressure will prevent any meaningful reduction in overall cost."
The problem, Elenowitz notes, is that inflation had been offset by the low cost of capital, as well as an increase in rents over the past few years. "Now, interest rates are up, proceeds are down and there is a ceiling to rent," he says.
Jake Malman, managing broker and owner of locally based Malman Commercial Real Estate, says competition remains fierce for opportunistic sites, as Trailbreak's latest $12 million site acquisition showed. The northeast corner of East 8th Avenue and Lincoln Street previously housed LowDown Brewery & Kitchen before the firm purchased it in late 2022. This property, Malman says, proves the adage of "location, location, location" continues in any market.
"Infill development sites are still hard to find," he says. "When developers get their hands on an attractive site, they are pedal to the metal."
Increased competition for sites has led to another power play by local municipal officials, Hamrick points out.
"We are battling a legislative attempt at legalizing rent control," he notes. "This, of course, has a very negative impact on development or improvement of multifamily housing."
Hamrick also believes rent control can restrict resident mobility as residents may fear giving up their lower-priced unit even if their needs, family or financial health have changed. Squashing competition in all segments of the market leads to higher prices and even more demand for affordable housing. The solution, then, according to Hamrick, is to let developers build the product they want, as more supply will ease the affordability burden for all.
Wanted: Creative Solutions to Affordable Housing
Naturally, demand for affordable housing continues. The city only welcomed 933 new income-restricted units in the 13-month period that ended in October 2022, according to the Denver Department of Housing Stability. The city is still about 20,000 rental units short of meeting the demand for residents earning 50 percent of AMI.
The 103-unit Capitol Square Apartments in Capitol Hill debuted last year, while construction is underway on the 154-unit Mosaic in Park Hill. Mosaic — which is being developed by the Urban Land Conservancy, Denver Public Schools, the Denver Housing Authority and Archway Communities — will convert four dormitory buildings at the former Johnson & Wales University campus into housing for those earning between 30 and 60 percent of AMI.
The oneto three-bedroom units are scheduled to deliver in early 2024. Julie Stern, director of real estate for Archway Communities, notes this was an ideal site and that land and empty lots are hard to come by in Denver as developers of all kinds eye opportunities.
"One thing that made an adaptive reuse work well in this case was that the building systems were already well on their way to being suited for multifamily residential use," she says. "That, along with the availability of space that can be used to deliver Archway programming and services — a key part of our mission — will be an important filter for us as we explore different building types for future projects."
The land where the dorms reside will be held in a renewable 99-year ground lease by Urban Land Conservancy to ensure its long-term use for the benefit of the community.
Preserving land and projects for the future of affordable housing has led to talks of more legislation, according to Hamrick.
"One that's currently on my mind is proposed legislation that's not yet been introduced — but likely will be — that would give local governments the first right of refusal for 284 days on any sale of multifamily housing above five units so that the local government can have the option of converting it to affordable housing," he says. "The impact on that barrier to transactions would have a tremendous negative impact on Colorado real estate values."
Though Stern didn't weigh in on this proposed legislation, she does note that it's a difficult time to be an affordable housing developer or someone in need of affordable housing.
"The economics of affordable housing development and project management are continually getting tougher," she says. "Interest rates are going up, tax credit pricing is stagnating, operating costs like insurance are rising tremendously, and construction costs are both increasing and increasingly unpredictably. The only way to address these challenges is more commitment from our state and local government partners to making affordable housing development projects pencil out, and to supporting the ability of our organizations to sustainably deliver high-quality housing and supportive services."
Stern notes there are 100,000 households in the Denver metro area that experience housing cost burdens on a monthly basis.
"We cannot develop our way out of an affordable housing crisis of this scale. We need creative strategies to bring existing housing into the income-qualified housing stock," she says. "Competition for the resources we need to build affordable housing in this market remains strong."
Airbnb to the Rescue
Although many of these new and proposed rules may seem limiting to market-rate developers, a new program has created a unique income stream. Airbnb announced a new partnership with national multifamily landlords that will allow property owners and residents to earn money by listing their units on the site.
The program went live in early December, with 16 Denver-area apartment buildings participating. Some of the buildings utilizing the program are Avia Lowry, Skyhouse Denver, Circa Fitzsimmons, Sentral Union Station, the Fitzgerald and more. Participating landlords with a local presence include Equity Residential, Sentral, Highmark Residential and Greystar.
"Greystar is excited to offer the Airbnb-friendly program at participating communities, which offers residents an option to responsibly monetize their apartment and tap into the economic benefits of hosting," says a Greystar spokesperson. "We believe this platform will provide the right tools for both owners and residents to effectively manage short-term rental activity without impacting overall housing supply."
Jesse Stein, global head of real estate for Airbnb, notes the program was launched to make hosting more accessible to more people.
"With the cost of living continuing to rise, we designed a program that gives people the opportunity to reap the economic benefits of hosting through Airbnb, and earn extra money to help pay their rent, save to buy a home or just enjoy a little more financial freedom during a time of economic uncertainty," he says.
Denver currently has the fourth largest amount of apartment communities that allow tenants to rent out their units on Airbnb in the U.S., the site states. The company further notes residents who rent out their unit for seven days a month can collect between $500 and $1,000 a month. Apartment owners take 20 to 25 percent of this profit.
Stein believes this program and the profits it creates can benefit landlords during this challenging time when inflation, interest rates and labor and materials costs are high.
"With the new demand stream that Airbnbfriendly apartments offer buildings, participants are equipped with an added layer of security as they consider new acquisitions, developments and operational strategies," he says. "In addition to attracting more tenants to fill vacant units, building owners can take a share of host revenue, which can cover the cost of administering the program, further advertising it, reinvesting in community beautification, or adding additional services and personnel."
Outside of short-term rental profit sharing, Elenowitz remains optimistic about the long-term future of multifamily development in Denver. He admits, however, that the short-term pain is palpable for many developers in the current environment. Elenowitz believes that underwriting today needs to be realistic, that special attention needs to be paid to the leverage structure available now, that rents must remain realistic and that a conservative exit cap rate is critical.
The high competition for land may further constrain new development. All of this, of course, leads to the prospect of higher rents — the issue at the center of all this new and proposed legislation.
"We don't expect to see land prices fall unless a seller is under some form of stress, which will also limit the number of new projects," says Elenowitz. "For renters, things will improve in the short term — there should be more rental options with increased vacancy rates and the opportunity to find concessions."
But Elenowitz points out that any leverage renters may have with landlords will likely only last a short time. "Demand for housing remains, and with the difficulty in getting new projects started, existing inventory will be absorbed, putting upward pressure on rents."
— By Nellie Day. This article originally appeared in the January/February issue of Western Multifamily & Affordable Housing Business.