Houston apartment owners are still navigating through stormy weather, not just because hurricane season has kicked off. A surge in new supply, strains on net operating income (NOI) and capital markets pressures are testing the mettle of Houston developers and investors.
"Without a doubt, the big story is all the challenges hitting from every direction: a very tight lending market, stubbornly high construction costs, interest rates and insurance costs," says Dennis (D.J.) Blanchard, vice president of development and legal affairs with Sueba USA Corp. "Firms have to be well-positioned to weather this period."
Berkadia Investment Sales Director Kyle Whitney says insurance premium costs in Harris County have increased for owners from 40 percent to 100 percent year-over-year.
In metro Houston, Sueba currently has six multifamily developments comprising 1,888 units in various stages of development. Within the past year, construction was completed on two projects totaling 621 units. Four projects, 1,267 units, are currently under construction, with openings planned later this year and into 2024. Sueba also has an additional three projects in pre-development with plans to commence construction in 2024.
In addition to capital markets pressures and high costs of insurance and construction, hefty supply figures pose challenges to investors as well. But experts say jobs and population growth will shore up long-term demand in and around the metro.
According to Colliers' second-quarter multifamily report, Houston's pipeline includes 22,555 units under construction and 29,285 units proposed. Marcus & Millichap reports that 2023's deliveries will outpace 2022's figures by about 1,600 units. However, the pace of supply is slowest among the four major Texas markets, despite the relative ease of development brought on by the city's lack of zoning.
"There's no zoning within the city of Houston, so there are more sites available to develop multifamily," says Mark Bramlett, development director with Alliance Residential. "For better or worse, you'll always be able to efficiently deliver units in Houston. We typically stay in pretty good balance with supply and demand compared with some other markets given our strong in-migration numbers over the past decade. With approximately 23,000 units under construction right now, which is about 3 percent of the market, Houston is delivering significantly less than some of our neighboring Texas markets. The only concern would be an event that would cause our population growth to stall out, but we're not seeing any factors leading to that."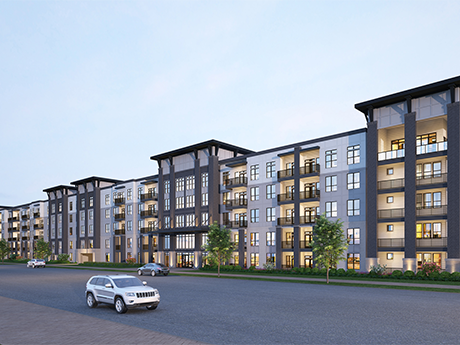 Population-wise, Houston is the fourth largest city in the United States with 2.3 million people, according to the U.S. Census Bureau. About 7.3 million people live in the nine-county metro, an area that added 125,000 residents between July 2021 and July 2022, according to the Greater Houston Partnership. This surge in population makes the Houston metropolitan statistical area (MSA) the second fastest-growing market in the country, according to U.S. Census Bureau data and Axios. 
Houston Bets on Renewables
Employers in metro Houston added 18,500 new jobs in May, according to the Bureau of Labor Statistics, mainly in three job categories: trade, transportation and utilities; leisure and hospitality; and education and health services. The Greater Houston Partnership reported that metro Houston added 145,700 jobs in 2022.
According to Newmark's Houston multifamily report for the first quarter of 2023, as of January of this year, Houston has not only recovered jobs lost during the pandemic, it has surpassed that employment deficit. During the COVID-19 lockdowns, the metro lost 359,000 jobs but has since added 452,900 new jobs.
"We are creating new jobs, which means we constantly need new apartments for these workers to live," says Whitney. "We've been boom and bust on oil and gas for decades now. And while oil is not going anywhere, all the research money and talent supporting the future of renewables and cleaner energy solutions is sitting in Houston."
The Greater Houston Partnership, which refers to the city as "the brain trust of the global energy industry," reports the metro is home to more than 150 solar-related employers, about 40 wind-related businesses and around 15 batterystorage companies. Additionally, about 21 of Houston's 40 corporate research and development centers are focused on energy technology.
"The oil and gas industry remains very strong, and that's evident by our newest project to open, San Estrella, located in Houston's Energy Corridor, which is having a very strong lease-up," says Blanchard. Sueba USA delivered the 318-unit San Estrella apartment complex in January. 
Affordability Drives Development
Yardi Matrix reports Houston rents are slowing but still growing. The research firm says asking rents rose 0.2 percent during the first half of this year. According to Colliers' latest Houston multifamily report, 5,222 units were delivered during the second quarter, but only 3,628 were absorbed. Occupancy as of the second quarter stood at 89.5 percent, a decrease of 160 basis points over the year. The occupancy rate, however, did not change between the first and second quarter of this year.
"Houston's multifamily sector has witnessed remarkable growth over the past few years, and it was bound to slow down," says Blanchard. "Although the growth has slowed, that was probably a needed correction. The abundance of new units coming on line compared with a lower level of absorption is a concern, but given the size and continued population growth in the Houston market, we expect things to balance out in the long run."
Houston is a relatively affordable place to rent an apartment. As of July, the national average asking rent was $1,729, according to Yardi Matrix, while the average asking rent in the Houston MSA, as of February, was $1,334, according to RentCafe. In 2023, the average annual income in the city of Houston is $62,440 for one person, per the U.S. Department of Housing and Urban Development (HUD). According to the Bureau of Labor Statistics, the average American earned $61,900 per year as of May 2022.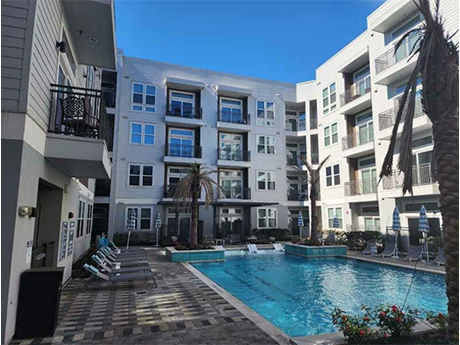 Scottsdale, Arizona-based Alliance Residential — ranked the No. 1 developer in NMHC's 2023 rankings by breaking ground on 13,480 units in 2022 — is focused on a strategy that mostly serves the metro's middle market. The company develops under the brands Broadstone, its Class A multifamily product; Prose, which the firm defines as workforce housing; Holden, a senior living product; and Silveray, a build-to-rent platform.
In the Houston MSA, Alliance currently has 16 projects under construction, 13 of which are Prose-branded assets. "Prose is a market-rate product, just with an affordable slant," says Bramlett, who is responsible for sourcing and managing new development and investment projects for Alliance in the greater Houston market. "In a market that's as big as Houston, about 10 percent of renters are served by the Broadstone product. We feel we need to focus on the majority of renters with our Prose projects."
Bramlett explains that Prose communities offer rents that are about 20 percent less than local Class A communities. Alliance achieves cost savings through efficiency in design, standardization of plans and omitting balconies. "Our clubhouse may be smaller and lack amenities such as a movie theater, but that's not a big deal to a renter who wants to save 20 percent a month," he says.
According to Whitney, the affordability Houston offers to renters will help job seekers and, in turn, apartment demand for the long term. "San Antonio and Houston trade back and forth on being the most affordable city in Texas," he says. "This will continue to drive corporate relocations. Companies will want to set up shop here to take advantage of our available office space. You can see this trend play out in our year-over-year population growth. There is a lot of runway here." 
— By Lynn Peisner. This article originally appeared in the July/August issue of Texas Multifamily & Affordable Housing Business.