New residential towers and half-built high-rises crowd the Philadelphia skyline. Developers are building more apartments here than at any other time since real estate research firms started keeping track.
It's a big change for Philadelphia, which is not known for building booms, particularly within the city limits.
Leading developers say they would break ground on even more apartments if they could, even as the number of vacant units creeps higher. However, hesitant banks and high interest rates have halted many development plans for now. High construction costs and the loss of a generous local tax abatement make launching new development even more difficult.
"We're going to build as soon as there is financing available to build," says Zak Klinvex, chief investment officer for Philadelphia-based Post Brothers. "We have another phase of 400 units that we're going to start hopefully later in the year."
Driving Factors Behind Development Wave
Developers are building properties that will increase the city's inventory of apartment units by 30 percent over the next two years. As of August, there were approximately 23,500 apartment units under construction in the Philadelphia metro area, according to RealPage.
"That's more than at any other point in history since RealPage began tracking the market in the mid-1990s," says Carl Whitaker, real estate economist for Richardson, Texas-based RealPage.
Many developers hurried to start projects in 2021 that had been delayed by the lockdowns stemming from the COVID-19 pandemic, which closed city offices and many construction sites.
They also rushed to meet the final deadline to receive Philadelphia's generous, 10-year abatement of property taxes for any development project within city limits.
"All the stars were aligned. You had a shortfall of product, low interest rates, stable construction costs and the 10-year tax abatement," says Carl Dranoff, president and founder of Dranoff Properties, a development firm based in Philadelphia. "That stimulated a pretty nice surge in new development."
Lawmakers in Philadelphia approved a series of tax abatements to attract developers after decades of population loss and urban decline. In 1997, they created a 10-year abatement for the conversion of vacant office and hotel properties, and in 2000 they granted another 10-year abatement for any new office, hotel or residential building.
In 2020, lawmakers reduced the tax abatement for new construction to five years. The last projects to receive the 10-year abatement had to receive building permits by the start of 2022.
Developers do not expect the tax abatement for new construction to return to its former strength for all projects, though lawmakers are considering a new, 10-year abatement for apartment developments that include a significant amount of affordable housing. The full, 10-year abatement also remains in place for any conversions, says Paul Levy, founding chief executive of Center City District, an organization of property owners and other stakeholders in downtown Philadelphia.
No wonder it seems like a swarm of building cranes have landed around Center City.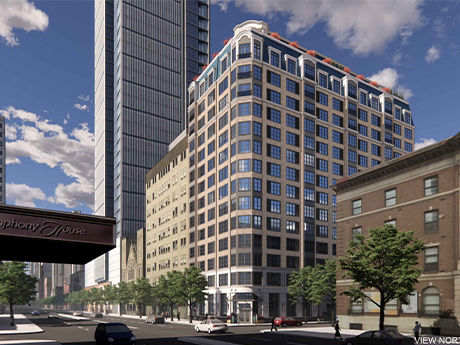 Developers received permits to build 26,449 apartment units in the Philadelphia market in 2021, nearly three times the average of 9,200 units annually from 2008 to 2023.
Some of these newly constructed units have already begun to open, and the rest are on the way. As of July, 95.6 percent of the apartments in the Philadelphia market were occupied, according to RealPage. That's 1.6 percentage points lower than the year before. However, the occupancy rate in Philadelphia is still a full percentage point higher than the U.S. occupancy rate of 94.6 percent.
"Although Philadelphia ranked 26th in the country in 2022 with net absorption of 2,369 units, its vacancy rate has consistently been below that of the national figure," says Ermengarde Jabir, senior economist for Moody's Analytics.
Philadelphia's apartment market has a reputation for moderation. In other words, developers tend not to build too much or charge too much for apartments, while demand seems relatively steady and predictable compared with nearby cities like New York of Washington, D.C.
"We have a very diversified economy, with fewer booms and busts than many others," says Peter Angelides, president and principal of Econsult Solutions, based in Philadelphia.
The population of metro Philadelphia grew by 40,000 between 2020 and 2022, according to the U.S. Census Bureau.
Rents are still increasing modestly in the Philadelphia market. The average effective rent grew 1.9 percent year-over-year in July to reach $1,803, according to RealPage.
Building Boom, Interrupted
The officials who approve building permits in Philadelphia suddenly had much less to do once the deadline passed for the 10-year abatement at the start of 2022. In March of that year, officials at the Federal Reserve began to aggressively fight inflation by raising their target federal funds rate eleven time from near zero at the beginning of 2022 to 5.5 percent in August 2023.
Developers in Philadelphia received permits to build 5,441 new apartments in the 12 months that ended June 30. That's less than a quarter of the 26,449 permits developers received in 2021, according to RealPage.
"The minute interest rates come down, a lot of these buildings will become possible again," says Levy. Short-term interest rates like the Secured Overnight Financing Rate (SOFR) are expected to fall about 2 percentage points over the next 2 years, partly because that is the consensus opinion of bond investors.
In the meantime, more than 70 percent of the 23,500 apartments now under construction are squeezed into four square miles northeast of city hall. That's 16,500 apartments under construction from hip neighborhoods like Northern Liberties and Fishtown along the Delaware River to North Kensington and West Kensington on the northern edge of the zone.
"It is a lot of product to absorb in such a concentrated area," says Whitaker. "There will likely be some challenges with some lease-ups over the next 12 to 18 months."
Apartment rents, on average, fell 1.14 percent in Center City Philadelphia over the 12-month period that ended July 31 as new communities opened and competed for residents, according to RealPage. In contrast, rents in outlying suburban areas such as Gloucester County and Outer Wilmington grew 7 to 9 percent over that same period, according to RealPage.
Piazza Alta Earns Top Rents
The first tower at Piazza Alta, however, is not having any problems leasing up its apartments, according to Post.
Post Brothers opened 695 new apartments at Piazza Alta in April 2023. They're surrounded by other new apartment buildings and development sites in Philadelphia's Northern Liberties, a neighborhood created in recent years around the 11-acre site of the former Schmidt's Brewery, which closed in 1986 after 140 years in business.
The average rent at the Piazza Alta is $3,534 a month — the highest average rent in Philadelphia, according to RealPage.
Post, which started construction on Piazza Alta in 2019 and worked on it through the pandemic, starting leasing the property in March 2022. A year later, Post could finally show off the completed amenities at Piazza Alta, including a very flashy, rooftop pool.
"We leased 112 apartments that month," says Post Brothers' Klinvex. "From then on, we probably averaged about 60 to 75 leases per month."
As of August, the apartments were 93 percent occupied, largely by wealthy, young professionals. "We're effectively stabilized," says Klinvex.
Post is already planning to build another 400 apartments at Piazza Alta. This second phase will be constructed above structured parking and a retail podium that Post built in the first phase. The second phase is expected to take 18 months to complete.
"We're fully ready to go," says Klinvex. Construction will start as soon as Post identifies a construction lender with enough capital. "We're actually trying to get that moving in the next few months."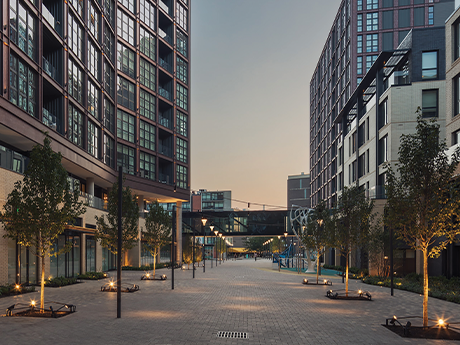 However, Post's plan would require a substantial construction loan — much larger than most banks are currently willing to lend, says Klinvex.
After a string of bank failures in early 2023, banks are hesitant to provide large loans for real estate projects, and they rarely lend more than 50 percent of the cost of a development.
Private equity funds can make larger loans. Many are currently out of the market, but Post has had conversations with some that may eventually supply the needed capital. "We think that some of them are going to have some capital to recycle that will be ready to deploy," says Klinvex.
High interest rates won't stop Post from starting construction. The two towers of the second phase will sprout out the first-floor podium Post already finished and paid in the first phase of Piazza Alta. As a result, the apartments in the second phase will be less expensive to build per unit and will provide Post with a much higher return on investment.
"Whether our all-in interest rate is 5 percent or 9 percent, there's really not that big of a difference when you're creating that much value," says Klinvex.
Post also has no anxiety about potentially opening 400 new apartments just as thousands of new units open in the blocks around it. "We have zero concern about the demand for the units," says Klinvex. "We think this market can absorb several hundred more."
Post owns several other development sites that probably will be put on hold until short-term interest rates moderate, as many economists expect.
For example, Post already has the necessary approvals from city officials to demolish an office building across the street from Piazza Alta where Post now has its own headquarters. Post plans to build a new, 13-story, 280-unit apartment building on the site.
"We own some sites where the land is entitled," says Klinvex. "We're just going to wait until there's a better financing market to start projects on those sites."
The firm has no concerns in the long term about delivering too many units in this neighborhood.
"Each building has a perfectly curated unit mix meant to complement rather than cannibalize the project before it," explains Klinvex. "We are pulling the trigger on each new project programmatically and as the financing markets allow."
Investors Look For Properties In Distress
High interest rates have not inflicted too much pain on well-capitalized developers with strong balance sheets such as Post Brothers.
But smaller development companies have struggled to handle the rising cost of financing, particularly for those seeking to replace maturing loans on properties with new loans at lower loan-to-values, thereby forcing owners to contribute more equity as they refinance.
"The cost of that debt has changed dramatically over the past 18 to 24 months," says Kunal Chothani, vice president of acquisitions for the Michaels Organization, a developer focused on affordable housing based in Camden, N.J. Interest rates for permanent loans are now hundreds of basis points higher than many developers expected to pay, he says.
Michaels has more than a dozen existing apartment properties it is watching closely in the hopes that the owners may soon be willing to sell at discounts of 10 to 20 percent. The company plans to operate these apartment communities as workforce housing, with rents affordable to households earning 60 percent to 100 percent of the area median income.
So far, however, few owners have brought their properties to market.
"I've been a little surprised with how low the volume is in the investment sales world," says Chothani. "People are not selling today unless they have to in Philadelphia."
Multifamily property and portfolio sales in the second quarter of Philadelphia totaled $137 million. That's up slightly from $116 million in the first quarter, but it's a fraction of the $1.3 billion transacted in the second quarter of 2022, according to New York City-based MSCI.
"People are not selling today unless they have to in Philadelphia," says Chothani.
Meanwhile, cap rates rose from 4.9 percent to 5.3 percent year over year in the second quarter, according to MSCI.
Tactical Shift for Dranoff Properties
With all this uncertainty, many multifamily developers are content to lease apartments, and sell condos, at properties they have just finished while they wait to start new construction.
High interest rates don't seem to be hurting the sales of the condos at Arthaus, Dranoff's new 47-story, 107-unit condominium tower in Philadelphia's Avenue of the Arts district on Broad Street south of City Hall. Several floors have sold out.
"Pricing is growing," says Dranoff.
Prices start at about $1.6 million and climb higher than $15 million for the most expensive penthouse. That works out to $1,200 to $1,300 per square foot, says Dranoff, who declined to disclose exact sales figures at the $275 million project.
In comparison, the condominiums at Dranoff's Riverside condominium sold out at prices ranging from $1,000 to $1,100 per square foot.
Dranoff makes clear that he plans to start construction on his next project when the timing is right. Since 2019, Dranoff Properties owns a development site about 100 feet away from Arthaus in the same neighborhood, on the corner of Broad St. and Pine.
"We considered starting construction in 2022," says Dranoff. "When we saw interest rates starting to spike, we decided to pause the project and see how things developed."
The firm has plans to build 100 new rental apartments on the site, which is now occupied by a three-story parking garage built in the 1930s.
Dranoff has already drawn up plans for the apartments. "It's going to have large units — mostly two bedrooms and some larger," he says. Dranoff expects that future residents might already own or rent homes in other locations or might have recently sold a single-family home.
Dranoff could start construction at any time because the site is already zoned for multifamily.
"Building just to build because you already own the site is kicking yourself in the foot if you can afford to be patient," says Dranoff. "When we see in 2024 that interest rates have peaked and the Federal Reserve signals that rates are coming down, I think that will usher in a new a new era of projects."
— By Bendix Anderson. This article originally appeared in the July/August issue of Northeast Multifamily & Affordable Housing Business.