In downtown Nashville, supply is overtaking demand, leaving renters in a position of power. Developers brought 8,175 units to the market in 2022, up 40 percent from 2021's deliveries, according to Northmarq. But only about half of the units delivered last year — 4,200 — were absorbed.
Owners, however, have a surprisingly glass-half-full perspective about excess supply and rising vacancies. Not only do they say this market condition is temporary. They also believe it provides an opportunity in disguise. It's a chance to fine-tune the customer service side of the multifamily business — to get a deeper understanding of the region's renter profile and tailor operations accordingly.
This is a time, developers say, to demonstrate the industry's prowess and operational acumen and show why institutional capital is right to bet on multifamily for the long haul. In good times and in bad, owners are poised to demonstrate how rental housing can be managed responsibly and sustainably, and Nashville is just the place to do it.
It's not difficult to make the case that Nashville has a strong economy that's supported by robust job growth. In April, the city was ranked the top job market in the United States, per a study completed by Moody's and The Wall Street Journal. Researchers evaluated approximately 380 metro areas and determined the rankings based on the unemployment rate, labor-force participation rate, changes to employment levels, the size of the labor force and wages in 2022.
The population of metro Nashville increased 14.3 percent between 2016 and 2021, according to the 2023 Nashville Regional Economic Development Guide, compared with a 6.5 percent rise in population across the state during the same period.
Supply Concentrated Downtown
A majority of projects that are currently under development, 60 percent, are mid-rise or high-rise Class A communities located downtown. According to RealPage, there are 11,400 units under construction downtown.
"That accounts for 40 percent of the submarket's current market-rate multifamily housing stock, one of the highest such rates in the nation," says Carl Whitaker, director of research, analysis and market analytics with RealPage.
Tenant demand is strong all over, not just downtown, say investment experts. But barriers to entry are high and getting higher in the suburbs, keeping developers relegated primarily to the city.
Nashville's reputation for the constant presence of construction cranes doesn't necessarily mean the market is barreling recklessly toward overbuilding. Market forces of supply and demand, along with the city's deliberate planning, experts say, will prevent the region from experiencing overnight development explosions that have occurred in other fast-growing Sun Belt markets such as Austin.
"I recently moved from Austin, which is another high-growth city," says Jesse Lemos, senior vice president and producer with Northmarq's Nashville office. "Having watched Austin grow and develop, I cannot help but compare it to the recent development in Nashville. With regard to utilities and traffic, in my mind, it seems that Nashville was more prepared for the population growth."
Planning for affordable housing is an example of how a city calibrates sustainable apartment growth, explains Lemos. "The local government is tracking affordability better than most," he says.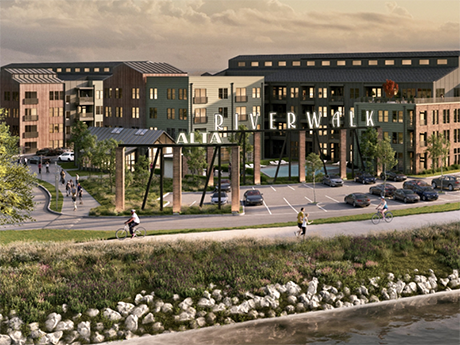 "Keeping and building upon Nashville's rich culture is exceedingly important. Having lived and experienced a 20-year growth cycle in Austin, I understand the important balance between high-growth fundamentals all while maintaining the cherished history that makes Nashville a highly sought-after place to call home for young professionals, musicians and families alike. That said, to keep and maintain the culture, Nashville will need to deliver more affordable units," according to Lemos.
Affordable housing is a major issue that could play a factor in Nashville's mayoral election set for Aug. 3. Incumbent mayor John Cooper is not seeking re-election to a second term in office.
Many of the candidates say they plan to leverage public-private partnerships and require new multifamily properties to include units affordable to residents earning middle and lower-class salaries.
With so many new projects opening in the city proper, and so few outside the metro area, occupancies vary depending on a property's location. "There are outlying suburban areas, such as Murfreesboro, Smyrna and Sumner County, with fewer than 5 percent of all existing units under construction," says Whitaker.
"Within that context, it's reasonable to think that Class A downtown Nashville assets really underperform their market peers while those Class B suburban-style assets in the supply-insulated suburbs outperform."
With so many projects underway downtown and comparatively little getting built outside the city, the aggregate data across the metro area may not provide the most conclusive snapshot of Nashville's apartment market.
"It's not entirely accurate to look at Nashville deliveries as a whole," says David Stollenwerk, senior vice president in Northmarq's Nashville office. "We track and analyze each submarket separately because the CBD absorption looks much different than that of the suburbs."
The cavalcade of new units opening downtown is having a negative impact on the occupancy rate market-wide, which has fallen 3 percentage points over the past year to 94.5 percent as of the first quarter.
Despite the falling occupancy rate, market players say the area's long-term prognosis is stable. Renter demand is expected to remain strong and will stay healthy once development ramps up again. In the interim, new starts are likely to dry up this year and next.
"The good thing about our business is it's pretty good at self-regulating," says Noah Randall, managing director with Alliance Residential Co. "We'll be receiving a wave of new supply over the next 24 months. But new starts over the next year are virtually stopping compared with the rate we were going for the past three years. Right now, everybody is in a wait-and-see period on development. Most projects take 24 months to complete after putting a shovel in the ground. I am very optimistic about 2025."
Owners Finesse Retention Strategies
With a glut of supply downtown, landlords are taking a more nuanced approached to finding and keeping renters. "In our current market conditions, the optimal approach to maximize value is to fill your project up," says Randall.
Year-over-year Class A rent growth is still positive in Nashville, but nowhere near the soaring figures from 2021. RealPage reports year-over-year Class A rent growth of 2.9 percent in the first quarter of 2023. That pales in comparison to the year-over-year Class A rent growth of 21.3 percent recorded in the first quarter of 2022.
Alliance Residential is a Scottsdale, Arizona-based investor and developer. Alliance was founded in 2000 and has built or acquired more than 115,000 units. The company builds multifamily under its Broadstone, Prose and Silveray brands. The company also invests in and develops seniors housing and industrial projects. Alliance has three multifamily projects owned or under construction currently in Nashville.
The supply glut has led to an increase in landlord concessions and reflects the disparity in supply between the city and the suburbs. According to RealPage, about 51 percent of leases were renewed between January and April 2023 in the Nashville metro area, down about 5 percent year-over-year. Seven percent of vacant units today are offering a discount, says Whitaker.
"That said, downtown Nashville is trending in a different direction than the market at large," Whitaker clarifies. "Just 43 percent of leases have been renewed in downtown Nashville year-to-date. About 14 percent of vacant units are offering a concession in that submarket, with an average discount of about five weeks free rent when offered."
Stollenwerk of Northmarq acknowledges some disequilibrium in the market. "However, we anticipate the concessions will burn off relatively fast as there is not much of a pipeline behind the current anticipated deliveries," he says. "Developers have hit the pause button due to cost of capital and construction."
The Minneapolis-based commercial real estate services firm opened its Nashville office in June 2022, with plans to grow its investment sales and debt and equity teams there.
As more owner-operators dangle the concessions carrot to keep projects leased up, renter engagement and retention are becoming priorities for landlords in the market. In fact, property owners are deploying more sophisticated and strategic tactics compared with more stable economic times. This savvy approach is critically important right now. Slashing prices and giving away rent is a last resort.
"With the nature of the capital markets, we're focused on finishing what we have under construction on time and on budget and having successful lease-ups," says Randall. "But you must acknowledge that you're not in the status quo of the past two years. The reality in downtown Nashville right now is you're leasing against five or six properties, so you've got to ensure your staff is strategic about where they spend their time and where you focus your marketing."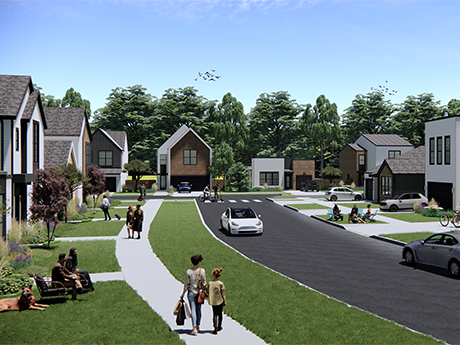 Randall explains that during the boom of 2021 and into the early part of 2022, owners could sit back and take a hands-off approach, letting the sheer nature of demand drive their lease-ups.
"A year-and-a-half ago, prospects would rent an apartment because they weren't sure it would still be there if they went to visit something else," he says. "Now, you have to stand out from the next five deals. In my opinion, you have to do that meaningfully. You don't want to get caught in a race to the bottom in pricing."
Randall cautions developers against becoming complacent by assuming they instinctively know what renters value without conducting any research backing up their assumptions.
"You have to really get to know the people who are moving into the property," emphasizes Randall. "What do they like about it? You'll get an idea in your head about what you think renters want, only to find out you were wrong. Week over week, you have to work with your onsite teams so you can continuously adapt to focus on what people care about and not focus on the things they don't care about. It sounds simple, but it's not."
Randall says that in a market such as Nashville, the best approach for operators beyond finding ways to optimize expenses is to focus on retention. "Especially in Nashville, the renter pool consists of a lot of singles and people who are highly mobile. You have to give them a reason to stay versus going to somebody down the street who is leasing up their properties and is focused on getting heads in beds and giving away two months rent."
Suburbs Put Kibosh on Apartments
The rise of Nashville's multifamily market is nothing short of meteoric. When investment firm AllianceBernstein moved its global headquarters from New York City to Nashville in 2018, apartment investment and development rocketed from there.
AllianceBernstein's move put Music City on the radar of many other corporations, including Oracle, which is building out a $1.2 billion hub in East Nashville. Amazon is building a 1 million-square-foot campus within Nashville Yards.
"Because all this job growth started around 2017 and 2018 and took off so fast, it led to a lot of developers from out of state jumping into the Nashville market," says Stollenwerk. "About 50 percent of existing inventory has come online since 2018."
Planners in Nashville's suburbs observed downtown's construction boom with some wariness. While renter demand is high outside the city, developers are hard-pressed to get a new project off the ground in the 'burbs.
"The suburbs have seen tremendous population growth," says Stollenwerk. "A lot of folks are moving to the submarkets of Williamson, Rutherford and Wilson counties for high-quality schools and for tremendous job growth. This population growth has been fueled by new residents coming predominantly from California, Chicago and New York."
Stollenwerk says many municipalities outside the city center are making it difficult to develop apartments by changing zoning and utility regulations. "They are trying to slow the development of multifamily in the suburbs due to their preference for the sale of single-family homes," he says.
"Murfreesboro, for example, changed its water-sewer capacity a few years ago and limited it to eight units per acre. That doesn't work for apartments, where you typically require 14 units per acre to make the project feasible.
Municipalities are finding new ways to limit the apartment development pipeline," he says. "Nashville's suburban municipalities — unlike metros such as Atlanta for example — became very anti-development very quickly," adds Randall. "Most of the development has been downtown — not because there's a ton of land and more demand in town, but because Davidson County (home to Nashville) is open for business. The lack of density coming into the suburbs is forcing a lot of really expensive, high-basis development in midrise and high-rise construction in-town."
Randall explains that cities often pause development by enacting moratoriums to buy time to conduct studies and evaluate permitting processes and the pipeline's potential impact on roads, utilities and schools. NIMBYism — an acronym for "not in my backyard" that is used to describe an aversion to commercial development — also plays a strong role in inspiring moratoriums.
"It's important to remember, though, that bona fide concerns about infrastructure not keeping up with the pace of development are part of NIMBYism," says Randall.
Market conditions are also expected to act as a governor, slowing growth in the near term. Stollenwerk says the dramatic ramp up in new construction will be followed by an equally dramatic slowdown.
According to Northmarq and RealPage, developers delivered 6,275 units in 2021 and 7,637 units in 2022. The forecast calls for developers to complete 12,872 units in 2023 and 15,868 units in 2024. The following year, however, is projected to be a different story. Only about 4,433 units are expected to be delivered in 2025.
"Apartments typically take three years from planning to delivery, and many developers broke ground on new developments during the peak job and rent growth period from 2019 to 2022," says Stollenwerk. "The number of proposed and planned projects has dropped off dramatically in 2023, which translates to very few units being delivered in 2025 and beyond. We don't expect to see this trend change until construction costs come down, interest rates decrease — reducing the cost of capital — and lenders loosen their loan-to-cost (LTC) requirements."
Stollenwerk explains that most lenders are capping out at 55 percent LTC, requiring developers to seek large amounts of outside equity — which is very costly and hard to come by these days. "Until these things change or cap rates drop significantly, developers won't be able to hit their required yield on cost necessary to make a new development feasible — resulting in very few future deliveries."
Additionally, Stollenwerk says sales have decreased, which affects a merchant developer's mindset of whether it is the right time to start or pause a project. "Right now, most are in pause mode and waiting for the right time to hit the start button," he says. Big picture, though, investors and developers say long-term demand can't be quelled by this extended pause mode. "We remain really bullish on the market," says Randall. "There's a reason to be in it for the long haul in Nashville." 
— By Lynn Peisner. This article originally appeared in the May/June issue of Northeast Multifamily & Affordable Housing Business.