Ground-up developers and owners evaluating value-add projects should consider bulking up their fitness amenities to support a wide range of active lifestyles.
— By Sarah Yaussi, National Multifamily Housing Council (NMHC) —
The health and fitness industry has undergone tremendous transformation in recent years. Specialized fitness centers like CrossFit gyms and spin studios have challenged traditional fitness centers as the workout destination of choice for many.

TRX straps, kettle bells and resistance bands have claimed real estate on the weight-room floor. And the growth of on-demand classes and in-home gyms has offered an alternative to those who want to pursue a healthier lifestyle closer to home.
While many of these shifts had begun long before COVID-19 reared its ugly head, the pandemic certainly accelerated many of them — especially at apartment communities. As conventional fitness clubs and studios shut down in the name of social distancing, many apartment dwellers were aching for fitness solutions on site.
For some that meant investing in virtual memberships and app-based classes and equipment such as Peloton bikes. But it also meant many apartment residents looked to their community fitness centers with new or renewed interest.
With the pandemic largely in the rearview mirror, it's important to take stock of these changes and look for clues as to how demand for fitness solutions might once again change at apartment communities. The 2022 National Multifamily Housing Council/Grace Hill Renter Preferences Survey Report —with its responses from more than 221,000 renters nationwide — offers key insights into these questions.
Here's a look at some of the big trends coming out of the data on health and fitness facilities at rental communities.
Who Uses Community Fitness Centers?
Most apartment renters have long been interested in having fitness facilities on site at their rental communities. And this latest round of data from the survey proved that once again. In fact, 70 percent of survey respondents said that they were interested in, or wouldn't rent without, a fitness center. However, while some use their community's fitness center exclusively, others view it as a convenient supplement to their use of other fitness facilities in their area.
Interestingly enough, despite this high level of interest, survey results showed some of that interest is purely aspirational as usage doesn't necessarily correlate to interest levels. Roughly half (49 percent) of respondents with community fitness centers said they rarely or never use them, while 6 percent say they use them daily. The rest fall somewhere in between, either using them once or a few times per week or per month.
Among renter respondents who use the fitness center at their property, 54 percent use it exclusively. Another 25 percent use their community fitness facility and pay a monthly fee for another fitness center, while 12 percent use a fitness center at their office or workplace along with the one closer to home.
For property managers and operators, tracking demand and use of the fitness center makes sense, especially on the weekends since many residents see it as an alternative to the facility they use on workdays. Understanding the traffic flow and the way the facility is used over the course of a week offers insight into optimal times for cleaning, service and special events.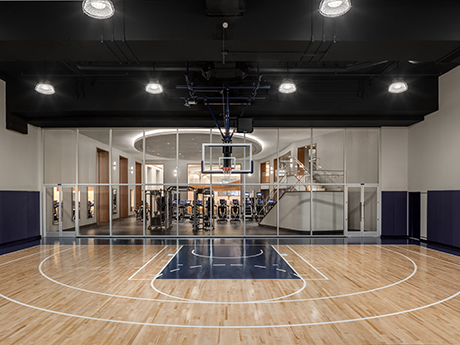 What Do Residents Want in Their Fitness Centers?
For those making use of their community fitness centers with any regularity, there are a number of must-have features that they need. More specifically, three types of equipment were considered essential:
Cardio exercise machines — Machines, such as treadmills, ellipticals or bikes ranked highest among all fitness equipment, with 79 percent of respondents considering them important or very important.
Free weights — Dumbbells and barbells were top picks for 76 percent of respondents.
Weight machines — Roughly 69 percent of respondents indicated they had interest in weight machines, such as those produced by Nautilus or Precor.
The cardio machines residents wanted most were treadmills, coming in at 78 percent, with ellipticals at 56 percent. Spin-style bikes were popular with half of the respondents. Another 46 percent said they were interested in a recumbent bike. Rowing machines and stair machines were popular as well at 49 percent each.
Among other popular features were CrossFit and TRX equipment at 38 and 40 percent respectively. For those preferring classes, 36 percent of respondents were looking for yoga classes while 32 percent wanted general fitness classes taught at their on-site facility.
While 73 percent of those looking for fitness classes on site were interested in instructor-led live classes, on-demand and virtual classes have made inroads into the expectations fitness that enthusiasts have for the format. Pre-recorded, on-demand sessions were viable alternatives for 36 percent of respondents, while another 28 percent were interested in live virtual classes.
Why Don't More Residents Use Their Community Fitness Center?
Among those who don't use their community's fitness center, 43 percent simply didn't have an interest in using it. Twenty-three percent of respondents who said they were interested but still didn't use the on-site fitness center cited membership to an off-site gym as the reason for opting not to work out at their apartment community's facility.
For those who wish to use their fitness center but choose not to, the reasons primarily came down to the availability and quality of the equipment at the property. Twenty-six percent indicated there was either not enough equipment or the equipment was not what they were looking for. For 11 percent, the equipment available was outdated and 13 percent said the center was simply too crowded to use.
Ten percent of respondents said that they prefer group classes over individual workouts. Among those who pay for a membership elsewhere and use their community's facility, 12 percent pay for classes at a yoga or fitness studio. This may reflect some renters' desires to have some coaching or yoga-pose corrections during their workouts or a need for a social component to their fitness routines.
Many apartment owners and operators are paying attention to these trends and adjusting their onsite workout facilities to deliver the health and fitness experience many of today's renters are looking for.
While an on-site fitness center can sometimes follow a formulaic design, leading apartment owners and operators are opting for fitness facilities and adjacent amenities, like a pool, spa and games court — as one might find in a commercial facility. This cohesive approach offers the opportunity to promote the community's fitness offerings as a whole, which adds perceived value to each of the individual components.
For example, GID Properties' Waterline Square in New York City offers a suite of sports and fitness amenities via its Waterline Club. Fitness enthusiasts here revel in the many activities available, from indoor tennis, basketball, squash and rock-climbing to a half-pipe skate park, golf simulator and indoor soccer field. An expansive fitness center includes private studios for yoga, barre, Pilates, boxing and more.
With so many residents considering health and fitness amenities during their lease decision-making process, apartment owners and operators are paying special attention to their fitness amenities and packages, investing in square footage and new equipment to make them top-tier.
Whether you're building a property from the ground up or planning a renovation, an upgraded fitness amenity will resonate with a majority of today's renters.
— Sarah Yaussi is vice president of business strategy at the National Multifamily Housing Council (NMHC). Since its inception in 2013, the NMHC/Grace Hill Renter Preferences Survey Report provides data to apartment owners, managers, developers, industry suppliers, architects, financial institutions and others seeking insights into the minds of renters.