France Media compiles an annual resource guide for the multifamily and affordable housing sectors. This directory includes developers/builders, investment sales brokers, property managers, lenders/financial intermediaries, architects and design firms, as well as vendors (40 subcategories) specializing in multifamily and affordable housing.
The resource guide includes contact information and a brief description of companies, and it runs in all five regional magazines.
To have your company's information included in the 2023 Multifamily & Affordable Housing Business directory, complete the form below or at this link. The cost is $495 and you will complete payment on the second page of the form.
For information on advertising, contact Publisher Scott France at 404-832-8262 x108 or scott@francemediainc.com.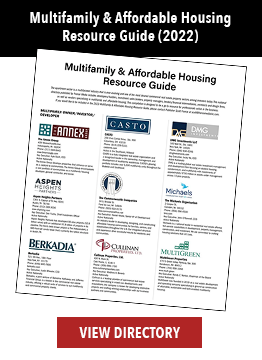 (After you click submit on the first page of the form, please scroll up for the second page, where you will enter payment information.)