­While investment sales activity has slowed in the Kansas City apartment market due to the spike in interest rates, development is continuing at a brisk pace.
RealPage reports that 8,582 units were under construction in metro Kansas City as of the second quarter. This number is on par with the second quarter of 2022 when 8,422 units were under construction, and significantly higher than the second quarter of 2021 (6,889 units) and the second quarter of 2020 (7,354 units).
Total deliveries in 2023 are expected to rank as the second highest in the past two decades, behind only 2020, according to Marcus & Millichap. Total inventory is projected to grow by 2.5 percent, well above the long-term average of 1.5 percent.
Annual property and portfolio sales in metro Kansas City's apartment sector totaled $1.55 billion in 2022, down from $1.95 billion the previous year, according to MSCI Real Assets. The data is based on property and portfolio sales $2.5 million and above. Year-to-date through the second quarter, property and portfolio sales totaled $542.1 million.
This slowdown in investment activity is due to several factors, but the primary cause is high interest rates. To combat inflation, the Federal Reserve has steadily raised the federal funds rate from near 0 percent in March 2022 to a range of 5.25 to 5.5 percent as of late July 2023. The federal funds rate is the interest rate at which banks and other depository institutions lend money to each other, usually on an overnight basis.
The significance of the sharp increase in the federal funds rate over such a short period of time is that it has caused short-term and long-term interest rates for borrowers to rise dramatically.
"This shift in the market has slowed transactional velocity in most markets across the nation," says David Gaines, a managing director in JLL Capital Markets' Chicago office. Gaines also co-leads the company's national private capital group. "Sales volume in Kansas City is down approximately 50 percent compared with the same period last year."
Despite the current volatility in the capital markets, developers, investors and brokers alike expect an economic recovery for the region as early as 2024.
"As consistent development activity continues and absorption keeps pace with deliveries, Kansas City remains a prime target for multifamily investment in the Midwest," states Gaines. 
Healthy Vital Signs
Economic vital signs of the Kansas City metro area — which includes Johnson, Leavenworth, Linn, Miami, and Wyandotte counties — have trended in a positive direction over the last year. Total nonfarm payroll employment in the Kansas City metro area rose by 41,200 from June 2022 to June 2023, according to the U.S. Department of Labor. This represents a 3.7 percent increase.
The leisure and hospitality sector saw the largest gains (+9,700), followed by professional and business services (+8,600) then education and health services (+7,400) during that 12-month period.
The region's unemployment rate, not seasonally adjusted, rose from 2.5 percent in July 2022 to 3.2 percent in July 2023. The unemployment rate is expected to fall to 2.4 percent in 2024, according to The Center for Economic Development and Business Research (CEDBR) based in Wichita, Kansas.
Total nonfarm employment is projected to reach 484,613 in 2023 and 490,541 in 2024, which represents an increase of 0.8 percent and 1.2 percent, respectively. CEDBR's "2023 Kansas City Employment Forecast," which was released in May, suggests the labor market will continue to trend in the right direction over the coming years.
"The Kansas City labor market is showing signs of consistent growth, with the services sector leading the way," says CEDBR Director Jeremy Hill.
Kansas City's multifamily occupancy rate as of the second quarter was 94.9 percent, according to RealPage. This is a slight drop from 96.8 percent in the second quarter of 2022.
The average effective rent was $1,276 in the second quarter of this year, up 6.8 percent from $1,194 in the second quarter of 2022.
Developers delivered 4,371 units on an annual basis in the second quarter, while 382 units were absorbed during the same period, according to RealPage. Despite this surge in supply, however, concerns of the market falling out of equilibrium are few and far between.
"I don't have many concerns about the market becoming oversupplied," says Michael Spero, a senior director of multifamily investment sales at Berkadia's Kansas City office. "Downtown has seen a lot of new supply come along, but there's a continuous demand from the urban core. In general, supply is diversified across the Kansas City metro. I'm comfortable with where the market is at regarding deliveries and absorptions. We remain at a strong occupancy rate across the metro, with continued rent growth."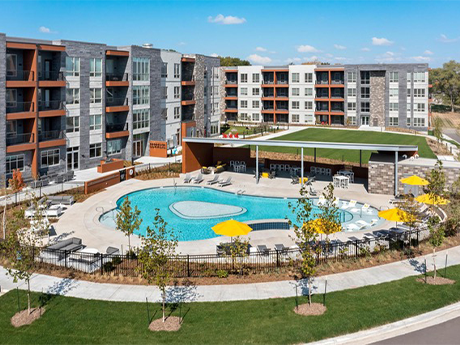 Notable Projects
"Kansas City is proving once again that it's stable," says John McGurk, vice president of development at Milhaus. "The city's real estate fundamentals are still really good. And that's true of a lot of Midwestern markets. You don't get the dramatic highs like in Florida or Texas, but you also don't get the dramatic lows. That's how it's always been. That's the investment thesis for Kansas City. It's a safe place to be to hedge against the coastal markets that are a little bit more volatile."
Founded and headquartered in Indianapolis, Milhaus is a mixed-use developer that specializes in urban residential buildings. The developer broke ground on two apartment complexes in the third quarter of 2022, both of which are slated to deliver in October 2024.
In August 2022, Milhaus began development of a $66.8 million community in the Kansas City neighborhood of Volker. Cadence Commercial Real Estate, Humphreys Capital and CrossFirst Bank provided financing for the development. The community, which is yet to be named, will comprise 226 units in studio, oneand twobedroom layouts. Amenities will include a coworking area, conference spaces, fitness center, movie room, pool, pet spa, package room and garage parking.
The developer also broke ground on a 275unit complex in North Kansas City last September. This project will be Milhaus' 10th multifamily development in metro Kansas City. The community, which was also not named, will offer studio, one-, twoand three-bedroom units. Amenities will include a bark park, coffee bar, a fitness center, yoga center, grills and fire pits, pool, bike parking and EV charging ports. The total cost of development is expected to be $58 million. Great Southern Bank provided a construction loan to facilitate the asset's construction.
A joint venture consisting of Sunflower Development Group (SDG) and Platform Ventures, a locally based private equity investment firm, recently completed the development of Brookside Commons. Located in Kansas City's Brookside neighborhood, Brookside Commons offers 212 market-rate units across three buildings on a 5.4-acre site. The first two buildings opened in August 2022 and the final building opened on July 1 of this year.
Apartments at Brookside Commons come in studio, oneand two-bedroom layouts. Amenities include a pool, community kitchen and living room, game room, co-working room, fitness center, dog park, bicycle storage and repair station, electric vehicle charging stations and onsite storage units. The property also includes both surface level parking and a parking deck underneath the building.
The total cost of the project was $43 million. Marble Capital, Sunflower Bank, Central Bank of the Midwest and Capitol Federal Savings Bank provided capital for the development.
Brookside Commons is currently managed by First Management Inc. The project was designed by Clockwork Architecture, Design and Hollis and Miller Architects. Lowery Design Group provided interior design services. Superior Bowen and First Construction were the general contractors.
The property was part of an existing Planned Industrial Expansion Authority (PIEA) area formed by a previous owner. The PIEA is a statutory agency under the City Council of Kansas, Missouri. The agency provides incentives to encourage commercial and industrial redevelopment within the city, including tax abatements and sales tax exemptions. The previous owner did not move forward with a development, so Brookside Commons will benefit from the PIEA tax abatement program. 
Affordable Housing Push by City
Demand for affordable housing is high across the nation, and Kansas City is no exception. "The biggest gap in the market is in affordable housing," states Morgan Schulte, vice president of commercial banking at the First National Bank of Omaha. She believes there is ample opportunity locally for affordable housing developers.
"While KC by and large is affordable compared with national averages, there is a need for affordability across all income demographics. However, in those deals, there typically needs to be an incentive tool for the developer to be able to make the numbers work. So, if we need an increase in more affordable products, then these will need to have public-private partnerships to make it more feasible," explains Schulte.
SDG, in partnership with Prairie Fire Development, recently delivered Schoolyard Townhomes. The mixed-income, townhome-style community opened its doors in spring 2021.
Located in the western Kansas City suburb of Tonganoxie, Kansas, Schoolyard Townhomes offers 27 two-bedroom units with rents ranging from $350 per month for workforce housing units to $995 per month for market-rate units. The property also includes five units in threebedroom layouts, with rents ranging from $575 to $1,100 per month.
Sunflower Development Group and Prairie Fire Development received a 9 percent LowIncome Housing Tax Credit (LIHTC) from the state of Kansas for the development. Prairie Fire Construction was the general contractor on the project. Odimo Architectural provided architectural design. Affordable Housing Partners acted as the tax credit investor.
SDG is also currently developing a workforce housing project in Shawnee, Kansas, in the heart of Johnson County. Hedge Lane Apartments offers 144 garden-style apartments in one-, twoand three-bedroom layouts. The community is affordable to households earning at or below 60 percent of the area median income (AMI). According to Moberly, the community's first units opened for residency on Sept. 1, with the remaining units to be delivered in phases throughout the remainder of the year.
Hedge Lane Apartments is financed through a combination of the 4 percent LIHTC, taxexempt bonds and a $1 million long-term loan from Johnson County. According to the developer, the project is one of the only workforce housing developments to be built in Johnson County in 20 years.
To encourage more affordable housing development, the Kansas City Council passed an ordinance in January 2021 that required residential development projects seeking incentives from the city to provide some affordable housing components. In August 2022, the city council amended the ordinance to relax some of the requirements.
Currently, the ordinance requires developers seeking incentives to set aside 20 percent of units for households earning at or below 60 percent of AMI. By those metrics, a one-bedroom apartment would cost about $1,200 per month to rent.
The ordinance applies to proposed developments comprising 12 or more residential units that are seeking economic incentives from the city. Projects that utilize the LIHTC program through the Missouri Housing Development Commission are exempt from the requirements of the ordinance, as are renovations or rehabilitations of properties designated as historic landmarks.
"Changes to the incentive policy, along with increases in interest rates, material costs and labor costs, have certainly made it more challenging to get a project to pencil out, which has slowed the number of projects under construction around the city," according to Moberly. "But, despite these challenges, there are projects finding a way as there are several new starts in the market, just not near the level prior to the pandemic."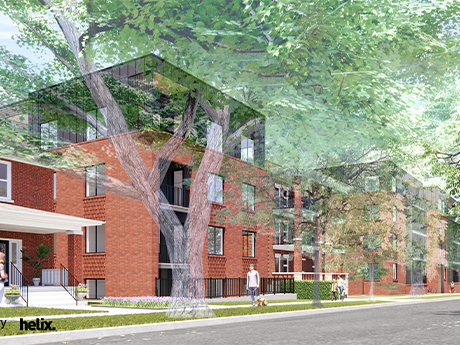 Flurry of Urban Developments
Despite softening investor demand for multifamily product due primarily to rising interest rates, high construction costs and economic uncertainty, several major development projects are thriving in Kansas City's urban core.
"We saw a dramatic decline in deliveries of new units [downtown] over the last three years," says Gibson Kerr, managing director in Cushman & Wakefield's Kansas City office. "As we recover from the impacts of COVID and the 2021 affordable housing ordinance, we're seeing an uptick in the number of units under construction. While only 322 units will be delivered in downtown Kansas City this year, we expect more than twice as many units to come online in 2024. We expect even more growth in 2025, with downtown deliveries returning to the historic average of 1,000 to 1,200 units per year."
The Kansas City port authority, Port KC, formed a partnership with the Kansas City Current in July to develop a high-density riverfront neighborhood with walkable amenities on 10 acres of land adjacent to Berkley Riverfront Park.
The proposed development will include office and retail space, as well as approximately 1,000 new residential units. Of the total unit count planned, 10 percent will be available to households earning up to 50 percent of AMI. The development is expected to cost a total of $800 million and will be built in phases over 10 years.
The project will complement existing developments in the area, including the KC Current Stadium, an 11,500-seat soccer stadium that is set to deliver in 2024; the 118-room Origin Hotel; and existing apartment complexes such as CORE and Union Berkley Riverfront.
Meanwhile, downtown Kansas City's tram route, the KC Streetcar, is under construction and will be extended to the riverfront, with a stop near the Origin Hotel. The developer broke ground on the project on April 6, 2022, and the full expansion to the tram route is anticipated to become operational in 2025. According to the KC Streetcar website, the project will cost about $330 million.
Port KC is the owner of the Berkley Riverfront development and the surrounding area. Cushman & Wakefield represents Port KC and is marketing the Berkley Riverfront sites.
The Cordish Cos. is currently developing two major projects in Kansas City's Power & Light District, a dining, shopping, office and entertainment district in the heart of downtown. According to the property website, the mixeduse neighborhood cost approximately $850 million to develop and opened in 2008. The district was named after the Kansas City Power and Light Building, an art deco skyscraper that has been a Kansas City landmark since its delivery in 1931.
In 2014, Cordish and J.E. Dunn Construction broke ground on the first of three high-rise apartment buildings, One Light Luxury Apartments. The 25-story tower opened in 2015. Cordish delivered a second tower, Two Light Luxury Apartments, in May 2018.
The company broke ground on Three Light Luxury Apartments in October 2021. Cordish topped the $140 million project out in March. Three Light will comprise 288 units across 26 stories, as well as a seven-story parking garage and 7,600 square feet of ground-floor retail space.
Amenities will include an outdoor terrace with a pool, clubroom, party room, entertainment kitchen, theater room, game room, business center, fitness center, coworking spaces, dog wash station, concierge services and laundry services. The building is slated for completion this fall.
In July, Cordish also began the conversion of the historic Midland Office Building in the Power & Light District into an apartment building. The office building has been vacant for more than 20 years, according to the developer. The conversion is slated to be complete next May.
The converted property will be called Midland Lofts and will feature 135 units in studio and one-bedroom floor plans. Amenities will include a coffee bar, entertainment kitchen, fitness center, coworking spaces, billiards room, club lounge, meditation room, business center, conference rooms and package system. Architecture and design firm Helix is the project architect, and RD Jones + Associates is the interior designer for the amenity spaces.
"The market hit the 'pause' button over the past year, but activity is steadily increasing as developers adjust to the new cost dynamics and position themselves for the anticipated full economic recovery in 2024," concludes Kerr. 
— By Channing Hamilton. This article originally appeared in the July/August issue of Midwest Multifamily & Affordable Housing Business.