Long known as a key center for oil and gas companies and dubbed "The Energy Capital of the World," Houston today is positioning itself as the proving ground for alternative energies. Jobs, and therefore apartment demand, are following close behind, keeping investors busy.
Per Yardi Matrix, Houston is one of only a few metros in which employment rates have returned to pre-pandemic levels. The multifamily sector, alongside many others, is reaping the benefits of such a bounce.
Employment expanded by 150,400 jobs, about 5.2 percent, from March 2021 to July 2022, outperforming the nation by 50 basis points.
Meanwhile, the greater Houston area saw an increase in population growth of 1 percent in 2021, gaining 69,094 people.
The jobs generated by this economic corridor have created consistent demand for rental housing in Houston. Occupancy rates rose an average of 1.3 percent between April 2021 and April 2022 to 94 percent.
Yardi Matrix's July 2022 multifamily report ranked Houston fourth in the nation for multifamily sales volume in 2021. Buyers and sellers completed $11.1 billion worth of transactions that year. The top four markets, which also included Dallas-Fort Worth, Atlanta and Phoenix, were the only metros in the nation that posted double-digit, billion-dollar sales.
Construction activity remains fairly robust. Between January 2021 and May 2022, developers brought 5,962 new units to Houston, The Woodlands, Sugar Land, Baytown, Conroe and Galveston, according to Yardi Matrix.
According to Greg Austin, senior managing director in the Houston office of Marcus & Millichap, more than 21,500 units were delivered over the past 12 months, and just under 17,000 units were absorbed.
"Absorption has started to wane a bit, but rental rates across the city rose 8.8 percent over the past 12 months, when deliveries and absorption were roughly the same," he says. "Rent growth should remain strong for the balance of this year and into 2023," he says.
Value-Add Strategy in Play
Earlier this year, Memphis, Tennessee-based Fogelman Properties acquired The Moorings in the Houston submarket of League City, which is about 27 miles southeast of downtown Houston. The 201-unit waterfront property was an important acquisition for Fogelman because the Moorings sits on Clear Lake, and some units include waterfront views.

"That in and of itself makes it special," says Mike Aiken, senior vice president of investments at Fogelman Properties, a property management and investment company with multiple assets in the greater Houston region.
The previous owners renovated The Moorings, which was built in 1997. About 20 percent of the units have granite counters, stainless steel appliances and wood-like flooring.
Fogelman's strategy is to bring the remaining 80 percent of units up to that standard. Aiken says that Fogelman plans to raise rents by $100, on average, following the renovations.
"That's the biggest focus of our value-add for the asset," Aiken explains. "We'll also be making some common area improvements, specifically around the lake area, and improving overall curb appeal with landscaping and signage."
Developers Active In Urban Core
League City is just one active submarket for multifamily trades. Downtown is also home to a high concentration of Houston's multifamily stock. More than 15,600 units have been built downtown over the past decade, representing almost two-thirds of the existing inventory in the area.
"The city's significant expansion of its downtown housing stock was a long time in the making, with supporting programs such as the Downtown Living Initiative committed to improving the local economic and development scene," says Doug Ressler, manager of business intelligence with Yardi Matrix. "The urban core is where primary growth is occurring."
Approximately 2,700 apartment units are currently under construction in Houston's downtown district, according to Yardi Matrix, with completion dates spanning the next two years.
Yardi Matrix reports that from June 2021 to May 2022, most transactions were concentrated in West End/Downtown; Jersey Village/Satsuma; West Bellaire; The Heights; Addicks; Louetta and Cinco Rancho-North.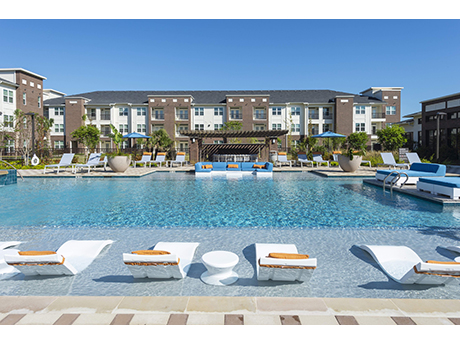 One such recent transaction in and around these areas was San Paloma. Located midway between Jersey Village and Cinco Ranch, the 372-unit community was developed by SUEBA USA in 2006. Austin-based RPM Living Investments and New York-based DRA Advisors acquired San Paloma in August from a partnership between Blackstone and Livcor. According to the community's website, rental rates range from $1,415 to $1,730.
Yardi Matrix reports that the largest project delivered in 2022 as of May was in the Galleria area of Houston — Aspire Post Oak, developed by The Dinerstein Cos. The highest rent listed on the website of this 383-unit luxury high-rise was $7,800 per month for a 1,398-square-foot, two-bedroom, two-bath apartment.
Nearby, DeisoMoss will break ground next year on a mixed-use tower in the Uptown neighborhood near the Galleria Mall,
according to the Houston-based developer.
Other recent transactions in some of Houston's active submarkets include: RPM Living and DRA Advisors' acquisition of The Quinn South at Westchase, a 372-unit apartment community in Houston's Energy Corridor; the sale of Domain at Morgan's Landing, a 350-unit apartment community in La Porte; and the sale of 7 Square, a 402-unit apartment community in Houston.
Clean Energy Fuels Job Growth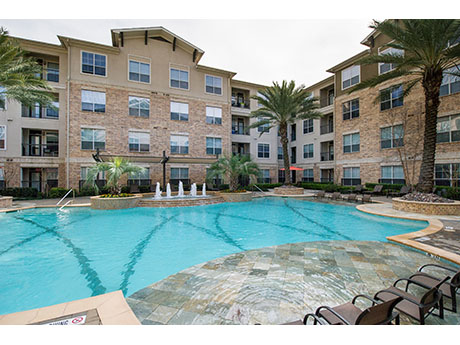 The city has been a prime location for oil corporations since the 1970s. But in 2001, the Texas legislature officially designated 1,700 acres in West Houston for the Energy Corridor Management District. As of 2013, the corridor's property value had tripled from $600 million to more than $2 billion, according to the Greater Houston Partnership.
"The energy business is what separates Houston from other markets," explains Aiken.
Today, the city of Houston employs approximately one-third of the nation's jobs in oil and gas extraction, per the Greater Houston Partnership. The industry, however, is beginning to evolve alongside changing times.

"In the 1990s, the economy in Houston was basically 41 percent reliant on petrochemicals and oil and gas," explains Travis Austin, director of IPA Texas. "Over a three-decade period, however, only 24 percent of Houston's economy is now in that same employment classification. That's over a 15 percent shift toward diversification in three decades, which is quite dramatic."
In 2021, the Greater Houston Partnership, the Center for Houston's Future and McKinsey developed a strategy to position Houston as not only the energy capital of the world, but also the energy transition capital.
"Alternative energy will be the future for Houston," says Ryan Epstein, managing director at Walker & Dunlop. "We have the science and engineering talent here to do it."

In June 2022, the U.S. Department of Energy released the 2022 U.S. Energy and Employment Report (USEER), which covers five major energy industries: electric power generation; motor vehicles; energy efficiency; transmission, distribution, and storage; and fuels. The 2022 USEER's findings reveal that all industries — except fuels — showed net-positive job growth in 2021. The 2022 USEER additionally reported that clean energy was a significant source of job growth in many states. Texas was among one of the three states with the highest energy job growth numbers, having gained 30,903 net jobs in 2021. This number includes 4,858 jobs in low or zero-carbon motor vehicles, 6,771 jobs in energy efficiency and 1,610 jobs in solar energy.
"In terms of the regional economy from a macro perspective, we see Houston becoming a much more resilient economy in the near term," says Travis Austin. "A big part of this shift is the focus on cleanenergy, life sciences, biotech and venture capital specifically. There's a concerted effort to reposition the brand Houston offers, which will trickle down to the employment force."
Houston Vs. National Averages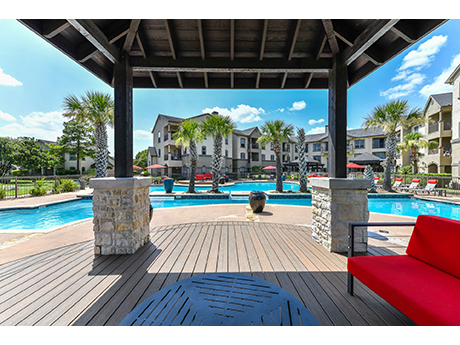 Yardi Matrix reports average asking rents in the greater Houston metro were $1,293 per month as of July, below the comparable $1,680 national figure.
The single-family rental (SFR) sector reveals stronger growth than conventional multifamily. The annual average asking rent in this asset type rose 14.4 percent.
"Potential homebuyers are expected to face higher borrowing costs, and the SFR and multifamily sectors are poised to benefit," according to Yardi's report.
Yardi Matrix's data indicated a stronger demand for apartments from renters-by-necessity than from renters-by-choice. Apartments inhabited by renters-by-necessity showed a 1.6 percent increase through April, while apartments inhabited by renters-by-choice showed a 1 percent increase.
David Northern, president and CEO of the Houston Housing Authority (HHA), concurs that renter-by-necessity apartments remain a major need in Houston.
The HHA is funded by the Department of Housing and Urban Development and provides affordable, mixed-income and workforce housing to the region. The HHA also provides tenant-based assistance to low-income families for a variety of rental housing options, such as apartments and townhomes, through the Housing Choice Voucher
Program.
"We have over 50,000 people on our waiting lists," Northern explains. "We service over 80,000 people. When you talk about affordable housing, the city has the third largest voucher program in the nation, with more than 18,000 vouchers. It's a major impact."
The Coming Storm

The Yardi Matrix report does warn, however, that transactions are likely to slow in the upcoming months. In September, the Federal Reserve raised its benchmark interest rate by another three-quarters of a percentage point to a range of 3 to 3.25 percent to combat high inflation. It was the Fed's third consecutive rate hike of 75 basis points. The Consumer Price Index increased 8.2 percent in September on a year-over-year basis. Investors are responding to a tumultuous economy by being more cautious and deliberate about the deals they're making. This can be seen in the slowing of offers that sales brokers are receiving, according to Edward Gray, managing director at real estate financing company Greystone.
Gray expresses that Greystone has continued to see success by offering bridge loans and agency loans and tapping into buyers through HUD homes, which are multifamily homes insured by FHA-approved lenders and used for acquisitions and refinancing. "Many buyers show negative leverage — that is, when the going-in capitalization rate is less than the interest rate being paid for the loan — for one to two years on their pro forma, betting on rent growth and sales to generate the returns," Gray explains. "Buyers who are solving for a lower return are generally more able to accept lower levels of debt."
Aiken is exercising caution when it comes to pursuing market opportunities. "The ability for individuals to purchase a house — especially first-time homebuyers — has gotten more difficult. That arguably bodes well for multifamily on the rental side. However, if the macroeconomy slows as it appears to be doing, that could be a broader risk for us," he says.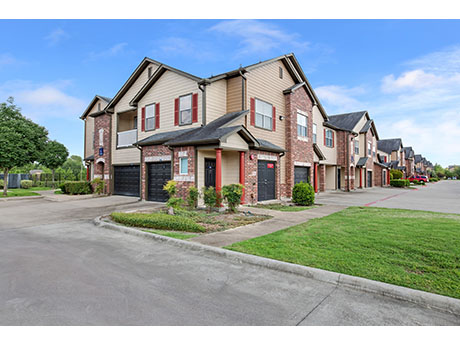 The most recent survey of economists by The Wall Street Journal puts the probability of a recession in the next 12 months at 63 percent, up from 49 percent in July's survey.
During a slowdown, renters who prefer a one-bedroom may instead opt for a roommate and lease a two-bedroom to lower their monthly rent. What would have been two households instead becomes one. As such, household formations tend to slow during an economic slowdown. "As a result, we're trying to be careful," says Aiken. "We'll continue to make investments, but it's going to be a very cautious approach as we review the opportunities."
— By Channing Hamilton. This article first appeared in the September/October 2022 issue of Texas Multifamily & Affordable Housing Business.