The City of Jacksonville's pro-development plans have apartment developers feeling confident amid soft market conditions challenging many cities today. Downtown Jacksonville is a 3.9-square-mile area that straddles about six miles of the St. Johns River. It's made up of eight districts or neighborhoods along the river's north and south banks. The Downtown Investment Authority (DIA) has identified these eight districts as sites for future development for residential, hotel, retail and office projects.
Within these districts, developers are expected in 2024 to complete 31 multifamily projects, which include 8,402 units, according to NAI Hallmark's multifamily report from the second quarter of this year. These deliveries pale far exceed the number of units delivered in years past. Over the past decade, developers have opened an average of 3,000 new units annually here, according to CoStar. 2024's tally marks one of the largest influxes of new supply in the city's history, per Matthew's Jacksonville multifamily market report.
Metrowide, the Florida Apartment Association (FAA) reports a grand total of 13,413 apartment homes are currently under construction. Developers delivered 7,605 units to the metro area over the past 12 months, representing an increase of 45.6 percent from the previous period. FAA says Jacksonville's apartment inventory has nearly doubled since the start of the pandemic. This historically high supply of apartments has slowed rent growth trends.
"Between the second quarter of 2022 and the second quarter of 2023, the Jacksonville MSA saw rent growth of 1.19 percent, according to Axiometrics, which is a decrease from the post-COVID boom in rents that many markets in Florida benefitted from," says Ted Taylor, a director in JLL's Orlando office.
During that post-COVID boom, rents climbed nearly 20 percent. Effective rents in the Jacksonville MSA increased 18.7 percent year-over-year during the third quarter of 2021, according to NAI Hallmark.
"The recent slowdown in rent growth can be attributed to significantly increased supply in the MSA, including Southside, which encompasses St. Johns Town Center and the Orange Park submarket," says Taylor. "As supply continues to increase, Jacksonville will experience a period of softness in terms of rent growth as the heightened supply absorbs into the market."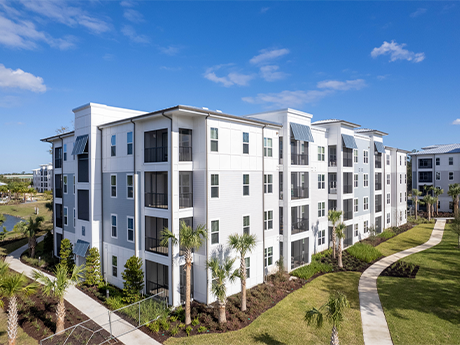 Florida Holds Spot as Investor Favorite
Taylor says concessions are probable in the near term to fill excess units. But he points to rising home costs and high-interest-rate mortgages, which are fluctuating between 6 and 7 percent for a 30-year, fixed mortgage, as tailwinds for long-term renter demand and fuel for higher rent growth figures in the future. Investor confidence also is buoyed by a decline in new apartment construction, expected to follow next year's peak. In 2025, developers will deliver about 11 projects that will bring 4,686 units to the metro, compared with 2024's 8,402 units, per NAI Hallmark.
"Deliveries are expected to decrease over the next five years, and rent growth is projected to remain steady at around 3 to 4 percent within this time frame," adds Kyle Butler, who is also a director based in JLL's Orlando office.
"As for the question of whether this construction boom led to an oversupply, it depends on the balance between supply and demand in the market," Butler continues. "Jacksonville is one of the fastest-growing areas, with a population expected to rise to around 1.8 million by 2027. With the steady population increase and consistent flock to Florida from out-of-staters, Jacksonville continues to keep up with the housing demand." Jacksonville's population stood at 971,319 as of 2022.
Bob Thollander, president of development for The Bainbridge Cos., also is not worried about new supply putting a long-term strain on market fundamentals. "While it's true that there has been a significant increase in multifamily construction in Jacksonville, we believe that the market is not oversupplied but rather adjusting to meet growing demand," he says.
The Wellington, Florida-based company opened the 372-unit Bainbridge Avenues Walk in June in the popular Southside submarket of Jacksonville.
"The number of units under construction has indeed risen over the past few years, but this is in response to the city's population growth and increasing renter demand," he says. "We don't see this as a supply problem, but rather as a sign of a healthy and growing market."
Other developers are making big commitments for the long haul in Jacksonville as well, including RISE: A Real Estate Company. RISE moved its headquarters from Valdosta, Georgia, to Jacksonville in 2022.
The developer has five multifamily projects underway in the city, including RISE Doro, a $67 million, 247-unit project with ground-floor retail set to open later this year. RISE Bartram Park is a $61 million, 295-unit project near Durbin Park shopping center, also set to open this year. RISE Baymeadows will have 331 units across its four-story, garden-style apartment community and will open in late 2024.
RISE at Nocatee 55+ Active Living will offer 178 age-targeted units in the master-planned community. The project is slated for completion in spring 2024. RISE Glen Kernan Park 55+ Active Living will have 308 units as part of a larger mixed-use development, including retail and hospitality components.
"RISE launched our construction division in August 2020 and elected to open this business in Jacksonville because our multifamily development platform was focusing on Florida and specifically Northeast Florida," says President Greg Blais.
"One year later, RISE moved our corporate headquarters from Valdosta to Jacksonville again due to the focus we have in this and other Florida markets. Before moving our headquarters to Jacksonville, we analyzed all the data and trends that Florida was enjoying, which solidified our decision to relocate."
Sports Spurs Development
Many point to job growth as the main reason Jacksonville is expanding so rapidly. In May, Gov. Ron DeSantis announced that the Jacksonville area's labor force was up 4.5 percent, adding 36,567 jobs since April 2022. Additionally, Jacksonville ranked 5th on Lending Tree's "Biggest Boomtowns" list. The rankings were based on housing, work and earnings. According to LendingTree, analysts ranked and scored the 100 largest metros across eight unique metrics. The eight metrics were grouped into the three categories, which were scored according to their equally weighted component metric scores.
But sports also are a big part of the city's allure for apartment investors. Jacksonville's Jaguars played their first game in 1995 in what is now TIAA Bank Field. In the late 1990s, the PGA established World Golf Village (WGV), a golf resort in St. Johns County, located between Jacksonville and St. Augustine. It includes the World Golf Hall of Fame. The Florida Times-Union called WGV a "pioneering development in a sparsely populated area and an early sign of the booming suburban growth destined to transform the country character of northern St. Johns County." The area is home to about 4,000 homes and an IMAX theater.
In July, the Jaguars opened the Miller Electric Center, a $120 million practice facility in downtown Jacksonville. The 125,000-square-foot site comprises an indoor practice field, offices, locker rooms, a draft room, shaded viewing area, concessions, team retail store and medical facilities.
The Miller Electric Center is a public-private partnership between the Jaguars and the City of Jacksonville. The city also owns TIAA Bank Field, which itself is in the planning stages for a roughly $1 billion overhaul. The city and Jaguars owner Shad Khan would share the expense if they can reach an agreement on the stadium and accompanying extension of the team's lease, according to The Florida Times-Union.
"Jacksonville has experienced fantastic growth and will continue to grow through this current economic downturn," says Blais. "Our friends at the Jaguars have exciting growth plans, which should invigorate our downtown and create lifestyles we all desire to see downtown. We are thrilled to be an early adopter of market-rate housing in the Sports Town district." RISE's project Doro is located in the city's budding sports and entertainment district.
Not all prospective renters have newly built, state-of-the-art apartments to choose from, hence developers' fondness for the region. JLL's Butler and Taylor say the majority of Jacksonville's existing stock consists of Class B apartments, built between the 1970s and 1980s that are typically 75 to 150 units in size. To make up for this, an overwhelming majority of the pipeline is Class A, which demands the highest rents in the market.
John Rutherford, senior vice president of multifamily investment sales with NAI Hallmark, says that in addition to capital markets headwinds, insurance premiums have put a damper on investment sales volumes of existing properties.
"Trades of all asset classes have dipped in 2023 but have remained fairly even across varying vintages," he says. "There is still strong capital chasing yield and value-add upside alike in markets with strong real estate fundamentals such as Jacksonville. Increased expenses and interest rates have widened the gap of expectations between sellers and buyers in the past year, but we're seeing that gap narrow right now, as of the third quarter of this year. We suspect it will continue to shrink as we head into 2024."
Butler reports that in the first two quarters of 2023, eight deals traded in the Jacksonville MSA. Within that same period one year prior, 24 deals traded, representing a 67 percent decrease, according to CoStar.
"This trend is in line with the national average, which, according to MSCI shows a 68 percent year-over-year decrease in multifamily transaction during the first half of 2023. "Although deal volume has slowed, the Jacksonville MSA shows promising signs of resilience and adaptability."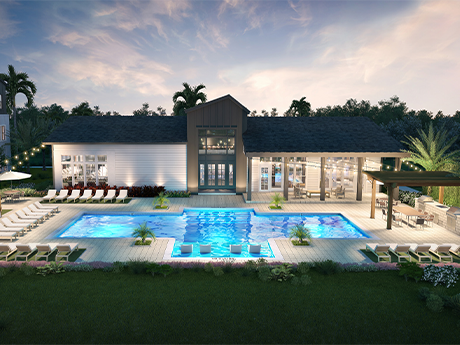 Jacksonville Renter Profile Breaks Norms
Taylor says developers are particularly drawn to the build-to-rent (BTR) segment in North Florida. "BTR developments are becoming more popular across the state and provide a nice alternative for those who are cost-prohibited, given that average mortgage rates rose over 230 basis points in 2022 than where they were in 2021," he says.
Atlanta-based Quinn Residences is betting big on Floridian renters' appetite for BTR. The company owns Duval Landing in Jacksonville and Eleven Oaks in Eustis, Florida, which is about 115 miles south of Jacksonville. All told, the company owns 5,110 units across 38 communities.
Quinn Residences has owned Duval Landing for the past three years. The 33-townhome project has an occupancy rate that typically sits in the mid to high 90-percent range and commands rents of about $1,867 per month. The average effective rent for the city of Jacksonville was $1,530 as of the second quarter of this year. Eleven Oaks consists of 35 three-bedroom, two-bathroom single-family detached houses and 34 two- and three-bedroom townhomes ranging from 1,335 to 1,650 square feet. Eleven Oaks was completed in 2022.
"We're very bullish on Florida, especially in the Jacksonville region," says Richard Ross, CEO of Quinn Residences. "It takes time to accumulate homes because of the cost of land today. Our sweet spot is 150 to 200 homes. Our communities are relatively small and tucked into established or growing communities, so it takes time to develop in this market."
Ross says the company looks for job growth when choosing development sites first and foremost. The second most-important factor used to be school districts, but Ross says that is changing in the region these days. Proximity to retail has edged out schools.
"This was a little bit of a surprise," says Ross. "We still consider public school scores important, but more than half our residents don't have children, and if they do, there are a lot of alternatives now, such as private schools and home schooling that many parents are opting for. When we started this business, we thought people coming out of two-bedroom conventional apartments and into single-family homes would be having children."
Ross says more than half of Quinn's tenants are DINKs, shorthand for double-income, no-kids. Empty nesters make up another large renter cohort for the company. He says BTR has a very bright future for investors and developers and likens the asset type — typically defined as institutionally owned and managed communities of single-family rental homes with Class A-apartment-like amenities — to the multifamily industry circa the 1990s.
"We're not even in the first inning with BTR, we're at batting practice," he says. "This industry is going to become what multifamily is today in 30 years — no question."
Atlanta-based RangeWater Real Estate also is keen on the potential of BTR, as well as other product types, in the region. The company is developing The Maggie, its sixth Jacksonville project, in the San Jose neighborhood.
RangeWater has developed The Brooklyn Riverside, Olea at Nocatee and Cadence at Nocatee. Olea eTown and Olea Beach Haven. Olea eTown and Olea Beach Haven are slated for completion and delivery later this year. The firm's Olea brand represents RangeWater's age-targeted, 55-and-older communities, designed for empty nesters looking to lead an active and social lifestyle in a multifamily environment.
"RangeWater remains confident in the fundamentals of multifamily development within the Jacksonville MSA," says Michael Oliver, RangeWater managing director of Development. "As a result, we are delivering multiple different product types to the market — conventional multifamily, active adult rental and BTR townhomes. Like other metropolitan areas across the Sun Belt, supply is a concern in the Jacksonville MSA as we close out 2023 and enter 2024."
Oliver explains that RangeWater is focused on developing in markets with strong population and employment growth and says Jacksonville continues to be one of the fastest-growing cities in the United States.
"While there will be headwinds going forward, we anticipate the supply to continue to be absorbed. As it relates to The Maggie, we will be delivering the property into a supply-constrained node of the city, protected from some of the macro supply challenges."
— By Lynn Peisner. This article originally appeared in the July/August issue of Southeast Multifamily & Affordable Housing Business.