CBRE has dubbed the Indianapolis apartment market "The Star of the Midwest" due to a combination of factors: its business-friendly climate, bustling life sciences and technology sectors, and exceptional rent growth.
The giant real estate services firm points out in its 2023 Indianapolis Multifamily Market Overview that Indianapolis led the nation in year-over-year effective rent growth in October, November and December 2022 based on data from Yardi Matrix. In December, Indy posted an 11.4 percent increase in effective rents on an annual basis, the only metroplex to produce double-digit year-over-year growth.
Despite experiencing such healthy rent growth, this capital city has retained its status of affordability. According to CBRE, the Indianapolis metropolitan area is one of the most affordable in the nation, with a 25.7 percent rent-to-income ratio (the percentage of income a tenant will need to pay the monthly rent). The metroplex's effective rent remained approximately $575 less than the national average at year-end 2022.
CBRE attributes the area's diversifying economy to contributions from a variety of industries, including life sciences, technology, logistics and education. Central Indiana's health care and life sciences sector has an $84 billion annual economic impact, according to Indiana's Economic Development Corp. (IEDC). Significant employers in the sector include Eli Lilly & Co., Elanco, Anthem, Roche Diagnostics, IUPUI and Dow AgroSciences.
The city's tech ecosystem has also thrived over the past few years, anchored by giants such as Salesforce, Infosys, Genesys and TechPoint. Overall, CBRE research has ranked Indianapolis as the 14th fastest growing tech market in the nation.
Indiana has long been a leader in infrastructure. Four major interstate highways converge in Indianapolis (I-65, I-69, I-70 and I-74), along with the I-465 beltway and I-865 connector. The logistics sector is a $78 billion industry statewide, with over $650 billion in goods moving through the state annually, according to IEDC. Indiana is the fifth-largest state for commercial freight traffic and an ideal location for warehousing and logistic hubs, states CBRE.
"Indianapolis is known as the Crossroads of America," explains Clay Scheetz, managing director and principal of Great Lakes Capital, a South Bend, Indiana-based development and private equity firm. "And not just because of our central location and interstate system, but because of the broader themes of affordability, good principles, high quality of life and work-life balance. I think that's reflected in a strong labor force that puts labor at a fair price for its sophistication. All those things coming together make Indy a great place to live and work."
Healthy Vital Signs
According to RealPage, the average effective rent for the Indianapolis multifamily market in the first quarter was $1,221 per month, a 7.7 percent annual increase.
This is a less dramatic leap than in 2022, when the average effective rent rose 13.1 percent annually to $960 per month, but still significant. From the first quarter of 2018 to the first quarter of 2021, Indianapolis showed a much smaller year-over-year effective rent growth, consistently ranging between 2 and 4 percent.
In its April edition of the Indianapolis Multifamily Report, Yardi Matrix attributed this deceleration in rent growth to high inflation and continued economic volatility. The report points out that this deceleration is in line with national trends, as many metros started 2023 with rent contractions.
The population of the metropolitan statistical area (Indianapolis-Carmel-Anderson) grew by 2.5 percent in 2022, more than double the rate of population growth in 2021 (0.9 percent). The area's population currently stands at 2.1 million, according to the U.S. Census Bureau.
Grater Indianapolis is also known for being business-friendly, offering numerous incentives to employers to operate in Indianapolis, according to CBRE. The cost of business in Indianapolis is reportedly 6 percent lower than the national average.
The unemployment rate in metro Indianapolis stood at 2.4 percent in April (the most recent data available), which compared favorably to 3.4 percent nationally.
Total nonfarm payroll employment in metro Indianapolis increased by 45,700 from April 2022 to April 2023, according to U.S. Bureau of Labor statistics. Mining and logging saw the greatest 12-month percent increase in employment (14.3 percent), followed by leisure and hospitality (7.7 percent) then construction (7.5 percent).
However, the region was not quite able to catch up to national levels of job growth, according to Yardi Matrix. Indianapolis added 18,700 jobs across all sectors in 2022. This represents a 2.5 percent expansion rate compared with 3.7 percent nationally.
Brad Vogelsmeier, vice president of development at Milhaus, indicates the gap in the rate of job growth locally versus nationally isn't necessarily a cause for concern. Founded and headquartered in Indianapolis, Milhaus is a mixed-use developer that specializes in urban multifamily residential buildings.
"Indianapolis is a steady market," explains Vogelsmeier. "You don't see the dramatic highs we saw in some Sun Belt and gateway markets coming out of COVID, but you also don't get the lows. A lot of that can be attributed to a lower cost of doing business, as well as the diversity of industry. Indy isn't reliant on a single employer or industry, and with the cost of business being low, it's not the first market where you see significant job cuts, either. The city definitely benefits from that during recessionary periods."
A variety of companies have relocated to or expanded into Indianapolis over the past few years — particularly, tech companies. Software and recruiting corporation Jobvite moved its global headquarters to the city in 2021, as did pharmacy automation company Innovation Associates. California-based tech company Celigo opened an Indianapolis office in 2021. Agricultural intelligence company Taranis moved its headquarters from Israel to the Indiana suburb of Westfield in 2022. Another agriculture technology firm, Solinftec, expanded into Indianapolis in 2018 and moved its headquarters to the city the following year.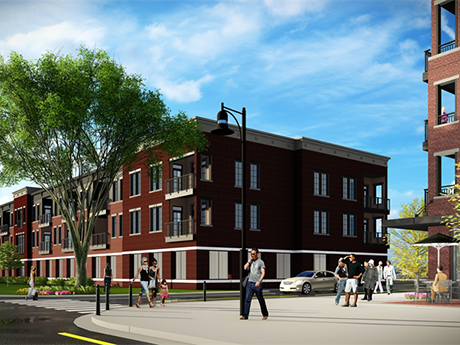 Record Deal Volume
Indianapolis saw a promising start to the year on the investment sales front. Multifamily transaction volume across the metro area totaled $93 million in the first quarter of 2023, up 32.8 percent year-over-year, according to Yardi Matrix.
The healthy deal volume comes on the heels of a record 2022 that saw $2.2 billion in annual multifamily property and portfolio sales, up 57.1 percent from the prior year.
According to Yardi Matrix, the top submarkets in terms of transaction volume from March 2022 to February 2023 were Wayne East ($366 million), Lawrence ($316 million), Pike ($189 million), Noblesville ($182 million) and Perry East ($167 million).
Chris Bruzas, a managing director of investment sales based in Berkadia's Carmel, Indiana office, describes the Indianapolis apartment market as slow and steady, lacking the steep climbs and sharp drops of larger metros.
"But the city has gained a lot of steam in terms of investment and development," he explains. "The state of Indiana in general has always been very business-friendly. We've seen a lot of migration into the state over the past five or six years, and Indy's been able to reap a lot of the benefits. Compared to other similar Midwestern metropolitan areas, Indianapolis has been one of the best in terms of transaction and development activity — if not the best."
The Indianapolis multifamily market benefits from a modest level of new supply, which CBRE reports as being less than the national average.
According to Yardi Matrix, Indianapolis had 6,165 units under construction as of February. Developers added 240 units to the market in the first two months of 2023, representing a 0.14 percent expansion of stock compared with 0.15 percent nationally.
Overall, there has been an uptick in deliveries locally so far this year. In 2022, the growth rate of new supply in metro Indianapolis slowed as high interest rates contributed to limited access to financing. Last year produced a 0.8 percent expansion of stock, 80 basis points lower than the previous year and 150 basis points below the U.S. figure.
Yardi Matrix projects Indianapolis to add 3,249 units to its total supply in 2023, which would exceed the city's five-year annual average of 2,194 units delivered.
"We have seen that most of the new supply has been at the high end of the market," remarks Matt Ewig, managing director in Walker & Dunlop's capital markets group. "The other dynamic that has been at play over the last decade is in the acquisition rehab market, in which owners have acquired Class B and C properties and renovated them up to a Class A level and increased rents. This is good for the market as these apartments are getting the capital improvements they need, but one consequence is a decreased supply of affordable units."
This uptick in new supply is reflected in the Indianapolis market's occupancy rate, which was 94.3 percent in the first quarter, down from 97.3 percent a year earlier, according to RealPage.
Despite this dip in occupancy, Vogelsmeier expects the market's real estate fundamentals to remain strong overall. "There's a lot of product under construction right now, which some see as concerning," he explains. "But while I could see some softening from a demand standpoint in the short term, the fact is that we're still undersupplied in housing. I think myself and my peers don't necessarily have to worry about whether Indianapolis is going to be able to absorb all the product that's under construction."
Indianapolis currently has an additional 31,100 units in the planning and permitting stages. Downtown Indy has the largest number of units currently underway (853 units), followed by Westfield-Noblesville (751), Carmel (663), Washington East (478) and Fishers (414).
Yardi Matrix reports that 81 percent of units underway are lifestyle projects. Development of fully affordable communities, however, comprise only about 10 percent of the pipeline.
"Figuring out how to get an ample supply of quality affordable housing is a problem everywhere, and that's where public/private sector collaboration is always needed," says Ewig. "It's more important now than ever, especially with the turbulent capital markets and economic climate."
High-Profile Suburban Projects
In February, New City Development broke ground on Hobbs Station, a 125-acre mixed-use project located at the intersection of the historic Old National Road in Plainfield, Indianapolis' largest suburb, with a population of slightly under 35,000 as of the 2020 U.S. Census. The suburb is situated about 10 miles southwest of downtown Indianapolis, in the city's logistics hub. According to CBRE, Plainfield's rich employment base draws highly educated residents seeking to move closer to current and potential employers.
New City Development is constructing the community in partnership with Formation Properties and PulteGroup Inc., with Shiel Sexton Cos. serving as the general contractor. Hobbs Station is named for the Hobbs family — the owners of Hobbs Nursery, the state's oldest and once largest plant nursery — and the former Vandalia train station.
The first phase of the project will comprise 300 apartment units and 30,000 square feet of street-level retail and restaurant space. The property will also include 98 single-family homes built by PulteGroup Inc. and Pyatt Homes, as well as two industrial buildings totaling 500,000 square feet built by HSA Commercial. The industrial component will be known as Terminus at Hobbs Station. A public park at the center of the property will also offer amenities such as pickleball and bocce ball. The first phase is slated for completion in 2024.
At full buildout, Hobbs Station will comprise 240 single-family homes, 650 apartment units, 90 seniors housing units, 70,000 square feet of commercial space, 500,000 square feet of industrial space and 200,000 square feet of office space. The project is expected to cost $300 million.
"We're building a city within a city," explains Isaac Bamgbose, founder, president and CEO of New City Development. In addition to the commercial space, Bamgbose notes that Hobbs Station will include a two-mile extension of Indianapolis' cultural trail called the Vandalia Trail constructed by the town of Plainfield with a grant from the state of Indiana.
"And then we're doing all the public infrastructure around the project, as well, as far as building all the roads and utilities, detention ponds, drainage — all those types of things," Bamgbose adds. "It's going to be a really great community asset."
In November 2022, Tegethoff Development and Great Lakes Capital jointly broke ground on The Signature at Carmel, a mixed-use development in Carmel, Indiana. The Signature at Carmel hopes to attract tenants belonging to a variety of demographics, from young professionals finding their start in the city to empty nesters looking for a maintenance-free lifestyle.
The Signature at Carmel will be a residential community offering studio-, one- and two-bedroom apartments, as well as eight for-sale condominiums and 16,100 square feet of ground-floor retail space. Individual units will feature fiber internet connectivity and smart thermostats. The property also includes 20,000 square feet of amenity space, including a fitness center, golf simulator, pool, workspaces, pickleball court and a private event room.
According to the property website, The Signature at Carmel is slated for completion in early 2024. The development is projected to cost $66 million.
The City of Carmel is also a partner in the project, having allowed the developers to utilize tax increment financing to build a 389-space public parking garage as part of the property. According to CBRE, the City of Carmel is a rapidly growing metro best known for its school system and distinct residential neighborhoods with affluent estate homes.
"Because of wider economic factors such as high interest rates and construction costs, it's becoming increasingly difficult to get deals done on a pure market-rate basis without having some sort of level of public investment or support," says Scheetz. "So, public-private partnerships can be a great space to conduct deals."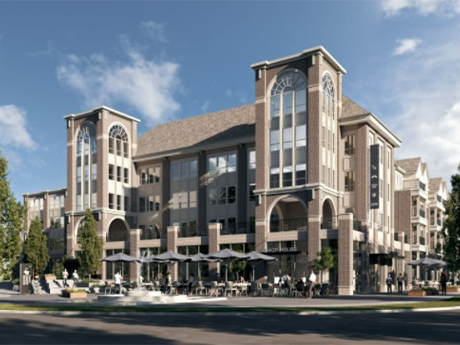 More Development to Come
Great Lakes Capital is also developing the Madison at Greenwood — a 300,000-square-foot mixed-use project in the southern Indianapolis suburb of Greenwood — in partnership with CRG Residential and the City of Greenwood. The Madison at Greenwood comprises 329 units across four buildings, as well as 18,700 square feet of retail space. Construction on the project is approximately 75 percent completed, according to Scheetz.
In May, Milhaus, Gershman Partners and Citimark began construction on Versa, a $70 million mixed-use community in Indianapolis' Broad Ripple Village. Located six miles north of downtown Indianapolis, Broad Ripple Village is currently undergoing a $271 million improvement plan, which intends to update everything from infrastructure to beautification.
Versa will offer 233 studio, one- and two-bedroom apartments and 245 parking spaces, as well as amenities such as a pool, dog park with a pet spa, lounge, clubhouse, game room, fitness center, conference rooms and coworking space. The property will also offer 3,600 square feet of ground-floor retail space, which will be leased and managed by Gershman Partners.
Lake City Bank provided financing for the project. The developers are working with DKGr for architecture and interior design and Civil & Environmental Consultants for civil engineering on the project. Construction on Versa is set to conclude in 2024.
Another notable project in the Indianapolis metropolitan area is Eleven Park, a $1 billion mixed-use development that will be anchored by a 20,000-seat stadium. The stadium will host Indy Eleven's home games and feature 600 apartment units. The Keystone Group broke ground on Eleven Park in May. The stadium is expected to deliver in 2025. A timeline for the development's other uses has not yet been disclosed.
In March, Thompson Thrift acquired 62 acres in in the northeast Indianapolis suburb of Fishers as part of its $550 million expansion to Fishers District. Once completed, the expansion to Fishers District will include a 7,500-seat arena and event center, as well as two multifamily communities.
"Indianapolis is an incredibly dynamic market that until recently hasn't gotten a lot of attention," says Vogelsmeier. "But there's a lot of good investment happening. It's a place people want to be. It's not always at the forefront of people's minds, but once they're here, people don't leave. That's very telling of what the city's all about."
— By Channing Hamilton. This article originally appeared in the May/June issue of Midwest Multifamily & Affordable Housing Business.