A global recession may come to define 2023, but in San Antonio, investors are still bullish — provided they're ready to play the long game.
The region's economic growth prospects, they say, inspire confidence the market will make it to the other side of 2023 with the rising rents and property values investors have come to know and love still intact.
San Antonio is a young city with a budding job market and rapidly rising population. These favorable characteristics are spurring demand for apartments in the metro, which is touted as a more affordable place to live than neighboring Austin, located 80 miles to the northeast. But more people and jobs aren't a surefire guarantee for strength in the multifamily business in the near term.
The spike in interest rates this past year has threatened to blunt that momentum. The U.S. 10-year Treasury yield at the close of business Jan. 30, was 3.52 percent, up from 1.63 percent at the start of 2022. The 30-day average for the secured overnight financing rate (SOFR) was 4.3 percent as of Jan. 30, up from 0.05 percent at the beginning of 2022.
Investors and developers are apprehensive about how inflation and the rising cost of debt will affect transaction pricing and volume. Additionally, a spate of planned development projects — moving forward despite cost and labor problems rampant in the construction industry — has raised concern about supply overtaking demand.
Michael Watson, managing director with MMG Real Estate Advisors, which operates out of offices in San Antonio, McAllen and Austin, Texas, cautions San Antonio investors to keep an eye on the development pipeline, which has gone up and down over the past few years but is expected soon to rise to its highest level.
Watson says that, according to data from Austin Investor Interests, San Antonio delivered 2,655 new units over the past 12 months as of the end of the third quarter, which was down from a peak of more than 7,000 for the period ending in the first quarter of 2022.
Watson adds, though, that projections for the next 12 months indicate developers will complete and deliver more than 9,000 units in the market. "That's the highest number ever," he says. "While long-term trends are still highly favorable for San Antonio to continue to be a target for job growth, the short-term ability of the market to absorb these units is tenuous and will put further downward pressure on rents and occupancies."
Per research published by Marcus & Millichap, in the second quarter of 2022, the market posted negative net absorption of 1,600 units.
Bryan Leonard, San Antonio-based senior vice president and managing director with Northmarq, says about 13,000 units are currently under construction. "The most active submarket concentrations are the Far West side of San Antonio, Northwest San Antonio and I-35 corridor markets like New Braunfels."
While the pipeline may be flush with future projects — and potentially cause for concern if supply swells too much — newer apartment communities are still needed in San Antonio.
Zar Haro, managing director with Northmarq, San Antonio, says that the majority of the area's multifamily inventory was built between 1970 and 1989, with a garden-style build. "This asset type is the most liquid due to the current value-add component and a receptive renter market that can't afford new construction rents but still prefers a modern finish-out seen in renovated units."
Renters Warm to Easy Lifestyle
According to the Greater San Antonio Regional Economic Partnership — also referred to as "greater: SATX" — the number of jobs in San Antonio-New Braunfels increased by 5.1 percent between 2016 and 2021. That figure compares favorably with the national job growth rate of 1.8 percent during the same period.
Research conducted by greater:SATX also reveals that population has risen 8.7 percent between 2016 and 2021 and is expected to increase an additional 7.3 percent between 2021 and 2026, adding 193,552 new residents during this period.
Many of these newcomers are young people from out of state. San Antonio-New Braunfels is home to many 25 to 39-year-old millennials — about 576,683 of them. The average resident's age within the entire metro is 33, below the national average of 38.
As of June 2022, the Department of Housing and Urban Development reported the area median income in the city of San Antonio to be $58,450 in a one-person household, or $83,500 for a family of four. According to Marcus & Millichap, the average effective rent in the overall metro area of San Antonio, as of the third quarter of 2022, was $1,250. Going by the popular 30 percent rule — spending about 30 percent of monthly income on rent — San Antonio does appear to offer an affordable lifestyle.
Drew Garza, senior vice president with Institutional Property Advisors (IPA), says the metro's healthy job market and relatively lower cost of living attract these young, new residents.
"I credit the influx of migration to San Antonio to the affordability from a cost-of-living stand-point and the quality of life you can experience living in the city," says Garza, who is based out of IPA's San Antonio office and brokered the sale of 19 multifamily assets in 2021 in the metro area, logging about $1 billion in sales volume. Garza adds that Texas' lack of a state income tax is a big incentive for investors and employers alike.
"Not only does the city attract individuals for this reason, but it also attracts companies to relocate their headquarters or, at minimum, open a regional support office here. The I-10/1604 corridor (where Interstate 10 intersects with Texas State Highway Loop 1604 about 19 miles northwest of downtown) has always been a destination submarket, given the entertainment, retail and dining options there."
Atlanta-based RangeWater Real Estate is one developer taking notice of this area. The firm broke ground in September 2022 on a new project located off Loop 1604. The 154-unit townhome development is called Caliza at the Loop. It is part of RangeWater's build-to-rent (BTR) Storia brand and strategy that calls for the construction of 15 Storia communities in Sun Belt metros over the coming years.
Caliza at the Loop is RangeWater's second community in San Antonio, but its first groundup development here. RangeWater's first venture into San Antonio was a June 2021 acquisition of an Aspen Heights student housing property that the company converted to a market-rate, single-family Storia rental community.
"What we find most interesting and attractive about San Antonio from an investment perspective is the strong job market, excellent schools and overall great quality of life," says Nick Wilhelmson, RangeWater Real Estate's managing director of development, for the Southwest region.
"The community is strategically located close to major employers such as USAA, iHeart Radio, H-E-B, Wells Fargo, J.P. Morgan, three military bases and the largest employer in the area, the San Antonio International Airport," adds Wilhelmson.
The area has recently welcomed several new employers to the fold. In 2022, DeLorean Motor Co., which produced the car that famously whisked Michael J. Fox back to the future, announced that it would establish its headquarters at Port San Antonio, near Lackland Air Force Base. Here, the automaker plans to focus on production of its new Alpha5 electric vehicle — which will keep the iconic gull-wing doors from the 40-year-old DMC design.
Pabst Brewing Co. moved its headquarters from California to San Antonio in 2020. Pabst owns about 50 brands of beer and other spirits, including Lone Star, known as the "national beer of Texas," which was first brewed by Lone Star Brewing Co. in San Antonio. Local media reports hail Pabst's move as a "homecoming" for this reason.
OKIN Process, a Czech Republic-based business supplier, recently selected Brooks as its U.S. headquarters. Nissei America Inc., a plastics manufacturer based in Japan, also moved its U.S. headquarters to Brooks in 2021. Brooks is a 1,308-acre mixed-use community in Southeast San Antonio that was created in 2001 as a redevelopment of Brooks Air Force Base, which ultimately ceased operations in 2011.
Local Economy Stokes Confidence
Wilhelmson expects job growth to continue due to the influx of new companies. "San Antonio is home to more than 400 corporate headquarters and has a vibrant cluster of military, aerospace/aviation and healthcare/biomedical companies."
Business growth may be one of the reasons behind a rising number of non-native Texans moving to San Antonio. "A recent report from the IRS, based on 2020 data, states that more than 20 percent of residents moving to Bexar County are from out of state, with California and Arizona making up almost 10 percent of this in-bound group," says Srinath Pai Kasturi, executive vice president of Cadence McShane Construction Co.
Multifamily investor demographic trends follow those of the general population. Out-of-state investors make up the lion's share of dealmakers in the region.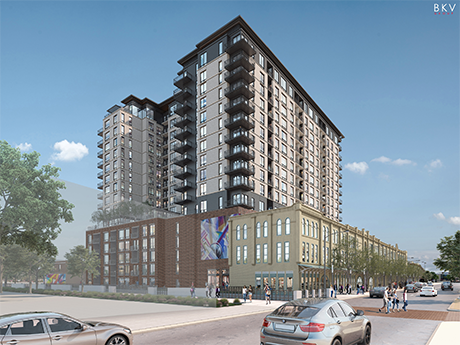 "Roughly 60 percent of the buyer pool in the first half of 2022 came from California, Florida and the New York/New Jersey area," says Garza. "The types of buyers we see mostly playing in the investment arena of San Antonio are large family offices, private syndicators or a hybrid of a local or regional sponsor with an institutional partner backing them." Garza says out-of-state buyers are attracted to the market's cap rates and pricing.
According to Marcus & Millichap, San Antonio's average price per unit during the 12-month period ending in June 2022 was $133,500. By comparison, Dallas Fort-Worth's average price per unit was $199,772, and Houston's was $168,540, according to a third-quarter market report by Lee & Associates.
Atlantica at Alamo is an example of an out-of-state-investor-led new project that recently broke ground in San Antonio. Cadence McShane is the builder for this project. New York City-based Sovereign Properties and Floridabased Invest Capital Group are co-developing the community.
Atlantica at Alamo is a garden-style community situated on 12 acres. The development team broke ground at the end of August 2022, and completion is slated for late 2024. The project will include eight four-story buildings with a total of 375 units in one-, two- and three-bedroom configurations.
"The Atlantica project is a market-rate, garden-style community that is targeted to meet the growing demand for multifamily product in and around San Antonio," says Kasturi. He adds that San Antonio is attractive to renters and developers because the market features an abundant amount of available land and a lower cost of living compared with Austin.
"The garden-style product type continues to show strong demand and is representative of the majority of the multifamily deals underway outside the inner core of the city," he says. "Within the inner core, we are working with a large local developer on a high-rise apartment with a parking garage underneath."
Buyers Craft Debt, Equity Plays
Under the threat of recession, most investors say they take heart in the belief that multifamily investments are safe and that they provide a good hedge against inflation. San Antonio's acquisition opportunities are best matched in today's market conditions to well-capitalized buyers, such as publicly traded REITs, private equity funds and some family offices, according to Tucker Knight, senior managing director and head of Texas originations for Berkadia.
"These types of dealmakers have capital to spend, many with dedicated multifamily funds to deploy, and don't have to dig too deeply to take on more expensive debt, or lower loan-to-value loans," says Knight.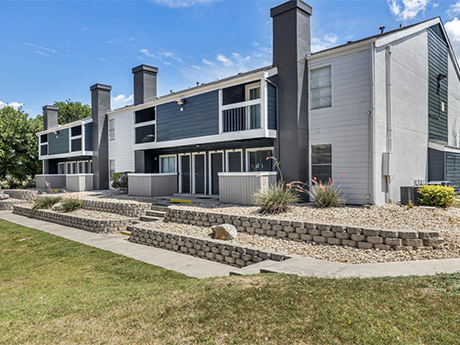 Watson adds that rising interest rates are affecting debt-service coverage ratios established by the lenders and therefore borrowers' leverage positions. "We have not seen a debt quote recently with more than a 60 percent loan-to-value," he says. "More expensive debt combined with lower leverage has put pressure on yields, and therefore the price points that buyers can achieve. While there is still a robust appetite for multifamily investments, we will be in this difficult transition period for several quarters as buyers and sellers struggle to find the market to transact."
According to Haro, buyers who remain active are "trading up," meaning Class C buyers are seeking Class B assets, and Class B buyers are seeking Class A acquisitions. "There's plenty of capital in the market that needs to be deployed," Haro says, "either through 1031 exchanges or a fund at the end of its cycle and a lot of patient capital in private offices that couldn't join in 2021. Buyers are looking at value and replacement costs." While the economy may be driving sellers to hold tight to their assets right now in the San Antonio market, the data show that deal volume ramped up in the fourth quarter of 2022.
According to MSCI Real Assets, multifamily investment sales in the metro San Antonio area totaled approximately $5 billion year-to-date through Oct. 31, 2022, which is a 37 percent increase from the same period a year earlier. That sharp increase is most likely attributed to transactions that took place during the first half of 2022.
"The rise in interest rates really did not affect transactions that were marketed in the first or second quarter," Garza explains. "Keep in mind as well that many assets that closed in the first quarter may have been put under contract in late 2021. The fundamentals of multifamily performance in San Antonio were extremely favorable at that time in terms of occupancy and rent growth, both of which exceeded many past benchmarks due to the absorption of units from the population growth we experienced."
— By Nellie Day. This article originally appeared in the January/February issue of Western Multifamily & Affordable Housing Business.