South Florida's multifamily investors know a storm is coming. But threats of disaster, natural or economic, seem incapable of toppling confidence in this region's potential. 
The optimism is born out of sustained population and job growth paired with residents' desires — in many cases their needs — to live in apartments instead of buying homes.
The U.S. Census Bureau's 2022 population estimates, released in December 2022, indicate that Florida is now the nation's fastest-growing state for the first time since 1957. The state's population increased by 1.9 percent to 22.2 million between 2021 and 2022 and has risen nearly 18 percent since 2010.
Jobwise, Florida is also faring well, a fact some investors point out as a key difference between the Great Recession of 2007 to 2009 and the recession most economists agree will hit the United States later this year.
Between December 2021 and December 2022, Florida's employment grew by 4.8 percent, equating to approximately 440,000 new jobs, according to the Florida Department of Economic Opportunity's (DEO) January report. Florida's seasonally adjusted unemployment rate was 2.5 percent in December, one percentage point less than the national rate.
Florida also leads the pack when it comes to apartment rent and vacancy rates. The Freddie Mac 2023 Multifamily Outlook says Florida will be a top performer this year. "Florida markets — which include West Palm Beach, Tampa, Jacksonville, Fort Lauderdale and Orlando — make up half of the top 10 markets," according to the report.
Strong Demand Drives Up Rents
Located in the far southern part of the state, Miami-Dade County, in particular, continues to be one of the nation's most robust multifamily markets, largely due to job growth and a continued post-pandemic "work anywhere" influx of newcomers.
Miami-Dade County posted the state's lowest unemployment figure in November 2022 at 1.5 percent, according to the Florida DEO. Multifamily asset performance is keeping pace with the region's workforce. While rents are trending downward in the majority of U.S. metros, Miami manages to keep rates moving up.
According to data from RealPage, Miami was one of only 10 markets that did not reduce rents in the fourth quarter of 2022. Nationwide, asking rents fell 0.2 percent in December and 0.6 percent in the fourth quarter of 2022. Miami's rents, however, increased by 0.4 percent during this period.
The area's vacant units don't remain empty for long. Renter demand in Miami was more than double the national average in 2022, says RentCafe's 2022 Year-End Report. In the U.S. last year, an average of 14 renters competed for each vacant apartment. In the Miami-Dade market, 32 renters vied for the average empty unit, driving up occupancy to an average of 97.5 percent for 2022.
The market is so competitive for renters that many opt to stay put. The Yardi Matrix National Multifamily Report from December 2022 ranked the Miami metro No. 1 in the nation for renewals with 67.6 percent of renters re-upping their leases, marking an almost 20 percent increase in renewals between October 2021 and October 2022.
The positive rent growth and high occupancies can be a financial burden for tenants. Renting an apartment in Miami costs a small fortune today. Median asking rents as of January were up to $2,639, according to Zumper. Miami rental rates are high all around, but prices vary depending on the neighborhood. An apartment in Coral Way sets renters back about $2,500 per month. But in the luxury area of Park West, the average rent for a one-bedroom apartment is $4,000. In some of the toniest neighborhoods, figures creep up even higher.
According to a Jan. 12 story in the Miami Herald, the Miami Lakes ZIP code of 33054 is home to apartments that rent for an average price of $4,130 per month, and available units in Miami Beach's Mid Beach ZIP code rent for an average of $4,800.
For rent alone, Miamians pay about $35,000 per year. With an average household income of $57,815, affordability is undoubtedly a problem as residents struggle to pay monthly bills. The county's definition of "low income" is evolving to keep pace with rental costs. Some residents who qualify to live in affordable housing earn nearly six figures.
In December, Miami-Dade County changed its Emergency Rental Assistance Program (ERAP) cap from 80 percent of area median income (AMI) to 140 percent of AMI, which, according to the county's website, means an individual earning $95,000 a year could qualify for aid. Miami-Dade County offers rental payment assistance for up to 18 months through this program.
Investment Sales Activity Drops
The market may be tough on renters, but relatively high yields and asset performance continue to entice investors. Even so, like all markets around the country, transaction frequency is cooling off in South Florida. According to Franklin Street Senior Director Dan Dratch, multifamily sales dipped sharply at the end of the year. He reports that South Florida investors completed 64 transactions totaling $1.4 billion during the fourth quarter of 2022, compared with 227 transactions totaling $7.4 billion in the fourth quarter of 2021.
"The fourth quarter of 2021 was by far the highest transaction volume we've seen down here in South Florida," says Dratch. "Combine the number of transactions with rental increases and the lowest interest rates we've seen in some time and what resulted was a craze for purchasing apartments that fueled a post-COVID ramp-up of valuations. I don't want to use the word 'overpay,' but valuations got super inflated in 2021."
Coming down from 2021's buying frenzy and double-digit rent-growth figures, the logical conclusion might be that asset values have decreased. However, Dratch says that a lower number of transactions does not mean properties are worth less today. He explains that the price per unit and price per square foot are the best indicators for measuring the market's health overall.
In the fourth quarter of 2021, the average price per unit in South Florida was $289,519, up from $215,417 per unit in the second quarter of 2020. In the fourth quarter of 2022, the price per unit was $307,089, according to Franklin Street.
"Historically, we are still at some of the highest price-per-unit numbers we've ever seen," says Dratch. "That means if we can get to a place where the number of transactions starts to pick back up, then the buildings are still worth more today than they were coming out of
COVID."
Developers Stretch Middle-Market Strategies 
The development pipeline in the greater Miami area is still active despite multiple challenges, not the least of which is the limited availability of sites to acquire. The distance between Miami Beach and the Everglades is only about 30 miles.
Approximately 16,400 units are under construction in greater Miami, according to Berkadia's third-quarter 2022 construction pipeline report. While some developers serve the higher end of the rental market that can afford several thousand dollars per month on rent, other developers are carving out niches for lower and middle-income tenants through partnerships with state and local agencies and by exploring new sites farther afield from the intown neighborhoods.
The Related Group is among Miami's more prolific developers. The locally based company operates three divisions: one that develops market-rate apartments, another devoted to affordable and workforce housing and a third that builds luxury condominiums.

Albert Milo, president of Related Urban Development Group, which specializes in affordable and workforce housing projects, says his division alone is currently under construction on 10 projects containing 2,200 units valued at approximately $800 million. These sites are primarily around Miami but also include two projects in Tampa and one in Fort Myers.
Related Urban Development Group has an additional 39 projects in pre-development, accounting for about $3 billion in project costs.
Milo explains that securing land for affordable housing developments in Miami often comes from partnering with local government and agencies, including Miami-Dade County. "I would say 90 percent of our work consists of public-private partnerships, and the land is usually what the public partner brings to the deal."
Milo explains that the commonly accepted definition of an affordable housing tenant in Miami is one person earning about 80 percent of AMI, which is $59,100. "That figure is estimated to go up about 5 percent in a couple of months, so it will be around the $63,000 range. That is the cutoff for 'low' income, while 'moderate' income programs go up to 140 percent of AMI, and that's when you get close to the six-figure range."
Milo says that building properties for residents living on tight salaries can be difficult as income definitions keep changing amid an inflationary environment and a competitive apartment market. "We have a broad spectrum of incomes that we're trying to serve," he says. "It's more challenging to serve clients in a changing, lower-income bracket because as rents get pushed higher by market forces, the difference between affordable housing rents and market rents increases, which puts pressure on development costs to also increase."
MG Developer is a newer player in the Miami development scene, having recently made a jump into building market-rate multifamily after primarily building for-sale condos.

Catie Naranjo, chief development officer with MG Developer, explains that most of the company's pipeline, which consists of five multifamily projects, focuses on delivering luxury-style apartments without overcharging tenants for rent. To accomplish this, the developer is trailblazing markets farther from the city center and working with local governments to deliver projects near transit.   
Three properties are under construction in Hialeah and one in Doral. "When we entered our Metro Parc project, our original Hialeah deal, we didn't have a lot of comps," says Naranjo. "There were two projects that were under construction already in Hialeah, but no advertised rents. We were really going out on a limb building in this market."
Metro Parc broke ground in September 2022 and will deliver 559 units by approximately the second quarter of 2024. The developer didn't release the project cost, but the South Florida Business Journal reported the developer obtained a construction loan for $148 million.
"We've received a positive response to new product in Hialeah, where there hasn't been new multifamily construction in many years.
"We're working on another assemblage in Hialeah that I can't yet say much about, but we are really liking the Hialeah market."
Naranjo says MG Developer is drawn to Hialeah because it offers opportunities to deliver apartment projects that incorporate transit and retail and that provide more reasonable rents compared with the rest of the Miami market.
"To encourage growth around transit, the city is allowing more density and other zoning benefits."
The company is also looking west to build a project in Doral, a city that backs up to the Everglades.
Ultimately, the development would comprise about 410 units. "It's outside the highly densified core of Miami," says Naranjo, "where land prices and zoning codes are more favorable. As the cost of home mortgages keeps going up, we're excited for the demand for this product type right now."
Markets Beyond Miami Hold Steady

Investors and developers express optimism about other South Florida metros, while conceding that buyers and sellers are more bearish than they were in 2021. "Transaction velocity has slowed across the country, with Florida being no different," says Jamie May, chairman and CEO of JBM Institutional Multifamily Advisors. The brokerage company operates offices in St. Petersburg, Naples and Orlando. "However, Florida's strong rent growth and population migration metrics, specifically the continued influx of high-income earners moving to Florida, still make it one of the most desirable markets across the United States." JBM has recently arranged several transactions along the west coast of South Florida.
"Our major markets of Tampa, Orlando and Southwest Florida are still seeing deals getting done," says JBM Vice President Jordan Kidder. "But Southwest Florida specifically has seen tremendous growth. We closed two deals at the end of the year and have two more under contract."
"Demand for multifamily housing in Florida should remain high as prohibitive interest rates will keep buyers from being able to purchase a single-family home. But whether they buy or rent, there is not enough housing to meet demand. With rents still at all-time highs and further clarity on the insurance market, we expect transactions to continue."
Those late-year deals were Longitude 82, rebranded as Latitude 27, in Sarasota and Versol in Bonita Springs, which is located between Fort Myers and Naples. Longitude 82 was built in 2017 and includes 360 units. The seller was Passco Cos., an Irvine, California-based Delaware Statutory Trust fund. The asset sold for $115 million. Versol sold for $87.3 million in December. The seller was TerraCap Management, a privately held investment manager based locally in Naples. "2022 brought some unprecedented challenges with rising interest rates and uncertainty with Florida's insurance market post-hurricane, but we were able to power through and still get deals done," says May, referring to Hurricane Ian.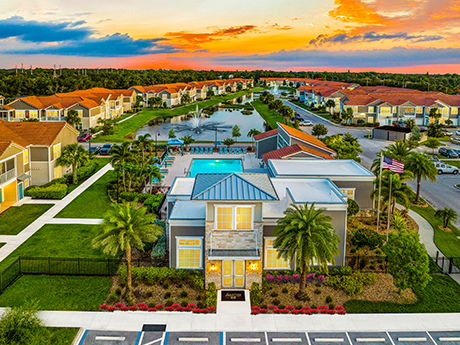 Insurance is a concern for Florida owners and investors, especially following the Surfside condo collapse that occurred on June 24, 2021, and Hurricane Ian, a Category 4 storm that made landfall in Florida on Sept. 28, 2022.
"Most multifamily owners in South Florida have seen their insurance costs increase by 20 to 30 percent in the past year," according to a spokesperson for Franklin Street's insurance team. "However, some have started to see increases of more than 100 percent." By comparison, the rest of the nation has seen costs of equivalent policies rise about 10 to 20 percent.
In response to spiraling insurance costs and a rash of insolvencies and losses among carriers that were magnified by Hurricane Ian, Gov. Ron DeSantis signed Senate Bill 2A into law to stabilize the property insurance market. The law establishes the Florida Operational Reinsurance Assistance Program (FORA), which is a $1 billion fund to back up insurance companies in the event of a natural disaster. The program authorizes eligible insurers to purchase reinsurance coverage under FORA.
"Market conditions explain the huge drop-off in sales between 2021 and 2022," says Dratch. "But in Florida we also had historically high insurance costs. Although we dodged damage from Hurricane Ian in Southeast Florida, it has affected the entire state, and that is causing insurance carriers to change their tune. Insurance is almost as big of a problem as the affordability of interest rates. Cutting corners is not going to work for landlords. The advice we give owners is simple: Treat your buildings like you're going to own them forever."
— By Lynn Peisner. This article originally appeared in the January/February issue of Southeast Multifamily & Affordable Housing Business.