CHICAGO — Chicago-based Origin Investments forecasts that year-over-year national Class-A apartment rent growth will normalize by January 2025 and range from 2 to 3 percent, in keeping with historical rent growth averages. However, Origin also cautions that "unquantifiable risks" loom large over the market and could have broad implications for multifamily properties. The findings are from the company's Multilytics Rent Growth Forecast Report.
"The return to normalization has been expected because the rent growth levels of 2021 and 2022 were unsustainable. We are now paying for the distortions of the past," says David Scherer, co-CEO of Origin.
"The fact that many markets are returning to positive year-over-year growth is somewhat misleading," says Ryan Brown, a data scientist with Origin. "While a given market may achieve 3 to 4 percent growth, you also have to consider the negative growth in 2023. As a result, the return of positive growth may only get you back to the peaks achieved in 2021 and 2022. It will take longer to move beyond that peak."
Origin also says that rent growth in 2024 faces numerous potential threats because of current economic conditions and uncertainties. For example, an increase in unemployment and lower wage growth trends, along with the continued level of new supply coming online, would have a negative impact on rent growth. Historically, as vacancy rates increase with lower demand, price adjustments and rent concessions follow.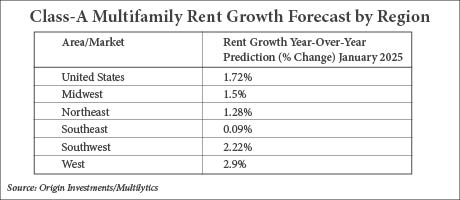 According to the new report, year-over-year regional rent growth for Class-A units will be highest in the Western U.S. at 2.9 percent and lowest in the Southeast at 0.1 percent. Year-over-year rent growth in the Midwest is projected at 2.6 percent, followed by the Southwest at 2.2 percent and the Northeast at 1.3 percent (see table).
Origin projects above-average rent growth in Phoenix (5.9 percent), Denver (5.1 percent) and Colorado Springs (5.1 percent). While the Southeast is expected to achieve nominal rent increases, some markets in the region are anticipated to achieve more significant growth. These include Nashville (5.9 percent), Tampa (4.5 percent), Orlando (3.7 percent), Charlotte (2.7 percent) and Atlanta (2.6 percent) (see table).
Origin is a private real estate manager that builds, acquires and finances multifamily projects in fast-growing markets throughout the U.S.