As secondary markets, the Huntsville, Birmingham and the Gulf Coast areas can't lay claim to the dramatic population growth and major corporate relocations that have driven apartment demand in many neighboring Sun Belt cities.
That, however, has not prevented some developers from rushing into Huntsville. As a result, that market, like many others, is adjusting to what is arguably too much new supply. Meanwhile, Birmingham is growing at a more measured pace.
Those who invest in Alabama multifamily say the state may be close to attracting institutional investors' attention because it offers a mild climate and a lower cost of living, two key attributes that lure many Americans to move out of larger coastal cities to resettle in the South.
"When people visit Birmingham, Huntsville and the Gulf Shores area, they sort of shake their heads and say, 'I had no idea it was so great here,'" says Steve O'Brien, CEO of Atlanta-based Arcan Capital.
Arcan has been investing in Southeastern value-add real estate, including holdings in Alabama, since 2016. Arcan currently operates 634 units in Birmingham, and the firm has a property under contract in South Alabama. Arcan also has owned other assets previously in Birmingham, Auburn and Huntsville.
"What we like about Alabama are the macro trends," says O'Brien. "This region offers great weather, friendly people and an affordable lifestyle. It's starting to feel to me like a very wellkept secret."
An overall shortage of housing combined with a generational predilection to steer clear of home ownership are two trends that are expected to fuel the rental market for the next few years.
"Gen Z and millennials seem to still put lifestyle and flexibility high on their lists," says Craig Hey, vice chair with Cushman & Wakefield's Sunbelt Multifamily Advisory Group, which has closed approximately 90 deals so far in 2023. "Sometimes, that flexibility they seek is not found in home ownership — if you could even afford a home at today's rates."
Hey says that studies show the country needs 4.3 million units by 2035 to meet housing demand. "People need a place to live, and that will be a constant," he says.
Hey points out that 31 percent of households in Alabama were renters in 2022, which is slightly lower than the national average. According to the National Multifamily Housing Council, approximately 35 percent of American households were renters in 2022.
"Alabama is far from overbuilt," he says. "In fact, there's plenty of room for growth. With ongoing economic development in various sectors and a steadily growing population, the state has ample opportunities for both residential and commercial expansion. Plus, its affordability and general business-friendly environment boosts its status as an attractive option for future development."
The state's population grew 1 percent between 2020 and 2022, according to the U.S. Census Bureau.
Some retirees who can't afford Florida are opting for Alabama, as today's high inflationary environment has most Americans carefully watching their spending.
A Wall Street Journal article published in April reported on a trend of retirees opting for Alabama's shores over Florida's beach towns, particularly in coastal Baldwin County, where the average annual salary is $49,000. In Broward County, Florida, a conventionally popular destination for snowbirds, the average annual salary is $67,000. 
Huntsville Developers Pay the Piper
Alabama's not immune to the problems burdening multifamily owners nationally. Rising interest rates have led to decreased property values and stalled transaction volume. Owners who acquired assets with floating-rate debt are particularly feeling the strain as interest rate payments have doubled in some cases. Combined with rising insurance costs, owners are feeling immense operational stress today. 
"Yes, asset values are dropping," says Hey. "But this is only realized if you have to sell. Multifamily is still considered a good inflationary hedge if you can ride out or hold the assets until values climb back up again."
Most are experiencing higher expenses largely due to increasing debt, property taxes and insurance, explains Hey. "Loan rates have doubled in a year, going from about 3 percent to 6 percent. Insurance has jumped significantly, up 30 percent to more than 300 percent year-over-year, depending on the location of the property."
Rising debts, taxes and insurance costs are only one part of the problem. Oversupply is another.
Although the city is smaller than an Austin or a Miami, Huntsville is experiencing a flood of new supply built to accommodate strong renter demand. Developers have keyed into demand generated by aerospace and defense jobs at Marshall Space Flight Center, Redstone Arsenal and Cummings Research Park as well as jobs at the Mazda/Toyota manufacturing facility that began production in 2021.
But the building spree from the past few years is putting pressure on rent growth and causing an increase in the overall vacancy rate. According to Cushman & Wakefield, third-quarter vacancy for the Huntsville metro area was 15.8 percent.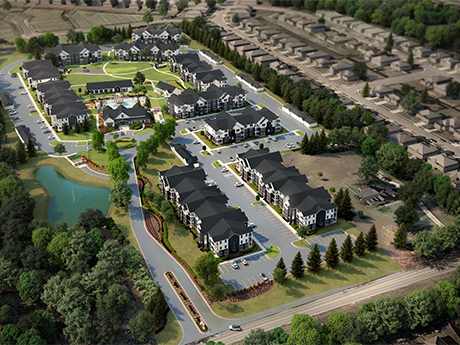 "In Huntsville, developers have delivered in the range of 5,000 new units to the marketplace over the past year," says Josh Jacobs, senior director at Marcus & Millichap's Birmingham office. "The market pipeline continues to be robust, with just under 6,000 units now under construction. While we remain confident in the overall health and trajectory of Huntsville, we have seen one to two months of rental concessions among the Class A and build-to-rent (BTR) space as assets look to achieve stabilization," says Jacobs. On the demand side of the equation, Marcus & Millichap projects the Huntsville market will absorb over 3,000 units in 2023.
"Huntsville is so attractive that a lot of great new product has been built, and it's going to take some time to lease it up," says O'Brien. According to Berkadia, Huntsville's projects that are under construction represent an astonishing 43.3 percent of existing stock.
Jacobs explains that the new supply coming into Huntsville may play a role in detracting certain investors in the short term, but the prospects for the market in the long term remain strong.
"The primary question surrounding Huntsville for a segment of the investor market generally revolves around incoming supply," emphasizes Jacobs.
"Depending on the data set you focus on, there are currently in excess of 10,000 units in some stage of planning, development or delivery across the Huntsville market," Jacobs says. "A portion of these units won't ultimately come online due to various macroeconomic headwinds over the past 18 months. However, we have seen the amount of incoming supply cause some multifamily investors to evaluate opportunities in the market more conservatively with regard to near-term projected rental growth and occupancy assumptions."
The average effective rent in Huntsville was $1,210 in the third quarter compared with $1,230 a year earlier, a 1.6 percent drop, per CoStar Group.
Huntsville boasts economic markers that rival some of the Sun Belt's most attractive investment destinations. Forty-five percent of residents have a bachelor's degree or higher, compared with the national average of 38 percent. Median household income in the city of Huntsville was about $61,000 in 2021 compared with the national average of about $70,000, according to the U.S. Census Bureau.
The population of the city of Huntsville grew 3.2 percent between 2020 and 2022. By comparison, the city of Austin, Texas, often considered one of the Sun Belt's fastest-growing cities, expanded by 1.3 percent during the same period.
One of the most high-profile developments in Huntsville is MidCity District. Locally based RCP Cos. is the master developer of the 140-acre mixed-use project, which is a public-private partnership.
RCP is developing everything on the site with the exception of two parcels sold to third-party developers as well as the project's infrastructure, which the City of Huntsville is building. The city is including a 40-acre public park, streets and sidewalks as well as the Orion Amphitheater. According to the Huntsville Business Journal, the total project cost is approximately $1 billion.
"We have about 600 units that just opened with Metronome and Encore, and another 600 units under construction with Anthem House and Wellory Living," says Nadia Niakossary, senior director of development at RCP Cos.
"We plan to build another 600 to 800 units in the future between townhouses, condos and multifamily products. Lease-up has been steady. There is, of course, a lot of product in the market right now, but we're confident of our competitive position. We're targeting the people who are moving from those larger markets and want to live close to their work and in a more urban area that's within walking distance to a park, grocery store, restaurants and entertainment."
MidCity is a catalyst for other new construction nearby. Tuscaloosa-based IMS Development, for example, acquired 130 acres from the University of Alabama in Huntsville Foundation in August of this year. IMS's project, called North Valley, will include 800 multifamily units and approximately 20 acres of land for commercial development, potentially for retailers, hotels, entertainment concepts or restaurants.
"Being near MidCity district is important since it is such a growing area," says Lauren Vickers, development associate with IMS Management.
While supply, inflation and slower transaction volume due to high interest rates has put Huntsville on hold for many developers, those close to the market say renter demand will drive continued long-term growth.
"At a macro level, the employment forecasts and overall economic fundamentals of Huntsville remain absolutely solid, just like they were 12 to 24 months ago, which is why many developers made plans to enter the market," says Jacobs.
"We are seeing a short-term level of softness as properties deliver and seek to achieve lease-up stabilization. However, from a mid-to-long-term standpoint, we have little concern around the macroeconomic future of the Huntsville market."
Scott Hoppa, senior vice president with McShane Construction Co., also is not worried about the big-picture stability of the Huntsville apartment market. Huntsville remains a hot market for renters, he says.
"An increase in job opportunities in STEM (science, technology, engineering and math) fields along with the city's reputation for a high quality of living has led to a surge in population," explains Hoppa. "This, coupled with a housing shortage that existed in 2020 and 2021, has resulted in a dramatic increase in demand for multifamily development over the past few years. Although occupancy rates have begun to decline due to the rise in apartment supply, Huntsville's continued growth points to sustained demand for new construction."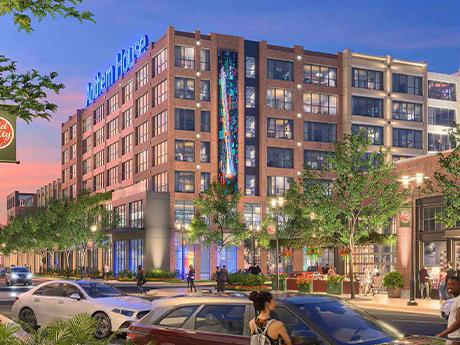 McShane completed Laurel at Dry Creek near Huntsville in fall 2022 for developer Gateway Ventures Real Estate. The property features one- to three-bedroom apartments with luxury finishes and features along with more than 7,000 square feet of amenity space, including an outdoor pool with poolside cabanas, pickleball courts, a car wash and a dog park and agility course. 
Birmingham: The Next 'It' Market?
The Birmingham apartment market, located about 100 miles south of Huntsville, is not experiencing meteoric rent growth, but it does boast steady, conservative trendlines that investors such as O'Brien like to see.
"The joke everybody makes is that Birmingham's population grows 1 percent per year like clockwork," he says. "Some investors are looking for explosive rent growth," O'Brien adds. "But steady as she goes sounds really good."
Unlike most blossoming apartment-growth cities in the South, Birmingham did not overbuild between 2020 and 2022. In the second quarter of this year, developers completed fewer than 100 units in the market. In contrast, developers in the Huntsville market delivered about 600 new units during the same quarter.
"Everybody loves Huntsville because the education levels and demographics are off the charts," says O'Brien. "Don't get me wrong. Huntsville's an amazing place, but we believe Birmingham is really going to benefit from its limited construction pipeline. The growth rate is stable like clockwork."
The unemployment in Birmingham-Hoover County was 2.3 percent in August 2023, compared with the national unemployment rate of 3.8 percent for the same month.
"The Birmingham apartment market might not be setting the world on fire, but the unemployment rate is very low," says O'Brien. "Sometimes Birmingham feels like the biggest Southern city that nobody's talking about."
Birmingham ranked 23rd on the Wall Street Journal's annual rankings of job markets, ahead of Chicago, Boston, Los Angeles and Las Vegas. Where unemployment was concerned, the city had the fourth lowest rate among the 400 metros. The rankings were published in April 2023 and were based on the average unemployment rate throughout the year, the yearly labor-force participation rate, the change in the average monthly employment and labor-force levels from a year earlier.
O'Brien says Birmingham's market may not be attracting institutional multifamily investors because it hasn't yet landed large corporate relocations that some Florida and Texas markets attribute to sudden large spikes in job and population growth. Corporate relocations in Jacksonville, Florida, for example, grew by 67 percent between 2022 and 2023, according to the Jacksonville Chamber of Commerce. In Austin, Texas, 56 companies announced relocations between January and September of this year.
"Birmingham doesn't seem to land those big uppercuts," says O'Brien. "It just keeps growing slowly and steadily in population and maintaining a super tight labor market and a stable banking industry. I think growth there will be more subtle. Right now, interest rates and construction expenses are so high that in order to build something you need [to achieve] a particular rent. I just don't think you're going to see a dramatic change in the supply pipeline without some major adjustment in the population and job numbers for Birmingham."
But O'Brien says Birmingham may be the next Sun Belt market to leap into the limelight and take the multifamily investment world by storm.
"I think the secret is going to get out in the next 10 years," he says. "When you talk to high-level institutional investors, a lot of them don't have cities like Birmingham on their lists. They'll say, 'I'll invest in Atlanta, Charlotte, Miami,' but they don't have Birmingham on their radars. I think that's a missed opportunity. But I think the secret will be out in 10 years. There are many great Southern cities that institutions overlooked years ago that are now high on everyone's lists." 
— By Lynn Peisner. This article originally appeared in the Sept/Oct issue of Southeast Multifamily & Affordable Housing Business.