The auto industry is pivoting from the mass production of internal combustion engine vehicles to electric vehicles (EVs), and the Motor City is at the forefront of this transformation. While it's unclear how long it will take to complete the transition and at what cost, the expected job growth stemming from the billions of dollars flowing into EV investments in Michigan bodes well for metro Detroit's economy and the multifamily market, say commercial real estate experts.
In January 2022, General Motors unveiled plans to invest $6.5 billion and create up to 4,000 new jobs at two EV factories, a move that GM CEO Mary Barra said would make Michigan the "epicenter of the electric vehicle industry."
Specifically, the auto giant is investing $4 billion to convert GM's Orion Township assembly plant in Oakland County to produce full-size EV pickups, adding up to 2,300 jobs. The production of electric trucks, including the Chevrolet Silverado EV and electric GMC Sierra, is scheduled to begin at Orion in 2024.
GM is investing up to $2.5 billion to build Ultium's third U.S. battery cell plant in Delta Township near the state capital of Lansing, adding up to 1,700 jobs. The 2.8 million-square-foot battery manufacturing facility is scheduled to be complete in late 2024.
"When you are talking about Delta Township, where I grew up, adding 1,700 jobs in that market is like starting a new city," said Jack Johns, first vice president with CBRE and panelist at France Media's InterFace Michigan Multifamily Conference held April 17 at The Townsend Hotel in Birmingham, Michigan.
"If this investment in autonomous and electric vehicles keeps going on the track it is and this new job creation comes, that's going to result in population [growth], new household formation, income-qualified housing demand, and that's really going to help our state and our industry overall," continued Johns.
"We have to remember, as Michiganders, that we are hard workers and that there is still going to be a lot of demand [from multifamily investors] in our state because this is where the jobs are going to be it looks like going forward."
As this issue was going to press, Crain's Detroit Business reported that GM is planning a 1.1 million-square-foot, $200 million electric vehicle parts assembly and distribution facility on the former Palace of Auburn Hills site. The project, which would support the GM Orion Assembly property and include 50,000 square feet of office space, still requires municipal approval. Construction would begin this July and be completed in 2024.
GM reported net income of $2.4 billion in the first quarter, down from $2.9 billion the same period a year earlier, due largely to a buyout program that resulted in about $900 million in associated costs. Still, that's a stark contrast from 2009, when GM and Chrysler both declared bankruptcy during the Great Recession amid the closing of factories and jobs leaving the area.
Ford Motor Co. is investing more than $50 billion globally from 2022 through 2026 to develop breakthrough EVs. Closer to home, Ford is in the process of converting the former Michigan Central Station and its 18-story office tower into a 30-acre, $950 million mobility and innovation campus in Detroit's Corktown.
The automaker partnered with Google to develop autonomous vehicle operating systems, with research and development taking place at Michigan Central. The historic train depot opened in 1913 and ceased operations in 1988. The new facility is slated to open in the second quarter of this year. When complete, Michigan Central Campus will be home to over 5,000 workers (half of them non-Ford employees).
Healthy Vital Signs
The region's economic vital signs have been trending in the right direction. Total nonfarm payroll employment in metro Detroit increased by 35,500 from February 2022 to February 2023, according to the U.S. Census Bureau. The biggest gains were in the education and health services sector (+10,400), followed by leisure and hospitality (+10,100) and manufacturing (+7,500). Metro Detroit's unemployment rate, not seasonally adjusted, fell from 4.8 percent to 3.8 percent during the same 12-month period.
Employment within the City of Detroit increased by an estimated 8,000 jobs in 2022, nearly keeping pace with job gains of 8,400 in 2021. Employment growth is expected to slow to 2,200 jobs this year amid a weakening U.S. economy before accelerating to an average of 2,700 per year from 2024 to 2027 as the national economy rebounds. That forecast, released in February, was produced by the University of Michigan's Research Seminar in Quantitative Economics as part of the City of Detroit University Economic Analysis Partnership.
Gabe Ehrlich, who leads UM's macroeconomic forecasting team that produces the forecast, said the collapse of Silicon Valley Bank in California and Signature Bank in New York hasn't caused a shift in the team's outlook.
"We were forecasting a mild recession later this year based on the Fed's tightening cycle. The banking upheaval shows that the Fed's monetary tightening is affecting the real economy. We do expect the crisis to lead to a reduction in lending to businesses and consumers, but that is consistent with our forecast of a growth slowdown later this year," explained Ehrlich in an e-mail to Midwest Multifamily & Affordable Housing Business.
The occupancy rate for the metro Detroit apartment market in the first quarter of 2023 was a healthy 94.8 percent, but well below the peak of 98.3 percent in the fourth quarter of 2021. Two factors account for the drop in occupancy, explains Carl Whitaker, senior director of research and analysis at Carrollton, Texas-based RealPage, which surveys about 9.4 million apartments nationwide.
First, the occupancy rate was overstated by about 200 to 300 basis points in the fourth quarter of 2021 because some residents who were physically occupying units weren't paying their rent. Eviction moratoriums stemming from the COVID-19 pandemic were still in place at that point.
Now that moratoriums have been lifted and the evictions have started to materialize in the wake of the pandemic, occupancy rates are falling, said Whitaker. The second reason for the dip in occupancy rate is that developers are delivering a modest amount of new supply to the market.
Last year, 1,946 units came online in metro Detroit, the equivalent of 0.9 percent of existing stock, reports Yardi Matrix. Although that's a relatively small increase in the rate of new supply — less than half the 2.2 percent U.S. figure — it exceeded metro Detroit's five-year average of 0.6 percent.
There were 5,759 units under construction in the first quarter of 2023, representing 2 percent of the current existing stock of 278,144 units, according to RealPage. That's a relatively small percentage, explained Whitaker. "Places like Denver, Salt Lake City and Charlotte have 10 to 15 percent of the existing inventory of multifamily units under construction."
Who's Buying and Selling?
Annual property and portfolio sales in metro Detroit's apartment sector totaled $1.32 billion in 2022, down 33 percent from $1.98 billion the prior year, according to MSCI Real Assets. The data is based on transactions $2.5 million and above.
The spike in interest rates is the main culprit. To combat stubbornly high inflation, the Federal Reserve has raised the fed funds rate nine consecutive times to a range of 4.75 percent to 5 percent, the highest level since September 2007.
The 10-year Treasury yield, a benchmark for permanent, fixed-rate financing in commercial real estate, closed at 3.45 percent on Wednesday, April 26, up from 1.72 percent at the start of 2022.
RealPage's Whitaker said the falloff in deal volume isn't due to investors' lack of appetite for multifamily assets. "It's more a case of them saying, 'Hey, we can't make the numbers work the way we would need to right now, so we're going to hold off. We need to see what the market looks like 12 months from now.'"

To be clear, investment sales activity has not ground to a complete halt. Private capital, including large family offices and syndication groups, are among the most active apartment buyers in the marketplace today, according to Kevin Dillon, senior managing director with Berkadia Real Estate Advisors who operates out of the firm's Southfield, Michigan, office covering Michigan and Ohio.
"The institutional groups are slower to the finish line today. However, we have large family offices from New York to California, Seattle to Miami, and all parts in between, as well as the other private capital investors such as syndication groups that are out there — people that have some money," said Dillon during the investment and brokerage panel session at InterFace Michigan Multifamily.
The sellers include a handful of different groups, according to Dillon. Take, for example, a property owner that has a few assets financed through a debt fund. The owner may want to sell off those properties before having to refinance them because of a looming loan maturity date, Dillon stated.
"The other [scenario] would be an institutional group that has some redemptions, meaning they are a fund sponsor with other institutional groups in their fund and they are asking for some money back out," explained Dillon.
Kevin Jahnke, a broker with Bloomfield Hills, Michigan-based Income Property Organization (IPO), which operates in the Great Lakes State, Indiana and Ohio, said about half the investment sales transactions his firm is working on today involve some form of affordable housing and he emphasized that these are not "cashflow deals."
"A new buyer is going to come in and collect the developer fee or management fee and recapitalize the property or re-syndicate it (seek a new allocation of tax credits to preserve an existing Low-Income Housing Tax Credit property)," said Jahnke.
The other half of sales transactions IPO is working on involve owners facing expiring debt on their assets.
When it comes to price, the bid-ask gap between buyers and sellers is starting to shrink, noted Jahnke. "Obviously, the fourth quarter of last year was probably the low point — the biggest bid-ask spread."
The bid-ask spread tends to vary by market, explained Johns of CBRE. "In Ann Arbor, we're spot on where the seller wants to be, and we found a buyer. It was a large family office out of California. There was no rub between what the seller wanted and what the buyer was willing [to pay], so much so that we're going to do it nine more times with the seller." In short, the seller is going to unload the entire portfolio.
In Lansing, the bid-ask gap is more pronounced with buyers holding firm on how much they're willing to pay, noted Johns.
"We're seeing a little more cap rate springiness [in Lansing], and probably a slower deal velocity. You're getting very creative sellers that are willing to guarantee rent rolls and maybe some rent growth to get their price. That's probably because they are bumping up against some sort of refinancing or capital event. They just don't want to bring a check to closing if that's a concern."
Marcus & Millichap's Christopher Futo and Gordon Navarre, brokers who specialize in multifamily and mobile home park sales and operate out of the firm's Detroit office, shared with MMAHB in writing their outlook for deal volume in 2023.
"We feel that 2023 is going to be a challenging year for transactions. Michigan has historically been a low-velocity market for sales, but low interest rates and out-of-state demand drove many owners who aren't typical sellers to sell. The current gap between what buyers can pay and sellers' expectations has created a transactional pause in the market. We think this will probably loosen in the second half of the year, but it will be more so based off sellers who have some traditional motivating factors, rather than being solely price-motivated," wrote Futo and Navarre.
"Currently, sellers are still wanting a number for their building they could have gotten in 2021, when interest rates were historically low. Buyers are wanting to pay prices from 2012 because interest rates are now up, and they want to get a bigger discount than sellers are currently willing to give," Futo and Navarre added.
Modest Rent Growth Ahead
The average effective rent in the metro Detroit apartment market surged 8 percent on an annual basis in 2022. But after peaking at $1,261 in the third quarter of 2022, it has fallen slightly each of the last two quarters to settle at $1,252 as of the first quarter of 2023.
RealPage is forecasting 3.3 percent annual rent growth for the Detroit market this year. "That's pretty spot on where the market was over the past 10 years," explained Whitaker.
From 2012 to 2019, annual rent growth in the metro Detroit market averaged 3.5 percent with relatively little fluctuation. During that stretch, the high was 5 percent annual rent growth, and the low was 2.5 percent, the RealPage data shows.
This consistency in the level of rent growth doesn't surprise Whitaker. "You don't tend to see markets in the Midwest hit double-digit rent growth."
Meanwhile, some markets like Phoenix and Las Vegas are experiencing a decline in rents after seeing double-digit rent growth, according to Whitaker. "You don't see that in the Midwest. You trade off some of that upside for less volatility."
Due to a combination of factors weighing negatively on the multifamily sector — including rising interest rates, high inflation and rent delinquencies — Johns of CBRE anticipates buyers will underwrite deals with heavier concessions, lower rent growth and heavier aging accounts receivables because that's the way the lenders are going to underwrite the deals.
"So, it's got to be a reality check on what debt dollars and proceeds are going to be based off a truly driven NOI as opposed to a pro forma that everybody was buying off of and living off of for the last half decade," said Johns.
Commercial property insurance rates are sharply on the rise, said Dillon, citing the severity of hurricanes in the Southeast as a major factor. Hurricane Ian struck South Florida as a Category 4 storm last September, causing an estimated $113 billion in damage and claiming 161 lives.
"Property insurance is essentially doubling everywhere you look. It's not pretty with what's going on down in the Southeast with the hurricanes. The property insurance down there has gone up 200 and 300 percent — 350 and 400 percent in a few cases I've heard. That's going to be a challenge until [premiums] start to come back down. It will happen, it's just going to take a while. The insurance companies are not making money with all the losses they've incurred," said Dillon.
The sharp rise in property taxes in some markets is also a concern, but Dillon said it's a municipality-by-municipality issue that needs to be closely monitored. "Consult your legal counsel to make sure they know what's going on. If property taxes double, which has occurred in many cases, that's a 40 percent hit on [market value] in some circumstances."
High-Profile Development Projects
In February, Bedrock unveiled plans for the Development at Cadillac Square, a 1.5 million-square-foot mixed-use development situated between Monroe and Randolph streets, and adjacent to Campus Martius Park and Cadillac Square in downtown Detroit. Bedrock is the real estate arm of Dan Gilbert's Rock family of companies. Gilbert is the co-founder of Rocket Mortgage.
The grand plan calls for approximately 250 to 280 new residential units totaling 230,000 square feet; 90,000 square feet for a market hall, a grocer, restaurants and other retail; 60,000-plus square feet dedicated to entertainment offerings; 1,500 to 1,800 parking spaces; and 400,000 square feet of Class A office space.
As part of this ambitious project, Bedrock plans to revive Detroit's iconic National Theatre as a world-class entertainment venue and an anchor of the development.
The Development at Cadillac Square is subject to an affordable housing agreement with the City of Detroit, which requires Bedrock to commit at least 20 percent of the residential units to affordable housing.
Construction will occur in three phases: Phase 1 is expected to begin Sept. 1, 2024, following the 2024 NFL Draft where thousands of visitors are expected to descend upon Detroit, placing a spotlight on the city; Phase 2 is set to begin Oct. 1, 2026, and Phase 3 will launch Jan. 1, 2028.
Ultimately, Development at Cadillac Square seeks to bring a new range of live, work and play options to the community, while further connecting the central business district to surrounding points of interest, amenities and neighborhoods, according to a Bedrock press release.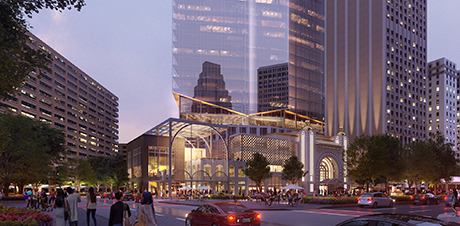 In November 2022, Related Cos. and Olympia Development of Michigan (ODM) announced plans for a $1.5 billion, multi-building development in The District Detroit, a 50-block residential and commercial district surrounding Little Caesar's Arena, home of the Detroit Red Wings and the Detroit Pistons.
The developers seek to build new office, residential, hotel and public space across 10 properties in the district. Their plan calls for the construction of six new buildings and the renovation and adaptive reuse of four buildings.
Breaking down the project by property type, the developers plan to build 695 mixed-income residential units, 20 percent of which are reserved as affordable housing at 50 percent of the area median income; 1.2 million square feet of commercial office space; 100,000 square feet of retail; and 467 hotel rooms.
At the center of plans for The District Detroit is the University of Michigan Center for Innovation (formerly known as the Detroit Center for Innovation). The $250 million, 200,000-square-foot research and education center operated by UM will be located near the Fox Theatre. Programs will focus on high-tech research, education and innovation, with the goal of supporting the economic development of Detroit and the state with a pipeline of talent.
UM plans to break ground on the project later this year, and the construction is expected to take three years to complete. Stephen Ross, founder and chairman of the Related Cos. and a UM alumnus, donated $100 million to help launch the innovation center. Olympia Development donated the four-acre parcel to UM.
The construction work needed to complete the myriad projects slated for The District Detroit will support approximately 12,000 temporary construction-related jobs, generate more than $800 million in wages, and yield approximately $1.4 billion in direct economic activity, according to the Related Cos. and Olympia Development.
Once the project is completed, annual operations will support more than 6,000 jobs in the City of Detroit and generate more than $500 million in wages on an annual basis.
On April 25, the Michigan Strategic Fund board, which has broad authority to promote economic development and create jobs, approved a $600 million-plus public incentive for the development through a transformational brownfield real estate development funding mechanism.
According to Crain's Detroit Business, the program allows for developers who meet certain project cost thresholds — in Detroit's case, $500 million at a minimum — to apply to capture various state taxes, some short term and some long term. The captures don't take place if a project isn't completed.
Some critics have balked at the large tax incentives granted to the developers of The District Detroit, but the developers say the project wouldn't be financially feasible without the taxpayer funding.
The approval of the transformation brownfield redevelopment plan by the Michigan Strategic Fund board comes on the heels of Detroit City Council's approval of the plan in March. The Detroit City Council also voted in favor of a $167 million community benefits agreement that requires the developers to build affordable housing, focus on workforce development, education and other benefits to the community.
Construction on the first building, a large office tower in front of Comerica Park, could begin this summer, although the occupants aren't known, according to Crain's Detroit Business.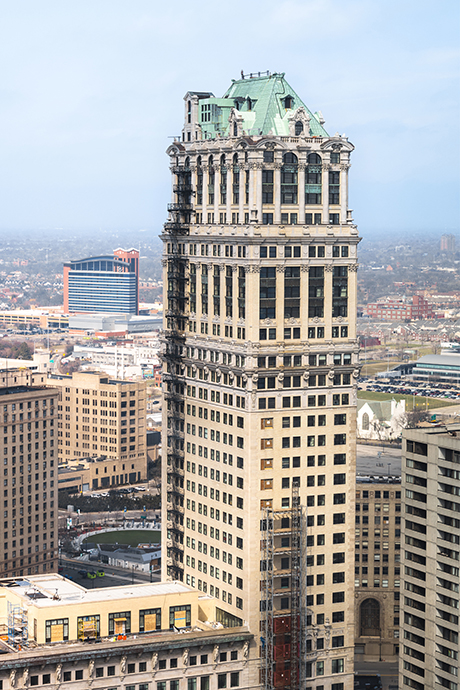 In a momentous March, Bedrock announced that the seven-year historic restoration of the Book Tower, located at 1265 Washington Blvd. in downtown Detroit, was nearly complete at a cost of over $300 million.
"Five hundred thousand square feet and 38 floors have been masterfully crafted into 229 residential units, 117 ROOST Apartment Hotel accommodations and 52,000 square feet of retail and office, including three new dining options," the press release stated.
Bedrock began pre-leasing the Residences at Book Tower in April. The property is a collection of 229 studio, one- and two-bedroom units and boasts 46 unique floor plans and amenities. The website shows the monthly rent starting at $1,530 for a studio apartment; $1,805 for a one-bedroom unit; and $3,340 for a two-bedroom unit.
Built in 1926 by the Book Brothers, real estate entrepreneurs and members of one of Detroit's wealthiest families, Book Tower was the tallest building in Detroit at the time of completion. The first tenant was Detroit Bond & Mortgage. Today, it remains one of the most architecturally renowned buildings in the Midwest and one of the most intriguing reuse projects in Michigan, according to Bedrock.
Following its 2015 acquisition of the Louis Kamper-designed, Italian Renaissance Revival-style building, Bedrock embarked on a comprehensive, historic restoration of Book Tower. The building was originally found in a state of disrepair, after sitting vacant for over a decade, including destroyed century-old plaster ceiling tiles, shattered marble wainscoting, and exposed electrical and plumbing systems.
"Eight years ago, I said that Book Tower would be the most game-changing and exciting redevelopment project in Detroit," said Gilbert. "Today, we are thrilled as we prepare to reopen one of the most iconic, and interesting buildings in the entire city. Detroiters have always recognized the importance and historic significance of Book Tower, and we are ready to honor that sentiment as we put into service and deliver the meticulously restored property back to the community."
Across the entire metro area, the largest project under construction as of January was 24 at Bloomfield, a 430-unit property in Bloomfield Hills, owned by Edward Rose & Sons, according to Yardi Matrix. The largest property delivered last year was Uptown Square, a 383-unit community in Troy, owned by S.R. Jacobson Cos.
— By Matt Valley. This article originally appeared in the March/April issue of Midwest Multifamily & Affordable Housing Business.