North and South Carolina may fly under the radar when it comes to ranking the nation's top multifamily markets. But a closer look at the region reveals metrics that rival some of the busiest cities in the country.
"One of the common themes across metros in these two states is just how differently both investors and developers view the region versus how they viewed it 10 years ago — and certainly versus 20 years ago," says Carl Whitaker, director of research for Richardson, Texas-based RealPage, which provides data, analytics and property management software to the multifamily industry.
"For example, take a look at construction. Simply put, the Carolinas punch above their weight in terms of new construction. With 69,000 apartment units under construction, the Carolinas rank fourth in the United States for total development volume. Only much bigger states like Texas, California and Florida rank ahead in that regard."
In the pro column, the Carolinas' story reads the same as many other Sun Belt locales. Migration of young, well-educated working people from cooler climes is on the upswing, as are corporate relocations. Apartment investors also view unattainable for-sale home costs as additional fuel for demand.
Howard Jenkins, executive vice president of capital markets with CBRE | Raleigh, calls it the "for-sale rub" and shares with Southeast Multifamily & Affordable Housing Business that, in Raleigh, housing prices are up 18.2 percent year-over-year to an average of $485,000, and 30-year mortgage rates have jumped approximately 90 percent year-over-year as of June.

While demand is reportedly healthy, investors and developers remain cautious. High interest rates, inflation and construction costs are slowing the momentum of post-pandemic, double-digit rent growth on a national scale, and the Carolinas are following suit.
It may not sound like much, but the $1 decrease from July to August in monthly asking rents for a national average of $1,718, "presages a deceleration that may extend to the second half of 2022," according to August's Yardi Matrix National Multifamily Report. Those who watch the Carolinas offer similar prognostications.
"In 2022, rents are starting to flatten out in Raleigh and Charlotte," says Cindi Reed, director of sales for Houston-based ApartmentData.com, from MRI Software. "In both markets, it's a textbook case of supply and demand. The multifamily industry is thriving simply because of population growth, but we won't see the double-digit rent growth figures that we did in 2021."
Reed explains that post-pandemic pent-up demand moved the rent-growth needle significantly. But that jump was an anomalous extreme, spurred by the COVID-19 pandemic — when move-ins as well as construction activity stalled dramatically then resumed, full-tilt.
Multifamily rent growth figures are coming back down to earth but are expected to resume the modest, long-term growth trajectory that rates were following prior to the COVID-19 shutdowns.

Reed says that as long as local governmental bodies do what they can to keep construction attainable while builders face cost and labor problems, then absorption will work in favor of continued rent growth, and rates will return to the approximate 5 percent year-over-year average that marked the years preceding 2020. Or perhaps even higher.
"Going into 2023, we may even see a 7 or 8 percent increase," says Reed.
Overall, growing industries, such as manufacturing and life sciences, coupled with North Carolina's concentration of higher education institutions and an educated workforce, keep the job market strong.
Investors Bet on Triad's Growing Submarkets
The Triad comprises a region due west of Research Triangle that includes Greensboro, Winston-Salem and High Point. 
Charleston, South Carolina-based multifamily owner, operator and developer Blaze Capital Partners is active in the region. The firm acquired the 240-unit Fieldstone Apartments in Greensboro in June. Blaze saw a good value-add opportunity in the acquisition and plans to invest $2.5 million into the property.
"Given the apartment community's prime location and high-growth potential, this was a great opportunity for us to kick-start our presence in the greater Triad area," says Eddy O'Brien, co-founder and managing partner at Blaze.
Blaze's acquisition of Fieldstone builds off the firm's recent buying and selling activity across the Sun Belt and most recently in Greenville, South Carolina, including 630 Fairview, a townhome community, and a 66-acre site that will serve as the future home of a new community of single-family and townhome units. The firm also closed the sale of two Charlotte communities, as well as one Tampa community and two Atlanta communities, in May. Blaze owns 11 properties in North and South Carolina and is bullish on the region.
The company is currently raising a dedicated build-for-rent investment vehicle in preparation for about $1.2 billion in planned transaction volume, not only for single-family rentals, but also active adult, conventional multifamily and investment in hotel-to-apartment conversions.
"We like to play offense when others don't," says O'Brien. "With some volatility in the market, a number of groups are on the sidelines, saying, 'we'll hit pause and reassess later.' But we've been active and will continue to be active. Part of the benefit of us focusing on our own backyard here in the Carolinas is that we bet big on what we like to call 'emerging Southeastern' markets. Everyone knows about Charlotte, Raleigh and Tampa. But not as many people know about everything that's happening in Savannah or Greenville."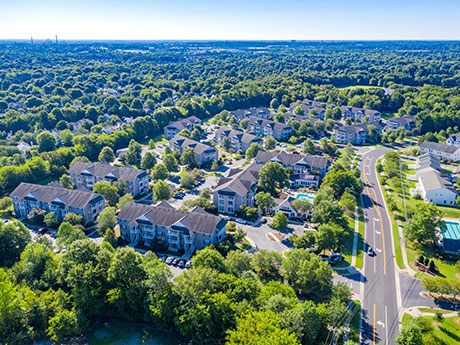 O'Brien says economic drivers like infrastructure investments and job growth are fueling some of these under-the-radar markets in the Southeast.
The Triad is home to large employers and distribution sites, including Publix's $300 million, 1.2-million-square-foot distribution center under construction in Greensboro and Honda Aircraft's Co.'s $15.5 million expansion of its global headquarters in Greensboro that will add 82,000 square feet to its 133-plus-acre campus.
"We're continuing to see a number of large and small companies relocate or launch in the region, which is attracting educated, affluent labor pools," says O'Brien. "In the public sector, we're seeing federal, state and local investments in infrastructure."
For example, the Army Corps of Engineers this year will complete a $500 million port-deepening project in Charleston, making the city the ninth largest port in the nation by total cargo volume. The new 52-foot depth of the Charleston Harbor enables mega container ships to enter and exit the waterway, which the Army Corps of Engineers says will increase cargo volume.
"These types of long-term, multimillion-dollar projects provide clues in a lot of these markets that investors unfamiliar with the region may not pay attention to," says O'Brien. "Taking I-26 from Charleston to Greenville up to Asheville, we like to take bets on growth corridors."
Research Triangle Degrees Elevate Economy
The Research Triangle includes Raleigh, Durham and Chapel Hill and is home to blue chip employers like Google, IBM, Apple and Biogen. The Raleigh-Durham market includes Wake, Durham and Orange counties, among others.
CBRE's Jenkins identifies the Research Triangle's colleges and universities — and the research-and-development funding they attract — as "recession-resistant demand drivers" that are helping to sustain healthy multifamily market fundamentals during uncertain times.
North Carolina State University in Raleigh, Duke University in Durham and the University of North Carolina at Chapel Hill are classified as Tier 1 research institutions that attract approximately $3 billion in federal research and development funding each year and have spun off hundreds of start-up companies, according to the Research Triangle Regional Partnership (RTRP), an economic development organization.
According to RTRP, life sciences, manufacturing, fintech and cybersecurity are a few of the industries regional leaders want to attract with the state's educated workforce and 2.5 percent corporate tax rate. Per the Tax Foundation, an independent tax policy nonprofit organization, North Carolina's is the lowest corporate tax rate in the country. Some of the nation's highest rates include Pennsylvania's 9.99 percent rate or New Jersey's 11.5 percent rate. Additionally, about half of the region's residents have a bachelor's degree or higher. 
In September, Wolfspeed announced plans to build a new semiconductor plant at a 400-acre site in Chatham County with an estimated investment of $5 billion and a commitment to create more than 1,800 jobs paying $77,000 a year on average.
In July, VinFast announced it had received a $1.2 billion incentive package from the state of North Carolina for its electric vehicle manufacturing project.
VinFast's manufacturing facility will be built on 2,000 acres at the Triangle Innovation Point in Chatham County with a total investment of about $2 billion in the first phase. Construction on the project's first phase will begin later this year, with full completion slated for July 2024. When the plant is up and running, the company says it expects to produce 150,000 electric cars and buses per year.
Another example of a recent Triangle development is a joint venture project between Starwood Capital Group and Trinity Capital Advisors that will develop Spark LS, a $1 billion life sciences campus in Morrisville, a suburb of Raleigh.
The 109-acre development will be located at the intersection of McCrimmon Parkway and Airport Boulevard, four miles from the Raleigh-Durham International Airport and five miles from Apple's new $1 billion office campus.
The 1.5 million-square-foot project is set to include 12 to 15 buildings with lab and bio-manufacturing space, green spaces, restaurants, retail, a STEM education and amenity center, and several multi-use outdoor recreation areas.
Morrisville is sixth (out of 22) on ApartmentData.com's ranking of Raleigh-Durham submarkets. The September 2022 ranking is based on the combination of rental rate growth and absorption over the past three months. The area about 15 miles northwest of downtown Raleigh recorded 16 percent year-over-year rent growth as of September.
"We believe our market has the best risk-adjusted net value and we have the most affordable rents," says Jenkins.
Raleigh's average monthly rent of $1,551 is below the $1,718 national rate.
"If you look at our average monthly rental rate as a percentage of regional median income, which is close to $80,000 per year, you're only paying about 20 percent of your salary for rent," says Jenkins. "A lot of investors look at these metrics and determine we're the No. 1 state to do business with."
Jenkins reports that the first half of 2022 has been a record breaker in investment sales for Raleigh, showing an increase of 53 percent, or $154 billion.
A majority of Raleigh's buyers are non-traded real estate investment trusts, 1031 exchange buyers and high net-worth individuals who can acquire without taking on excessive debt, says Jenkins.
Raleigh has an active development pipeline despite high construction costs and labor challenges. Fourteen communities containing 3,910 units are under construction. Another 106 communities totaling 31,630 units are proposed, according to ApartmentData.com. Marcus & Millichap forecasts Raleigh's apartment stock to grow 4.6 percent in 2022.
"Year to date through September, we've delivered about 3,800 units, and we've absorbed about 2,800, so absorption is slowing down and occupancies are flattening out," says Reed.
Charlotte: Banking City 2.0
Charlotte weathered the pandemic well. In 2020, rent growth moderated to an annual rate of 3.4 percent. "That was nothing compared to the rest of the nation," says Reed. "Most markets experienced negative growth."
In 2021, developers delivered 6,300 new units to Charlotte and its submarkets, and about 8,000 units were absorbed, according to ApartmentData.com. The average effective rent for the Charlotte apartment market increased 19 percent for the year. "Occupancy jumped to 92.9 percent," says Reed. "We were filling up units. Everyone was moving to the Sun Belt from both coasts, which kicked up construction, occupancy rates and rental rates like crazy."
Cushman & Wakefield reports similar data: "Per CoStar Group, over the past 12 months, Charlotte has absorbed 6,269 units," says Austin Green, executive managing director of Cushman & Wakefield's Sunbelt Multifamily Advisory Group. "Based on our research, nearly 24,000 units are currently under construction and 32,000 have been proposed in the Charlotte MSA. While the population has increased rapidly, demand should be able to be met harmoniously through expected deliveries."
"Charlotte has been a major beneficiary of the population and employment exodus from gateway markets into the Sun Belt that was only sped up by the effects of the pandemic," says Paul Marley, executive managing director of Cushman & Wakefield's Sunbelt Multifamily Advisory Group. "Despite economic uncertainty, Charlotte continued to see major job announcements over the past two years, which in turn led to heightened in-migration and a lack of availability that ultimately kept rent growth positive from 2020 until present."

But leasing activity has moderated greatly in 2022. Reed reports that in the first quarter of 2022, Charlotte absorbed 661 units, 1,523 in the second quarter, and as of August, the midpoint of the third quarter, 583 units were absorbed.
"It has slowed down quite a bit and will likely be about half of what it was in 2021," says Reed.
Market insiders, however, are putting a good deal of confidence behind the gold standard of job and population growth, which has helped investors maintain a favorable outlook on rent growth and occupancy.
"Population increases outpaced the national average significantly in 2021, and projections show no signs of slowing," says Marley. "Charlotte's population is projected to grow by 1.3 percent in 2022 according to Moody's, while the national average is 0.3 percent. The majority of the in-migration has come from major cities in the Northeast including New York, D.C., Baltimore and Philadelphia."
Charlotte is still primarily a banking city, but Alex McDermott, executive managing director of Cushman & Wakefield's Sunbelt Multifamily Advisory Group, says it continues to see major expansion in other industries. "The fintech industry has had an increasing presence," he says. "The move by companies like Honeywell and LendingTree to relocate their headquarters to Charlotte has drawn talented young professionals."
Many of Charlotte's new development projects are making headlines as large, high-dollar mixed-use projects that target millennial or Generation Z residents, workers and visitors. Pew Research Center defines millennial birth years from 1981 to 1996 and Generation Z birth years from 1997 to 2012.
One such development is 2161 Hawkins. Atlanta-based developer Portman is breaking ground in October on the transit-oriented project in Charlotte's South End that will include connections with the Rail Trail and LYNX Light Rail. The 24-story community will include 370 units, ground-floor retail and green space. The project is expected to be complete by the third quarter of 2024. The residential portion of 2161 Hawkins will be built over the site of Sycamore Brewing, which will be relocated to The Line, an office and retail tower that Portman also developed and opened in May before selling the property in June for $206 million. According to The Charlotte Observer, Portman bought the parcel of land in 2018 for $12.7 million.
Portman is also about to break ground on Savona Residences I in Charlotte. The developer secured construction financing in September. The project will be the first of two multifamily phases planned for the redevelopment of Savona Mill in the West End.
The community will be anchored by a 105-year-old former textile mill, which Portman is transforming into a mixed-use destination featuring ground-floor retail, office space and a public plaza adjacent to the Stewart Creek Greenway. Construction will begin in November.
Savona Residences, which the developer is expected to deliver by the third quarter of 2024, will consist of 321 mid-rise multifamily residences. Portman is planning amenities such as a pool with cabanas, a pet spa and dog park, yoga and Pilates studios, game rooms and a fitness center.
Alliance Residential Co. is also busy developing around Charlotte. The multifamily developer has closed on the land purchase of 18.3 acres at 9741 Mount Holly Road in northwest Charlotte for the development of Prose Rhyne, a 330-unit community. Prose Rhyne is one of five active projects around Charlotte.
"A highly anticipated project expected to be delivered in 2025 is Riverside Investment's Queensbridge Collective," notes Green. "The project will consist of 650 multifamily units, 750,000 square feet of office space, and 30,000 square feet of retail space. Another exciting development is Crosland Southeast's redevelopment of the former Eastland Mall. The project will consist of 500 multifamily units along with office and retail space. This project will have a very positive impact on that pocket of East Charlotte."
Stylish new developments aren't the only high-value assets trading in the market. In August, Blackfin Real Estate Investors sold the 504-unit Pressley South End, built in 1969, for $78 million.
Blackfin purchased the property in 2017 for $19 million. The Solomon Organization recently sold a 762-unit, three-property portfolio in suburban Charlotte for $173.5 million.
Atlanta-based multifamily investor CARROLL is also active in Charlotte and throughout North Carolina. The firm owns 12 properties in the state and two in Charlotte, one of which is the 212-unit Arium FreeMoreWest that was acquired in June. CARROLL acquired Arium FreeMoreWest around the same time it acquired a property in Texas and another in Arizona. The three separate transactions were valued at a grand total of approximately $200 million.
"We were attracted to ARIUM FreeMoreWest in Charlotte given its high-growth location that offers excellent proximity to the major employment and entertainment districts in South End and Uptown with rent levels at a massive discount to other properties in those locations," says Casey Barber, senior vice president of investments at CARROLL.
The property was built in 2015. According to the community's website, rents range from $1,610 for a 785-square-foot, one-bedroom unit to $2,065 for a 1,119-square-foot, two-bedroom unit.
"Charlotte continues to benefit from strong in-migration and job growth spurred by its business-friendly climate, attractive lifestyle, relative affordability and diverse entertainment offerings," says Barber. "Along with Raleigh-Durham, Charlotte continues to be a top target market for us given the current supply-demand imbalance, continued job growth and corporate relocations as well as attractive rent-to-income levels that position the markets for continued growth and strong performance."
While value-add deals can be challenging to find, a "flight to quality," as Jenkins calls it, signifies an investor appetite mostly for the safe bet of Class A assets.
"Absorption in Class A properties in Charlotte, for example, is high because there's not as much available in the B's and C's," says Reed. Apartmentdata.com reports that 17 Class A properties in Charlotte are currently in lease-up, while only six Class B's are in the same, just-delivered early stage.
Marley confirms that many investors are looking to hunker down with a top-of-the-line property or portfolio. "We are currently working with several groups to best position their assets, whether that be property performance or how to better improve the physical asset," says Marley. "Many groups are looking to longer-term holds to weather potential upcoming storms, so they want to be the best-in-class asset."
— By Lynn Peisner. This article first appeared in the September/October 2022 issue Southeast Multifamily & Affordable Housing Business.