COVID-19 has forced architects to deliver apartment features that are hyper-customized to regional trends and renter demographics.
— By Ryan Carver, SGA|NarmourWright Design —
As strange as it may seem, the enduring COVID-19 pandemic is creating an opportunity for innovation in the multifamily industry.
These days, my colleagues and I at the architectural design and planning firm of SGA|NarmourWright are sharpening our pencils, fine-tuning the services we deliver during this pandemic era and beyond.
Our clients need the right product for the right target demographic. We study trends by talking to our network of developers, brokers, financiers, civil engineers and anyone else who can supply data to inform us on delivering a unique plan for each site. Our firm doesn't have a signature style or brand because every project is defined by the site, the context, the demographics and the client.
Developers often are taking big risks trying to hit a moving financial target two years down the road. We look at our job as getting them from dirt to development with the most appropriate, profitable and long-lasting design.
Our role often starts before a developer has even purchased the land. Many clients come to us not only when they need a permit, but also early on when they're considering a site they may not even own yet.
Developers want to hear ideas about maximizing a site's profitability. We recommend different products to support corresponding densities, whether it's a garden-style apartment community you'd find in the suburbs or a four-story structure wrapped around parking typical of a more urban environment. Sometimes our recommendations mean they pass on a deal, and that's probably a good thing. That means we saved them a lot of time and money.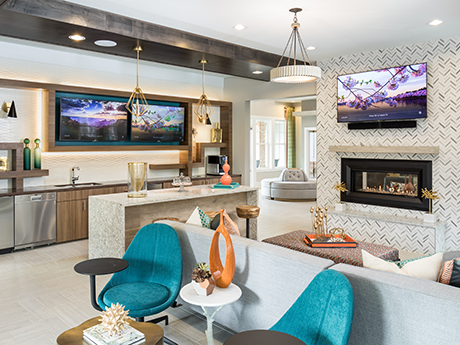 How The Pandemic Ups the Ante
Developers today want more efficiency in design. They want us to create communities that are engaging and different from competitors, but on a budget. That could mean smaller units with the most rentable square footage as possible and accompanied by attractive and distinguishing amenities.
In some cases, rents are capped at a threshold commensurate with the project location. This means our clients usually want to keep development costs low. There are thousands of young professionals moving to the areas we serve. If our clients can get a Class A location, they can pare back the number of amenities being offered within the project because location is what ultimately attracts renters.
Many new apartments are nearly equal in terms of security, gated entries and proper lighting. What sells a community to a renter are the wow factors, such as the pool, the fitness center and unit kitchens and baths.
We try to create an experience or space that residents will brag about, like a pool someone would want to bring their friends to or a common area where they can entertain. Maybe it's the first amenity they see when they arrive at the project. Our designs consider the "lease walk" experience – how the property management company will show the project to potential residents.
If we do our job right, prospective tenants may feel like they can't afford to live there. Then when they tour the project and find out they can, that really sells. People also are attracted to open floor plans with a lot of light coming in and thoughtful storage and use of space.
Regional Lifestyles Direct Property Design
We're seeing continuing growth in urban hot spots such as Atlanta and Nashville, along with Greenville and Charleston, South Carolina; and Raleigh and Charlotte, North Carolina, where we are based.
Here in Charlotte, manufacturing and technology jobs are drawing in approximately 70 new residents per day. That's creating growth in what used to be second- or third-tier areas, like Mooresville and Pineville, North Carolina, and Columbia, Greer and Belmont, South Carolina. We've seen our projects quickly leasing up to 95 to 97 percent occupancy, with waiting lists and few concessions.
As an architectural firm in this region, we've been designing communities to suit different demographics. Empty-nesters, for instance, want elevators and gardening space, while millennials seek common areas with work-from-home and socializing spaces.
A prime example of a recent ultra-tailored development includes The Lexington at Dilworth in Charlotte, North Carolina. This project was developed by Marsh Properties, a local developer with whom we share decades of experience. This multi-family apartment community illustrates the importance of being sensitive to the neighborhood context. We designed it to look like it is part of the historic neighborhood of Dilworth, where the project is located. The development includes 235 residential units, structured parking, six unique courtyards and lavish amenities.
Young professionals love communities like our Mosby Ingleside Apartments in North Charleston, South Carolina, which offers free bike rentals as an amenity so residents can explore their neighborhood. The 312 units, with one-, two- and three-bedroom floorplans, span 12 buildings with a coastal aesthetic. Community amenities also include a two-story clubhouse, pool and pet spa. We designed buildings to take full advantage of the sloping topography and leveraged the on-site wetlands as a focal point, complete with a boardwalk running through it.
We also put a lot of thought into the senior living communities we design. Indigo Hall in Charleston, South Carolina, is a luxury senior living community that offers assisted living and memory care. Restore at Carolina Park in Mount Pleasant, South Carolina, is an active adult community for persons age 55 and above. These properties were designed around a wellness-centric lifestyle.
Residents Want No-Touch Lifestyles
Lately, we find that our clients also are embracing technology. Keyless entry and smart thermostats are pretty much a given these days, but some developers go further and include features like a single panelfrom which a resident can control all the units' lighting, temperature and appliances. Some also include amenities such as fitness on demand, or micro-offices for residents who work from home but prefer not to work from their living room or bedroom.
COVID also had an effect on how multifamily design handles restaurant and grocery-delivered services. These services, along with Amazon and other online retailers, became extremely popular during the lockdowns. We have almost tripled the amount of square footage we put into an amenity area for parcel lockers and storage. Our goal is to alleviate any additional burden on property management teams by automating as many services as possible, so they're not directly dealing with delivery issues.
In short, the lessons we've learned during Covid are making better communities for residents, while bringing our clients' visions to life. This is what we see as our mission in a post-pandemic world.
— By Ryan Carver leads the multifamily division of SGA|NarmourWright Design, a Greenberg Farrow design company. The firm offers services that include planning, architecture, interior design and landscape architecture. SGA|Narmour Wright operates offices in Charleston, Greenville, Myrtle Beach and Pawleys Island, South Carolina, and in Charlotte, North Carolina.