— By Chad Martin, owner of Weave —
When you hear the phrase "property branding," chances are your mind instantly thinks of logos, color schemes, website layouts — maybe some fun pieces of swag in the leasing office. But nothing more consequential, right? Wrong.

While these are all important elements to a property's brand, they are just a small part of the overall experience that makes a property feel like home. Creating a place that feels like home ensures efficiency, consistency and even tenant retention — all music to a developer's ears.
Wait — What Is Property Branding?
Property branding is a design effort that combines architectural elements, marketing collateral and interior experiences into one environment. It's placemaking — a multi-layered approach to the planning, design and coordination of public spaces that promotes positive lifestyles and well-being. A well-branded property extends the community's identity into everyday living spaces that enhance a resident's experience. This is accomplished through materials, finishes, lighting, landscaping, signage and custom art. Think: custom-welded bike racks, engaging signage, two-story murals, motivational messaging in the fitness center and architectural details that layer into the property's community and design aesthetic.
Property branding begins as soon as a prospective resident navigates the website and tours the property, and it continues through the leasing experience and move-in day. Once someone is a part of the community, the brand experience guides how property managers program and execute events, and it also guides how the grounds are kept and even how the amenities are maintained. All these small details add up to a larger, multi-layered experience.
Why Does It Matter?
We can talk all we want about enhancing the "user experience," but why does that user experience matter so much? Sure, quality property branding is eye-catching, memorable and provides differentiation in a saturated market, according to a recent Forbes article, but what it all comes down to is tenant retention.
When tenants have consistently positive experiences at their residence and feel like they are part of an engaged community, they are more likely to renew their lease. While much of the data behind rental renewals highlights the "what" (57 percent of renters renewed their leases in 2021, according to a survey by RealPage), very little of the "why" has been quantified beyond tenant testimonials at individual properties.
However, real estate developers and investors consistently attest to property branding influencing lease rates. "We have seen our properties exceed our leasing, sale and investor goals because of [property branding] work that ensures our communities are a place our residents want to call home," says Patrick Jackson of NOVU Residential Group, a Birmingham, Alabama-based multifamily developer and operator.
Keeping a tenant in his or her residence for another year adds up to big savings. According to a survey of landlords by Avail with Realtor.com, finding a new tenant costs anywhere from $100 to $2,500, figures that take into account unit turnover repairs and updates, marketing and vacancy rent amounts. And while a renewal lease rate won't match a market-rate new lease, tenants are often willing to pay up to an 18 percent increase in their renewal rate, with the average renewal rate showing a 10 percent increase in 2021, according to RealPage.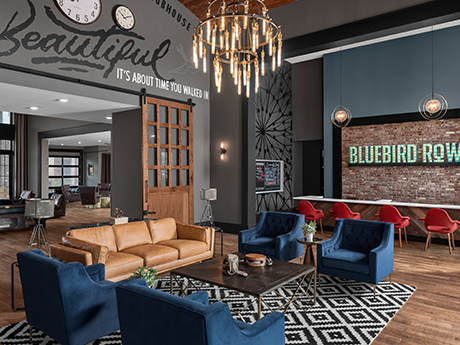 A New Way of Doing Things
There are dozens of elements that go into a cohesive, comprehensive property branding strategy. The timeline and roll out is also critically important.
Typically, a branding company creates a logo, which is most often designed with the future website, property signage and leasing materials in mind. This branding process will start as the project kicks off, then pause while construction drawings are being produced. Then it will pick back up as the leasing efforts advance. Once leasing begins, the branding role diminishes to a support role, tailing off when the clubhouse and amenities are finalized.
A better, more efficient, plan begins when the developer acquires the land. In our most successful projects, we're on the team and involved from the beginning, working alongside the architect, interior designer, civil engineering team and the landscape architect. In tandem with the developer, we start by drafting inspiration images to shape the architectural language, the interior living experiences in the clubhouse, the entry sequence and any relevant "third places," a term coined by sociologist Ray Oldenburg that refers to places where people spend time between home (the first place) and work (the second place). Once this inspiration packet is agreed upon by the developer, it's presented to the design team to summarize the vision.
However, the traditional design process often operates in silos. The landscape architect works on his or her layout, the architect focuses on the building, and the interior design team creates its spaces. Branding is then typically layered last over an already fully baked space.
This creates unnecessary inefficiencies and an overall lack of design consistency. In the past, we as a design team would walk through a finished space and feel the disjointed elements: Furniture that didn't match the scale of the space or a modern interior design scheme within a traditional building exterior. In this scenario, the branding feels like a slapped-on afterthought, and a significant number of additional meetings and design edits are required after the fact.
Great property branding requires a unified design team, all on the same page from the beginning of a project to the very end. Integrating property branding early ensures a constant thread weaving each element of the project together from the initial vision and inspiration all the way through to the final built spaces.
Ultimately, efficient collaboration leads to accurate execution, which results in a unified end product and a healthier bottom line for the property owner.
— By Chad Martin owner of Weave, a Birmingham, Alabama-based multifamily property-branding company. Design consultation and brand management services include signage, naming, logo design, site plan and floor plan renderings, exterior elevation overlays, exterior color palette selections, custom-designed specialty amenities, exterior and interior sign design, interior wall murals and custom art pieces.