The Mid-Atlantic region comprises two major markets with heavy ties to the federal government: Washington, D.C., and Baltimore. The metros are located about 40 miles apart via I-95, and their combined metropolitan statistical area (MSA) house more than 9.2 million people, which is a nearly 10 percent increase from 2010, according to the latest U.S. Census data.
The region's surging population has helped drive demand for more market-rate multifamily and affordable housing development in recent years. Also supporting demand is its ubiquitous public sector, especially in the nation's capital.
"Washington, D.C., has the largest and most stable employer in the country, the U.S. government," says Nigel Crayton, director of multifamily brokerage firm Greysteel. "The federal government has always been the biggest driving factor for D.C.'s economy, including commercial real estate. It's deeply embedded, and if that ever goes down then there are some bigger problems at play."
The federal government's presence in the region has attracted investment over the years from companies in the defense, tech, life sciences and data center industries that want to be clustered near decision-makers in the U.S. government.
In early May, Boeing Co. announced it was moving its corporate headquarters from Chicago to Arlington, Virginia. A few months later, fellow defense giant Raytheon Technologies announced it was also relocating its home base to Arlington from Boston.
"The corporate headquarters relocations of Boeing and Raytheon continue to highlight Northern Virginia as an attractive, pro-business climate desired by Fortune 500 companies," says Robert Dean, senior vice president of CBRE's Washington, D.C., office.
One of the biggest, if not the biggest, economic development stories in the past 20 years was Amazon's search for its second headquarters, or HQ2. The Seattle-based e-commerce giant accepted bids from major and secondary metropolitan areas across the United States and Canada in 2017 and 2018 before landing on metro Washington, D.C., specifically in the Arlington neighborhood now known as "National Landing." (Amazon previously selected Long Island City in New York City's Queens borough and Nashville for corporate offices as part of the HQ2 selection along with Arlington, with Amazon ultimately withdrawing from Long Island City in early 2019.)
Amazon's first two towers at JBG Smith's Metropolitan Park will span 2 million square feet when they fully open. Amazon plans to begin development soon on more than 3 million square feet of office space at nearby Penn Quarter, with completion set for 2025.
Robert Jenkins, senior director of capital market at JLL's Washington, D.C., office, says the impact of the HQ2 campus to National Landing and beyond cannot be overstated as the campus will house 25,000 staffers earning an average salary of $180,000 by 2030.
"Amazon HQ2 and the anticipated 'halo effect' remains one of the strongest demand drivers within the metro D.C. region and has been transformative for National Landing," says Jenkins. "The immense private and public spending — approximately $5 billion in National Landing infrastructure projects — will dramatically change the landscape of the neighborhood and is driving significant multifamily development with over 4,500 units recently delivered or in the pipeline."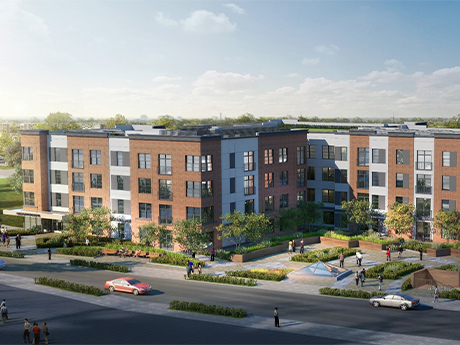 Not to be overshadowed, Baltimore has a large government and quasi-government workforce as well with companies in the defense, life sciences and cybersecurity industries calling the metro area home.
The Baltimore area has also attracted considerable attention from the private sector recently, with Morgan Stanley expanding in Baltimore's Harbor Point district, DLA Piper and Bank of America relocating their offices to Harbor East, Topgolf opening on the south side near M&T Bank Stadium and McCormick & Co. opening its largest facility to date, a 1.8 million-squarefoot distribution center at Tradepoint Atlantic Park in Baltimore County.
"Baltimore has a stable of solid employers like T. Rowe Price, University of Maryland Baltimore County, Johns Hopkins University and Under Armour," says Ari Abramson, vice president of acquisitions at locally based investment firm Continental Realty Corp. (CRC).
CRC recently sold Riverstone at Owings Mills, a 324-unit community located in the Baltimore suburb of Owings Mills. Carter Funds purchased the property for $92.9 million, which is approximately $31 million more than what CRC paid for the community in 2016. This transaction showcases how investors have been able to achieve strong returns in the Baltimore area, which sources say circles back to strong demand stemming from its employment base.
"There are really stable job drivers from medical, government, education and a lot of other industries that produce high-paying jobs in Baltimore," says Sam Applegate, a member of the acquisitions team at Hamilton Zanze, a multifamily investment firm based in San Francisco. "It has been a strong, steady market for us. We'll continue to look to invest in the Baltimore area as we have done well here in the past."
With a robust employment base and a growing population, the Baltimore-Washington corridor is poised for ample multifamily growth opportunities. Developers and investors have keenly targeted these markets in the current cycle, but macroeconomic forces are threatening to upend the apple cart.
Record inflation and a steep runup in interest rates have made financing both acquisitions and developments more expensive. Michael Muldowney, executive vice president of CBRE's Baltimore office, says that increased rates have widened the bid-ask spread to such a degree that approximately $4.5 billion of investment sales that are processing in the MidAtlantic are currently stalled.
"From an investment sales standpoint, the rise in the cost of capital has reduced offer prices that the sellers aren't willing to accept," says Muldowney.
"With rising rates, we are seeing our costs of borrowing increase significantly," adds Scott Reibstein, senior associate of multifamily acquisitions at FCP. "It has taken some time for the market to adjust to the rising interest rate environment."
The same can be said for construction financing as the run-up in short-term rates is another hurdle to new development. The Secured Overnight Financing Rate (SOFR), a benchmark rate for short-term debt structures used often for construction loans, saw a rapid escalation this year. The 30-day average SOFR was near zero to begin the year (0.05 percent) and as of Feb. 8 was at 4.55 percent.
In early February, the Federal Reserve raised its benchmark interest rate by a quarter percentage point to a range of 4.5 to 4.75 percent. This follows 2022 when the central bank raised the rate seven times, from a target range of 0.25 to 0.5 percent to start the year to a range of 4.25 to 4.5 percent by year's end.
On the flip side, sources say that increased interest rates will benefit multifamily owners as they'll make single-family home purchases much more cost-prohibitive, leaving renting as the only viable option for a large swath of the population.
"The development of new multifamily and single-family properties will be much more difficult due to higher interest and construction costs, thereby limiting new supply," says Tony Zanze, cofounder of Hamilton Zanze. "Already many development sites are being offered for sale because they do not pencil out."
In addition to rising borrowing costs, developers are also facing headwinds from fluctuations in construction materials pricing due to supply chain constraints. According to the U.S. Bureau of Labor Statistics, the producer price index (PPI) for construction materials in October 2022 rose by 39.4 percent from February 2020, the last month before the onset of the COVID-19 pandemic.
"Longer lead times for materials and cost increases on materials have obviously been challenges," says Reibstein.
To help offset the fluctuations in construction and borrowing costs, multifamily developers and landlords have been able to charge a premium at their communities, especially in newer properties that offer both proximity to walkable attractions and best-in-class amenities.
"Residents are looking for unique experiences," says Richard Lake, founding principal of Roadside Development. "That's why we developed a suite of offerings that are both unique and dynamic."
Roadside, a D.C.-based developer, has thought outside the box with regard to the various amenity packages across its portfolio, hoping to attract and retain affluent renters. Some examples of popular and unique features include greenhouses, members-only pool clubs and playgrounds, makers studios, coworking spaces, outdoor pizza ovens, meat smokers, sports simulators and massage services, among other offerings.
"In the post-COVID world, quality of life is going to be one of the most prolific determinants on where people will choose to live," says Lake.
Armada Hoffler has enjoyed strong occupancy at its two existing apartment communities within its waterfront Harbor Point campus in Baltimore. With strong retention at the two properties (1305 Dock Street and 1405 Point Street), the developer has been able to sustain rent growth.
"Due to the demand we have seen over the last 12 to 18 months to live at Harbor Point, we have been able to maintain stabilized occupancies while simultaneously experiencing some positive rent growth in the double digits," says Carter Ward, director of multifamily operations at Armada Hoffler.
Ward adds that Morgan Stanley's recent expansion to 242,000 square feet is the largest lease signed in two years. The firm also lured T. Rowe Price to move its headquarters from downtown Baltimore to the Harbor Point project earlier this year.
"Companies are moving to Harbor Point for the same reasons as residents: location, security and waterfront views," says Ward.
Urban D.C. Densifies
The development pipeline within D.C.'s city limits has been robust in recent years, and the city just hit a new benchmark. Multifamily construction starts in the third quarter of 2022 exceeded 4,000 units for the fourth consecutive quarter, a first for Washington, D.C.'s multifamily market, according to research from CoStar Group.
Dean of CBRE's D.C. office says that the record amount of new supply hitting the market hasn't negatively affected property performance to date.
"Multifamily fundamentals have never been stronger, and we expect them to stay strong," says Dean, who adds that the rate of trade-outs for new leases as well as renewals continues to exceed owners' expectations.
There are currently more than 34,000 units in D.C.'s development pipeline, which would expand the city's existing inventory by 5.1 percent, according to research from Newmark. In the Southwest/Navy Yard submarket, there are 4,789 units under construction, which represents a 21.5 percent expansion of inventory.
One of the larger developments nationally is The Wharf, a mixed-use development along the Potomac River in southwest D.C. Co-developers Hoffman Associates and Madison Marquette put the finishing touches on the development in October with the official opening of Phase II, which comprises 351 for-sale and multifamily residences, as well as an additional 1.2 million square feet of mixed-use space, including new shops, restaurants, hotels, parks, a marina and offices.
"Today, we're celebrating even more jobs, housing and opportunity for D.C. residents and businesses, and we're celebrating Washington, D.C., as a world-class, waterfront city," said D.C. Mayor Muriel Bowser at the opening ceremony for The Wharf, which totals more than 1,000 apartments across both phases.
Another major development that opened in recent months is City Ridge, a $715 million mixed-use redevelopment of the former Fannie Mae headquarters in northwest D.C. The property is anchored by an 84,000-square-foot Wegmans grocery store, as well as a plethora of shops, restaurants and service-oriented retailers.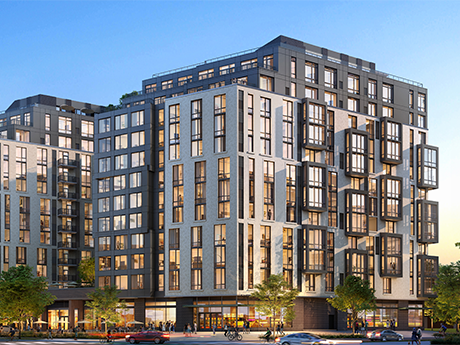 "There is no doubt that our tenants are attracted to the convenience of having the No. 1 grocer in the country, as well as the restaurant offerings that the Mina Group, King Street Oyster Bar, Tatte Bakery, Taco Bamba and others will bring to the quality of their experience," says Lake of Roadside Development. "Our tenants are also drawn to the other daily services at City Ridge, including a new Equinox health club, a KinderCare daycare and an Industrious coworking facility."
Roadside and development partner North America Sekisui House LLC (NASH) are the co-developers of the redevelopment, which added 690 residential units to the local supply. The development is LEED Gold Neighborhoodand Fitwel-certified and is currently in the early stages of lease-up.
"We have outpaced our competitors in both rent and pace," says Lake. "Our unique offerings distinguish the product from our subset of competition."
A joint venture between Akridge, National Real Estate Advisors, Blue Coast Capital and Bridge Investment Group broke ground this past spring on The Stacks, a 2 million-squarefoot mixed-use project in D.C.'s Buzzard Point neighborhood. Bank OZK provided a $367 million construction loan for the first phase of the development, which includes three towers totaling 1,100 apartments.
At full buildout, the property will comprise more than 2,000 apartments, as well as two hotels, public parks and gathering spaces, 80,000 square feet of retail space and creative offices.
Also in the Buzzard Point neighborhood, Toll Brothers recently broke ground on The Vermeer, a 13-story tower that will feature 501 units above ground-level retail space.
In D.C.'s NoMa neighborhood, a joint venture between MRP Realty and Barings is underway on Phase III of Washington Gateway. The latest phase is a 16-story high-rise called The 202, which will feature 254 apartments and nearly 4,000 square feet of retail space. Phase II of the development, The Burton, opened last December.
Redbrick LMD recently secured a $142.5 million loan to finance the construction of The Douglass, a 750-unit residential building in the city's Bridge District that includes approximately 40,000 square feet of retail space and 80 affordable units.
In the city's Shaw district, a partnership between Lowe, FLGA and Davenport Group secured a 99-year ground lease from nearby Howard University to construct a new residential tower on two sites that are currently being used for student parking lots. The developers will transform the nearly two-acre assemblage into a 10-story residential tower housing up to 500 residences, as well as 27,000 square feet of commercial space and a subterranean parking garage.
Another infill adaptive reuse project in the District is a $650 million development led by Standard Real Estate Investments in the city's Northeast Heights district. The minority-owned investment and development firm recently purchased the Senator Square and East River Park shopping centers with plans to transform the 13-acre assemblage into 1,500 residential units, including approximately 300 affordable housing units, as well as 120,000 square feet of retail space.
Nationwide, the office real estate sector faces headwinds stemming from employees opting to work from home either on a hybrid schedule or full-time, which in D.C. has led to millions of square feet being underutilized. According to Kastle Systems, a Virginia-based security firm that tracks access data from key fobs, card swipes and its mobile app, the D.C. office market has a 44.6 percent utilization rate as of midNovember, which is below the metric's 10-city average of 48.1 percent.
As the office sector finds its footing, many Class C and older properties in the city's urban districts are falling into obsolescence where office is no longer a feasible use. As a result, multifamily developers are leading the charge in converting these properties to apartment communities.
Foulger-Pratt recently converted a fully vacant office building at 1425 New York Ave., approximately one block from the White House, for a residential conversion project that will bring 255 apartments to the local supply.
Joe Clauser, managing director of acquisitions at Foulger-Pratt, says that the economics of this location have been driven exclusively by the office sector for decades.
"Within a half-mile of the site there is 50 million square feet of office and less than 1,000 apartment units," says Clauser. "We're now seeing the opportunity to go in and buy older, obsolete office buildings and convert them to residential. They are really providing access to locations where there are no ground-up development opportunities because they're very core and fully built out."
Gerry Widdicombe, director of economic development for the DowntownDC Business Improvement District (BID), says that nearly 1.1 million square feet of space is coming off the market in the BID's jurisdiction and will be replaced with 1,400 new apartments, including Foulger-Pratt's 1425 New York Ave. project.
"Developers are able to buy such buildings at between $190 to $300 per square foot and predict rents above $4 to $4.50 per square foot, so they have determined that multifamily is the 'highest and best' use of the properties," says Widdicombe.
"The office-to-multifamily conversion projects include two projects by Lincoln Property Co. 1313 L Street will convert 84,000 square feet of office space to 222 apartments, which are currently under construction, and 1125 15th Street will convert 273,011 square feet of office space to 264 apartments. Construction is planned to start by the end of the year," he says.
Widdicombe adds that there are two other conversion projects in the planning stages that will take 550,000 to 650,000 square feet of older office space in the BID off the market in favor of two new apartment communities housing anywhere from 750 to 850 residences.
Another notable project within the D.C. city limits is another development from FoulgerPratt, which is underway on an affordable housing development in northeast D.C.'s Kingman Park district. The $101 million project, called Paxton, will feature eight studio, 87 one-bedroom, 16 two-bedroom and 37 three-bedroom rental apartments upon completion, which is set for April 2024.
A majority (133 units) will be reserved for households earning at or below 50 percent of the area median income (AMI). The remaining will be reserved for households earning at or below 30 percent of AMI and are designated as "permanent supportive housing."
Heavy Hitters Build Up D.C. Suburbs
Outside of D.C.'s city limits, Arlington is one of the more bourgeoning suburbs in the nation, thanks to Amazon's multibilliondollar investment in the neighborhood, as well as the corporate relocations of Boeing and Raytheon.
JBG Smith, an owner and developer of mixed-use properties in the greater D.C. market, has begun construction on a pair of multifamily towers at 2000 and 2001 South Bell Street in National Landing, which is anchored by Amazon's HQ2 campus and the Virginia Tech Innovation Campus, both of which JBG Smith is developing.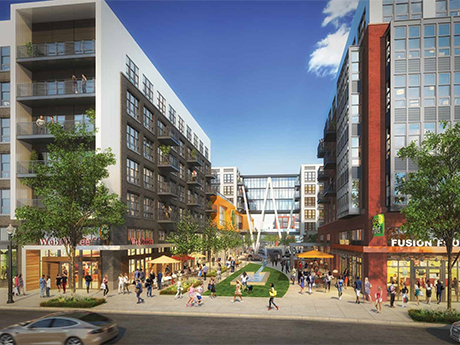 "Construction is progressing at 2000 and 2001 South Bell, which are expected to deliver in 2025," says Tiffany Butcher, executive vice president of residential and retail management at JBG Smith. "The two-building development will bring a total of 775 rental apartments and nearly 27,000 square feet of retail space to the heart of National Landing. Our placemaking and digital infrastructure investments have set the stage for the area's ongoing transformation. We expect a surge in talent seeking multifamily options, which aligns well with the pace of our development in the submarket."
JBG Smith will incorporate rooftop amenity spaces with unobstructed, panoramic views of National Landing and the D.C. skyline, as well as pools, fitness centers, large coworking spaces, community rooms and dog grooming stations, according to Butcher.
"There will also be in-garage bike parking and electric vehicle charging stations for residents. In addition to 24-hour concierge at our properties, we offer several other services for our residents, such as housekeeping and dog walking, through select partnerships with best-in-class providers," says Butcher. "By connecting residents to the services they need, we're able to help simplify their lives. We also strive to build community at our properties through dynamic, inclusive events and celebrations year-round."
Amazon is also directly adding new housing to suburban D.C. The company has committed nearly
$800 million in housing investments in the region since late 2020, which will create and preserve more than 4,400 affordable housing residences.
In March, Amazon committed to invest $81.7 million to build 742 new affordable homes near public transit sites in the region. The new housing commitments include The Margaux at the New Carrollton Metro station (291 units) and Atworth at the College Park Metro station (451 units). Amazon is partnering with Urban Atlantic and Gilbane Development Co. on the two properties, respectively.
Within National Landing, Denver-based Partners Group and Orlando-based ZOM Living are underway on Hazel & Azure at National Landing, a 492-unit apartment community. The property's two 14-story towers are expected to open in late 2024. Community amenities will include an e-lounge, concierge services in the lobby, rooftop pool, fitness and wellness spa, coworking spaces, self-serve convenience store and an indoor green space for dogs.
In May 2022, Foulger-Pratt, along with development partners The Howard Hughes Corp. and Seritage Growth Properties (the REIT spinoff from Sears Holding Corp.), broke ground on the 4 million-square-foot WestEnd Alexandria project with the demolition of Landmark Mall.
Built in 1965 as an open-air shopping center, the 715,520-square-foot Landmark was converted to an enclosed shopping mall in 1990. The mall officially closed its doors in 2017 following Howard Hughes Corp.'s purchase of the former Macy's store, but the Sears department store remained open until 2020.
In 2021, the owner of the Sears store, the city of Alexandria, signed Inova Health to a 99-year ground lease at the site where the health system is building a $1 billion hospital campus that will span 11 acres.
At full buildout, WestEnd Alexandria will total 52 acres and comprise the hospital; 2,500 apartments, including 200 affordable housing units; parks and open space; approximately 125,000 square feet of medical office buildings; nearly 235,000 square feet of retail and restaurant uses; and a new facility for Alexandria FireEMS Station 208.
"The scope and scale, combined with the variety of uses on the project, definitely make it a challenging and complicated project," says Foulger-Pratt's Clauser. "It's a unique opportunity to have a large, blank slate in such a dynamic location. We are really excited about the opportunity to create a place here."
Foulger-Pratt, Howard Hughes and Seritage plan to begin Phase I of WestEnd Alexandria in 2023 with the first residential buildings delivering in 2025.
"We have substantial demo work and infrastructure improvements that need to take place before we can go vertical," says Clauser. "We have a little over a year left of just working through the infrastructure and demo on the site, but on our current schedule we plan to kick off the first vertical phases in first-quarter 2024."
In the nearby Old Town Alexandria neighborhood, American Real Estate Partners recently acquired 1101 King Street, a 200,000-squarefoot office building that will be converted to 200 apartments, as well as 17,500 square feet of commercial space on the ground floor and amenities including a club room, fitness center and a rooftop terrace.
AREP restructured the building's office leases to allow for the conversion program and is keeping existing retail tenants Orangetheory Fitness and Paris Baguette throughout the redevelopment process. Construction is expected to kick off in July 2023.
Near a different mall, Foulger-Pratt is developing The Rae at Westlake, a five-story, 343unit multifamily property in Bethesda situated across from the recently revamped Westfield Montgomery Mall.
The $119.5 million project will feature 46 studio, 170 one-bedroom and 127 two-bedroom units. Community amenities will include a dedicated dog run and pet spa, 24-hour fitness center, bocce ball courts, pedestrian trail, two courtyards with pool and grilling areas, coworking space and community event space.
"We are currently under construction on Rae at Westlake, and we plan to open for first residents in summer 2023," says Clauser, who adds that the firm also delivered the new Harwood Flats apartments in North Bethesda.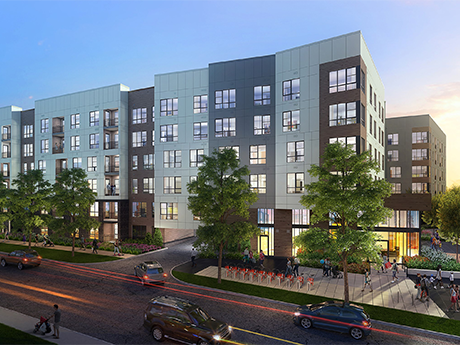 "It's a similar build — a wood-frame project with above-ground parking — and just a few miles away from the Rae at Westlake," says Clauser. "We've seen tremendous pace on the lease-up front and very strong rents, both of which have exceeded our projections."
Nearby demand generators include the newly opened corporate tower and flagship hotel for Marriott International, as well as the new office headquarters for Choice Hotels International at Federal Realty Investment Trust's Pike & Rose development in North Bethesda.
Baltimore Has Room to Grow
While Baltimore's employment base has remained steadfast, the market is not seeing the same level of in-migration as its counterpart in D.C. Metro Baltimore's population has grown by 4.7 percent since 2010, while metro D.C.'s population increased by approximately 12 percent, according to the latest U.S. Census data. Muldowney of CBRE says the disparity is even more troubling considering the exodus occurring in the inner city.
"The city's population has steadily declined for decades and is now under 600,000," says Muldowney. "It is in neighborhoods throughout the city where housing is run-down, schools are gravely underperforming and crime is rampant that population continues to fall."
That has led to the market's property-level performance lacking the same punch. In fact, Newmark research states that the market posted a negative absorption to the tune of more than 850 units in the fourth quarter of 2022, while developers delivered 464 units across the entire MSA in that same time frame.
With the setback in absorption, the occupancy rate has dropped 60 basis points year-over-year, from 95.7 percent in fourth-quarter 2021 to 95.1 percent in fourth-quarter 2022. However, landlords were able to push effective rents up by nearly 4 percent year-over-year. The market has about 4,500 units under development, which represents about 1.9 percent of existing inventory.
That's not to say there aren't pockets of the city and certain submarkets in Baltimore County that are experiencing significant investment, according to Muldowney.
"The positive story in the city is there is population growth in some zip codes around the Inner and Outer Harbor along the water," says Muldowney.
Perhaps the most desired area in the region is Inner Harbor, a waterfront district anchored by museums and the Harbor Point and Harbor East mixed-use developments.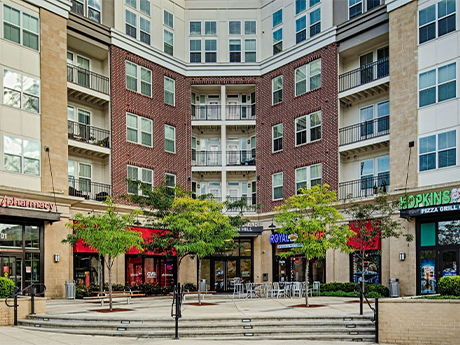 At Harbor Point, Armada Hoffler is rounding out its multifamily component with Allied | Harbor Park, a two-phase development that will bring more than 500 apartments to the campus.
"The first phase will be the south apartment tower with a total of 312 apartments, a 1,500-space structured parking garage and approximately 12,000 square feet of retail space," says Ward of Armada Hoffler. "The second phase will consist of a second apartment tower with 200 apartments."
Like 1305 Dock Street and 1405 Point Street at Harbor Point, Ward says renters can expect top-of-the-line amenities, as well as a seasonal rotation of events.
"Our amenity package includes an eighth floor rooftop open space, pool, resident clubroom with billiards and a kitchen, workstations and conference room, package room, yoga room and a fitness center," says Ward.
This fall, the long-awaited Port Covington development in south Baltimore was given a rebrand. The developers behind the 235-acre redevelopment, now called the Baltimore Peninsula, include MAG Partners, MacFarlane Partners, Sagamore Ventures (led by Under Armour founder Kevin Plank) and the Urban Investment Group within Goldman Sachs Asset Management.
The development's first phase of vertical construction is nearing completion, with over 1.1 million square feet of new office, retail and mixed-income space directly adjacent to the already complete Rye Street Tavern and Sagamore Spirit Distillery. The new apartment communities coming on line in 2023 include Rye House and 250 Mission.
Muldowney expects the Baltimore Peninsula to be popular with renters given its location and amenities.
"It is safe to say that waterfront locations anywhere in the Mid-Atlantic give the location another dimension of appeal," says Muldowney.
Like D.C., developers are interested in multifamily conversion opportunities in Baltimore's urban districts. Trademark Properties and local investor Prab Thangarajah recently purchased 210 North Charles Street, a 232,000-square-foot office tower in downtown Baltimore that was built in 1894.
Also known as The Fidelity & Deposit Building, the 15-story property will be converted into about 220 apartment units. The project will have a mix of studio, oneand two-bedroom floor plans ranging from 500 to 2,000 square feet. Construction is slated to be completed by spring 2024. The development cost is expected to be $34 million.
Another adaptive reuse in the works is the conversion of a seven-story building at 300 W. Fayette St. that once housed the Berkheimer Brothers Department Store. The undisclosed developer is converting the store and an adjoining brownstone building that once housed Robert L. Richardson Mortgage Co. into 107 market rate apartments with street-level retail and flexible office space.
The Baltimore Sun reports that owner-developer Patrick Grace is involved in both multifamily conversion projects.
Outside of Baltimore's city limits, The Howard Hughes Corp. recently unveiled plans to invest $325 million to densify Downtown Columbia, the REIT's 391-acre mixed-use development within the master-planned community of Columbia. The plan calls for a new medical office building for Orthopaedic Associates of Central Maryland (OACM), a division of The Centers for Advanced Orthopaedics, as well as a business incubator for women of color called The 3rd and a dining and entertainment concept called The Collective.
The lion's share of the investment will come in the form of future development for the north end of the Downtown Columbia's Lakefront District. This includes three new residential buildings offering a total of 675 units, plus supporting street-level retail space, pedestrian and cycling connections and green spaces.
In nearby Towson, Greenberg Gibbons is underway on the $350 million Towson Row mixed-use development. Plans for the fiveacre project call for 250 high-rise residential units and 300 student housing units, as well as over 150,000 square feet of Class A office space, a hotel and 100,000 square feet of retail and restaurant space, including a Whole Foods Market that Greenberg Gibbons recently sold.
— By John Nelson. This article originally appeared in the January/February issue of Northeast Multifamily & Affordable Housing Business.